Nordic Jewelry Design – quality, style and elegance
By Emma Rodin | Photos: Nordic Jewelry Design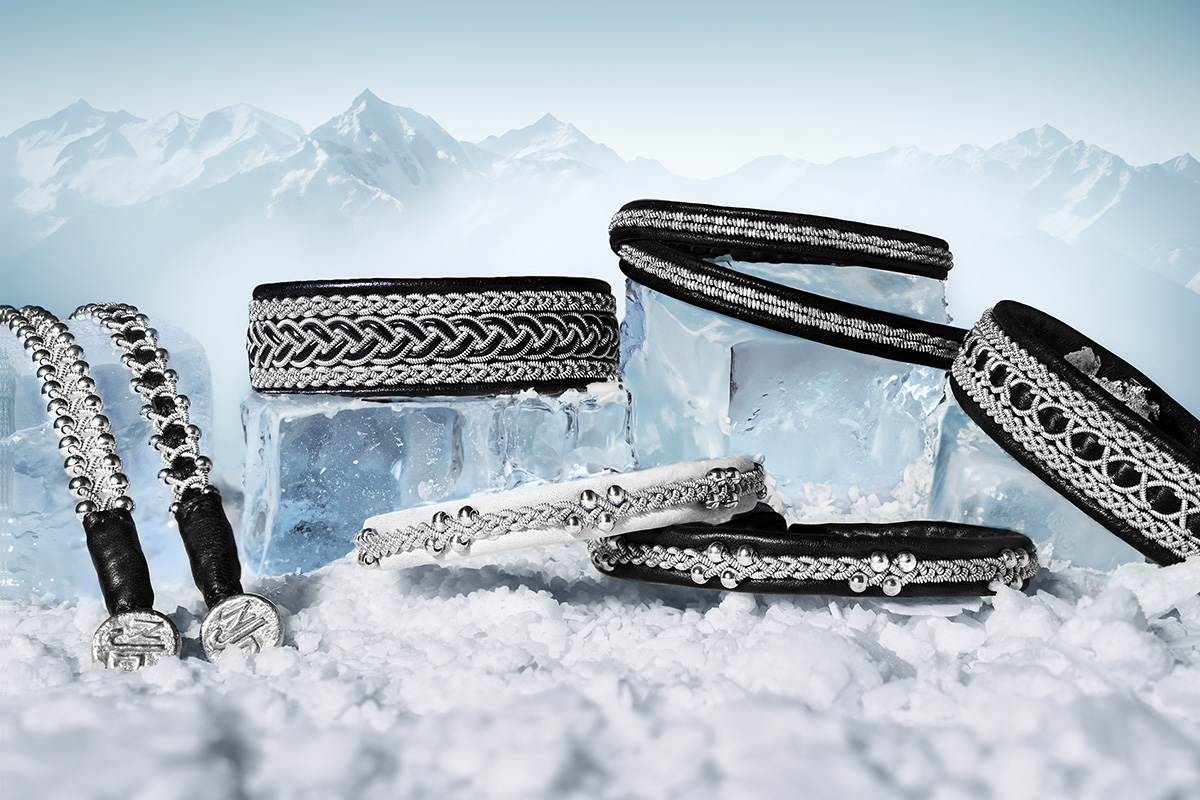 A family-run business with roots in Kiruna in the far north of Sweden, Nordic Jewelry Design is the fruit of a great handicraft tradition spanning centuries. As its name suggests, jewellery is at the heart of the brand's offerings, with each piece made entirely by hand and always by demand.
Inspired by her late grandmother's creative flair, Nordic Jewelry Design's founder Ewa Roslin started crafting her own pieces long before establishing her business in 2010.
And although Roslin has since relocated to Gotland, an island in Sweden's south, her jewellery designs are still very much inspired by Kiruna – which is the territory of the indigenous Sami people, and where Roslin's style of craft originates from.
Roslin makes each piece herself, mainly bracelets, and the materials used are carefully chosen and include naturally tanned reindeer leather, 925 sterling silver and pewter. Even the pewter button at the back of the bracelets is hand-cast and stands as a trademark for Nordic Jewelry Design.
"All of my designs have that Nordic detail about them. Even when I make something especially elegant, I never compromise on implementing that sense of origin in my work," says Roslin.
Made from scratch, the materials used for the products are all sourced from Lapland, such as the bracelets' signature thread – made with a strong, tin core and with a thinner, silver-infused thread spun around it. Made by experts in the area, the thread has a higher level of silver compared to other options which makes it extra durable. And because the jewellery is made by hand with the best materials and only by demand, the quality is fantastic and they last for years and years.
"If a piece does break further down the line, customers can send it back to me to be repaired. It doesn't matter if that's five or twenty years after purchase, it's just part of my service and I love helping my customers," tells Roslin.
The classic look of Roslin's jewellery makes them timeless and elegant and means that they can be worn every day as well as on special occasions. They're suitable for newborns and 90-year-olds alike and are perfect as gifts for birthdays, weddings, anniversaries and everything in between – including Christmas.
Web: www.nordicjewelrydesign.com Instagram: @nordicjewelrydesign
Subscribe to Our Newsletter
Receive our monthly newsletter by email