Nordpil: Building an arena for life
By Signe Hansen | Photos: Nordpil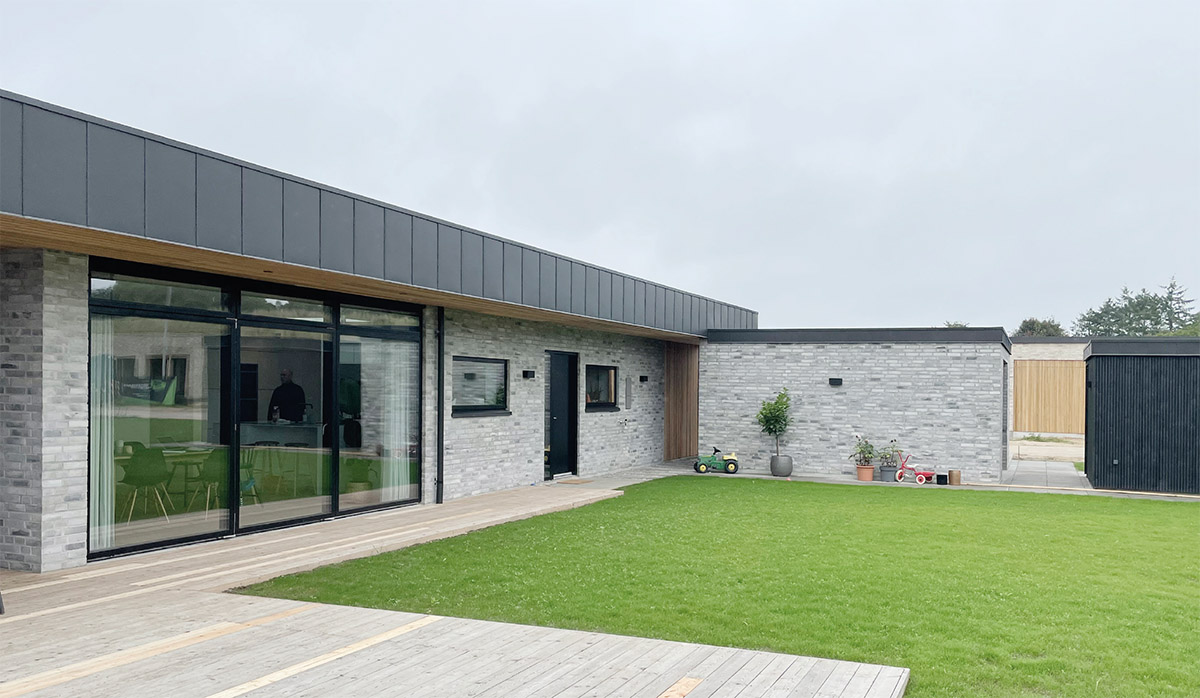 We all need a roof over our head, but most of us want more than that. We want something that gives us safety and comfort, but we also want a home that captures and enhances the meaning of our everyday life. For Danish architecture firm Nordpil Arkitekter, enabling the fulfilment of that dream is at the heart of all projects.
Uncovering the core of people's everyday life and creating an architectural framework to lift and enhance that has been the driving vision of Nordpil Arkitekter since the firm's foundation. "Whether it is at work, in your home, or at your child's nursery, the life you live is always the starting point for our designs," explains architect Kim Pretzmann Olesen, who founded Nordpil Arkitekter together with construction architect Bashar Nasouri. "Our designs manifest people's everyday life in all its facets, and we see it as our finest job to increase the quality of that. By bringing in elements that combine functionality and enhanced materiality, we can create spaces where people feel happy and relaxed, spaces with comfortable lighting, a healthy climate and a positive atmosphere for life to unfold in."
Since merging their independent companies two years ago, Olesen, Nasouri, and their team of architects, renovations specialists and construction architects, have turned this approach into a string of new homes and holiday houses, renovations and extensions all over Denmark. More recently, the firm has also started designing for larger projects, such as nurseries and residential complexes for commercial developers.
Turning necessity into art
While Nordpil Arkitekter's designs all take their starting point in the life of the people who live, work or play in them, that does not mean that any two projects are alike. On the contrary: whether it is a new holiday house, the extension of an old villa, or a nursery design, Nordpil Arkitekter applies what Olesen calls an "architectural opportunism". This means that each project is shaped by its individual opportunities, financial limitations and practical requirements, and that is not, stresses Olesen, a bad thing.
"We don't believe architecture is architecture when it's just on the paper – it won't be until it has actually been built, and that is why our designs are inspired by both the possibilities and the limitations given by a specific project. That is also why you won't see a specific style that runs through all our projects. We have no desire to be known for that. We prefer to do it the other way around; we take our starting point in the specific site and the people we are working with, and because of that, the architectural and material choices will be unique each time, because humans, budgets and places are all different."
This approach to architecture also entails a dedication to following the project all the way to the end, from the first sketches to planning applications and building-site management.
Sustainable architecture through common sense
The focus on individual clients also means that while principles of sustainability and durability are always integrated in Nordpil Arkitekter's designs, it is not about advanced analyses and statistics. "For us and the clients we work with, expensive analysis and data sheets do not really make sense. But it still makes sense to talk about sustainability. It covers so many aspects of what we do, creating places for people to be together, healthy environments, and long-lived solutions," stresses Olesen.
Taking advantage of the natural sustainable qualities of wood is one of the simple but efficient tools often used by Nordpil Arkitekter. Indeed, as a qualified carpenter, Olesen is a great fan of the material and its many advantages. "When you build in wood, it will have absorbed carbon, unlike other materials that generate CO2 in production, and then it has a lot of amazing natural properties. It creates a healthy indoor climate and a warm atmosphere."
Flexible and long-lived
Nordpil Arkitekter's ambition to ensure that buildings are as sustainable as practically possible also entails a focus on longevity, space efficiency and flexibility. This means, for instance, ensuring that walls can be moved when a young family member leaves home, or even that entire extensions can be removed and sold when no longer needed. "The best way to make sure that we can defend our designs is to ensure that they are not static – that they can be brought into the future. This also means that it will take longer before new changes and expansions are needed, and in the end, ironically, the most sustainable square metres are those that aren't built," asserts Olesen.
Web: nordpil-arkitekter.dk Facebook: nordpil-arkitekter Instagram: @nordpilarkitekter
Subscribe to Our Newsletter
Receive our monthly newsletter by email