Norwegian Rain: Creating a different retail experience
Text: Ingrid Opstad | Photos: Norwegian Rain
With a sartorial take on extreme, high-performance outerwear, Norwegian Rain is inspired by Japanese sensibility and life in the rainiest city of Europe: Bergen in Norway. Focusing on creating a different retail experience, the brand offers a unique and tailored approach to their customers in their Oslo flagship store and other parts of the world.
"Born and raised in Bergen, the rainiest city in Europe, I didn't want the weather to dictate what I could wear," says creative director and manager Alexander Helle. In 2007, he met T-Michael, who already had over ten years of experience in the field of tailoring, and the duo decided to start Norwegian Rain to try to solve this challenge without compromising on functionality and stylistic preferences. Together, they created revamped rainwear with a distinct sartorial approach, carefully blending hints of Japanese sensitivity and inspired by their own life in the rain, which today sells worldwide from sunny California to rainy Bergen.
Every garment by Norwegian Rain is 100 per cent waterproof and made from recycled materials. "In today's society, we believe it is simply a necessity for brands to choose eco-friendly materials as much as possible," says T-Michael. In addition to being chief designer at Norwegian Rain, he also has his own brand, T-MICHAEL, characterised as a conceptual approach to tailoring.
A unique and vibrant flagship store
The Oslo flagship store opened in 2017 and is located at Paleet in the old premises of the artists' restaurant Blom, originally called Bloms Bodega – a place with a rich cultural history. Here, customers are invited to browse through T-MICHAEL's well-cut suits, shirts, T-Kimonos, leather shoes, sunglasses and bags, while also hunting for rare, Norwegian vintage furniture sourced and sold by Eric Beugnet of ModernTribute. Customers can also enjoy seeing the complete collection from Norwegian Rain, including their newly launched, highly anticipated, waterproof shoe collection – a must-try according to T-Michael.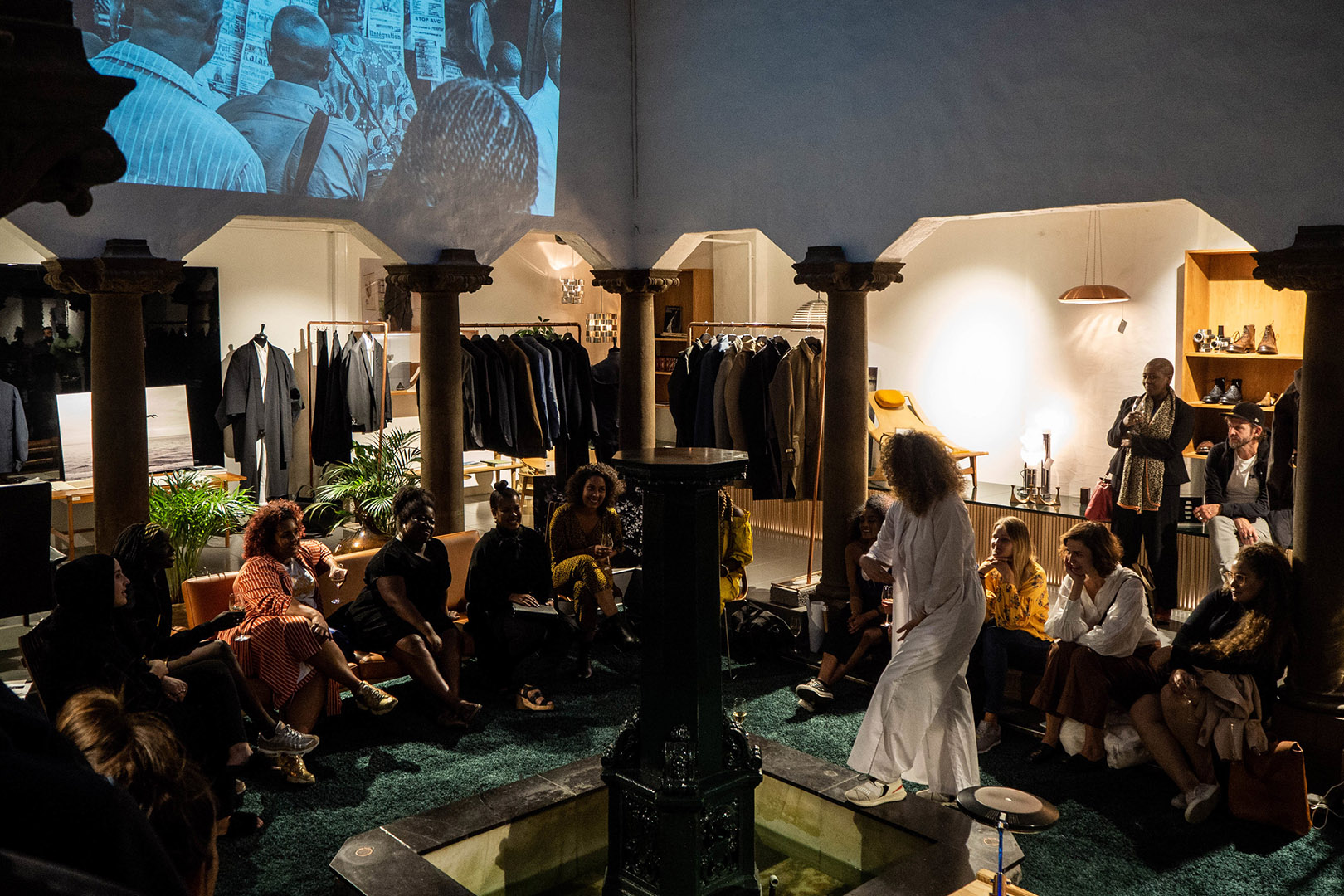 Tailoring meets function and iconic vintage furniture
"In Oslo, we have combined three concepts: this is where tailoring meets function and iconic vintage furniture, which all helps to create a certain ambiance in the space. Our typical customer is someone who is concerned with quality, style, and craftsmanship – men and women who are fashion conscious while also being attentive to where their clothes come from," says T-Michael.
"The building's history and charm make a great backdrop for our products. The philosophy is to challenge what people expect from traditional retail experiences and instead offer something unique and different: the iconic pieces of furniture, and the grand fountain in the middle, which is an aesthetic focal point when you visit," Helle explains. "In line with the origin of the premises, which was a place where many of Norway's great poets got together for a drink in the late 1800s, we regularly invite the public to take part in different cultural activities – everything from slam poetry by Fredrik Høyer, to performance art, design lectures, wine tastings, and even guest plays by the Norwegian Theatre." You never know; you might be stepping inside a film set on your next shopping trip.
The duo's desire for the premises to be alive and to be experienced, both during the day and at night, is a key factor in its uniqueness and growing success. With this aspiration to create a different shopping approach, it is possible to rent the space or collaborate with them on events held inside the shop to inspire both employees and customers. "We hope the combination of functional clothes, smart accessories and iconic furniture, along with the magnificent setting, can inspire and enhance your experience in our shop," says T-Michael.
Around the world
Today, Norwegian Rain has flagship stores not only in Oslo, but also in Paris, Tokyo and Bergen. In Paris, one can walk through and indulge in the authentic Parisian atmosphere in a beautiful house with its own garden, nestled in the heart of the Marais, to discover a showroom with beauty and calmness as key factors.
In contrast, the Tokyo store is placed in an original Japanese house from 1940, with a typical garden on the second floor and a hidden bar offering local delights. Back home in Norway, in the flagship store in Bergen, situated in the middle of the city centre, visitors can see where the designs are born, with the tailoring studio of T-MICHAEL located in the basement. "All of our shops have their own special aura, but what they all have in common is our philosophy of creating a different retail experience," says Helle. "We like to be near our customers in physical shops, something that also inspires us and helps us grow."
Norwegian Rain / T-MICHAEL flagship stores:
Oslo: Paleet, ground floor, Karl Johansgate 41
Paris: Ruelle Sourdis, Le Marais (entrance via Rue Pastourelle 15-17)
Tokyo: 1-12-6 Kanda Sudacho, Chiyoda-Ku
Bergen: Christian Michelsensgate 1, Tårnplass
Online shop: www.norwegianrain.com
Web: www.norwegianrain.com and www.t-michael.com Facebook: NorwegianRain Instagram: @norwegianrain and @tmichael_bergen
Subscribe to Our Newsletter
Receive our monthly newsletter by email