Nunc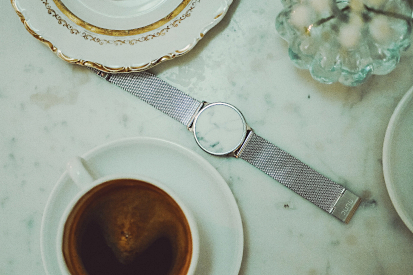 Timeless pieces remind us to be present
TEXT: LOUISE OLDER STEFFENSEN | PHOTO: DANIEL BÜLLING
You would be forgiven for thinking that Nunc's beautiful armbands are watches. Look closer, however, and you will notice that they are missing the face and hands by which watches mark the passing of time. "People always do a double take when they notice," says co-founder Michael Pedretti. "It's a great way to start a conversation and make both yourself and others pause and think for a minute in the midst of our busy lives."
There is something disconcerting about being confronted by a faceless, timeless watch. The founders themselves are unsure of what to call it — it is not, evidently, a watch, and as much a philosophical statement as a decorative bracelet. The point is not to remove the wearer from the modern, technological world, but rather to remind them that there are other things to life as well. "We want people to embrace the present moment and reconnect with their surroundings — their city, nature, family and friends; to find a sense of wholeness in being here, now, and to recognise the perfection of each and every moment," Pedretti explains.
The problems of working around the clock
As a management consultant, Pedretti was married to his smart watch, constantly checking the time and his notifications and, like many other young professionals, at an increasingly frequent rate each month. "For a lot of people today, I think it's really easy to get too caught up in the continual, harmful race of news updates, work developments and social media posts that are part of our world today," Pedretti reflects. "It's easy to forget to look up, and to enjoy and connect with the world and people around us."
Pedretti realised just how addicted he was becoming to the buzz of updates and notifications during a conference stay in Copenhagen. "The hotel had these rather cool plastic key bands in the shape of a circle. I took off my watch and wore the key instead to keep it on me, and that evening, I really noticed the ridiculous amount of times I glanced at my wrist and became distracted from the conversations going on around me." There was, he thought, a significant reflection on the modern world in that act. "I kept checking the time, but in doing that, I let time, the present, pass me by."
Making connections
Pedretti, who describes himself as "very Italian" but lives in Sweden, cautiously mentioned the idea to a few old Italian friends and newer acquaintances in Stockholm. "It opened up a lot of surprisingly deep discussions about life and satisfaction and what we wanted out of our existence," he recalls. As it happened, everything came together perfectly, with each person he talked to having skills and ideas that added to the product and philosophical concept behind Nunc. "It shows the cool coincidences and connections you can find when you dare to put yourself and your ideas out there," Pedretti muses. "My old school mate Andrea and I used to be these teenage philosophers, pondering all the big questions. It was something that had since been suppressed through years of the daily grind, but this idea re-awakened that passionate, inquisitive side of us."
Andrea, an architect, came up with the design and the many symbols incorporated in it during one enthusiastic all-nighter. Swedish Johanna only met Pedretti at the Copenhagen conference, but backed the idea immediately. She thought up the name Nunc, Latin for 'now', on the spot. "I think I'm most proud of what the six of us — Emmet, Matteo, Ricardo, Johanna, Andrea and I — have managed to do together, and how we've all become more positive, thoughtful and conscientious through making these Nunc armbands."
Coming full circle
The team knew that in order for Nunc to make sense, the pieces would need to be produced in line with the theory. "The whole concept would be hollow if we cheated or skimped on anything in the production process," Pedretti points out. The Nunc Italians needed to look no further than the northern Italy from their childhood, where they patiently sought out independent, sustainable workshops. Smith Oliviero from Valle Trompia, an area known for its metal work since Roman times, produces the finest stainless steel for Nunc, while Bologna sculptors Andrea and Daniele set about carving some of the thinnest Carrara and Marquina marble pieces in existence.
The same quality and care go into the packaging. "We were very lucky to find Tarcisio's workshop tucked away in the mountains. He carves beautiful wooden boxes that can be reused as plant pots."
Each piece of wood and marble used is lively and unique, making every Nunc an individual work of art from start to finish. Nunc already resonates with many people — the armbands have been nominated for this year's prestigious Precious Fair award and, this summer, Nunc will expand from their web shop and begin selling at The Lobby in Stockholm. "It's fantastic that it's going well," Pedretti enthuses, "but our ultimate success criterion is passing a Nunc-wearing stranger on the street and knowing that they too appreciate this philosophy."
Website: www.nunclife.com
Facebook: @nunclife
Instagram: nunclife
Subscribe to Our Newsletter
Receive our monthly newsletter by email