Nusfjord Arctic Resort: Charge and explore
Text: Lisa Maria Berg | Photos © Nusfjord Arctic Resort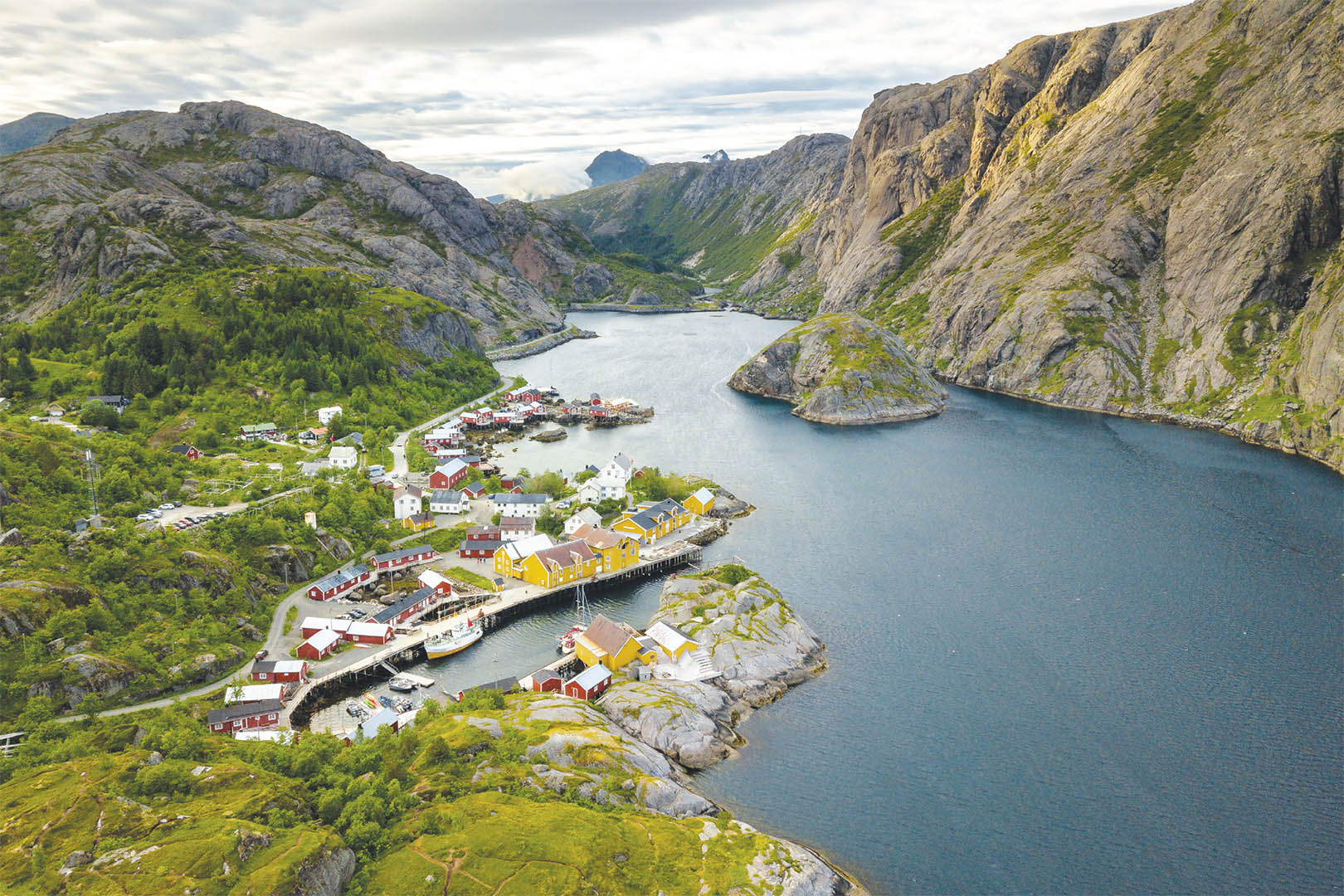 Whether you are looking for a summit challenge, a relaxing resort or just want to – once and for all – learn how to dive or surf in the Arctic Ocean, the Nusfjord Arctic Resort is the place to go. Nestled in an old fishing village in Lofoten, it's the ultimate all-season resort.
Nusfjord, only a 25-minute drive from Leknes Airport, is part of the group of islands on the north-west coast of Norway that make up Lofoten. Like pearls on a string, these little fishing villages stretch out into the awe that is the North Sea. It's a landscape like no other. Majestic mountains and sandy beaches go hand in hand, with the never-sleeping sea as its neighbour. "It's a place that changes with the seasons. The contrasts are enormous, with the midnight sun accompanying the summer and the northern lights turning a winter visit into something very special," explains general manager Caroline Krefting.
History in the floorboards
The location for the resort isn't just any old place. Like most of the settlements in Lofoten, Nusfjord was a fishing village. People living here relied on the sea, for food and for transport. The first settlements date back to 425BC, and most of the remaining buildings are from the 1800s. For a long time, the village was meant to be torn down, making way for the new fishing industry, but when, in 1974, Nusfjord was shortlisted for UNESCO's Year of Architecture list, those plans were quickly thrown out the window.
"The village is really like something on a post card. With its original wooden structure not just intact, but in mint condition, the place is historically of high importance. We want our guests to truly get a feel for what life was like here, and to get a taste of the rich history of the place," Krefting explains.
A place to charge
As a visitor at the Nusfjord resort, you can forget everything you know about hotels and key cards. "Our bedrooms are all converted fisherman's cabins, all modernised with en-suite bathrooms. The structure is all original, and each room has its own personal touch. With the place itself as inspiration, it has been a joy to decorate. In all of the cabins, we expose the original timber roofs and walls. Back in the day, the fishermen used what they had available, and some of the guests can find themselves sleeping under a roof made out of an old fishing boat," Krefting enthuses.
With three restaurants on the premises, you can have local-recipe fish soup for lunch and catch of the day for dinner, before settling in for a nightcap in the atmospheric Oriana Tavern. And with the fisherman's cabins being right by the sea, the sound of the North Sea becomes your lullaby.

Hand in hand with nature
Whether you're popping into Nusfjord for a few hours or staying for a week, there's plenty to do – be it a five-hour trek up spectacular mountains and sceneries, or a relaxing day at the spa. "There are so many different activities here. A really popular one is obviously going fishing, which I think isn't just incredibly fun but also a way of learning more about the way of life up here. It's always a local fisherman who takes you to sea, which makes for a really special day out!" explains Krefting.
Often, a trip to sea is also accompanied by a course in slaying fish, and if you're in for the whole experience, why not round up the day with a cooking class turning your fresh, self-caught cod into a local dish? If you're a fan of the sea but feel a bit shaky in a boat, a snorkelling or diving course might be more suitable. Or, if you're just looking to recharge and rest up, why not spend the day in the outdoors, followed by a spot in the sauna?
A place fit for a queen
It is not just regular folk who find their way to Nusfjord. This year, the resort opened its own gallery with Queen Sonja's very own works. The queen of Norway is known to have a particular sweet spot for Lofoten, where she has spent many a holiday trekking away in the majestic mountains found on the island group. "It's a privilege and an honour to have the queen's work on our walls. It's a really special place, and a gallery like this feels really right here," Krefting concludes.
Subscribe to Our Newsletter
Receive our monthly newsletter by email