Original Sokos Hotel Presidentti – A hotel showcasing Finnishness in innovative and surprising ways
Text: Ndéla Faye | Photos © Aki Rask & Kimmo Virtanen
Located in the heart of Helsinki, Original Sokos Hotel Presidentti caters to families, individual travellers and business guests alike. Finnishness features in all aspects of the hotel: from the hotel's Bistro Manu, serving classic bistro-style food with a Finnish twist, to meeting rooms named after Finnish ex-Presidents, and rooms where Finnish legends come to life in the form of snowflakes, elves and mosquitoes.
The 1980 Olympic games were held in Moscow, and to accommodate the visitors inevitably crossing the border and visiting Helsinki, Hotel Presidentti opened its doors, with Finnish President Urho Kekkonen and Prime Minister Mauno Koivisto in attendance at the ceremony. Today, Original Hotel Sokos Presidentti is a versatile venue catering for tourists and business guests, and various events: from small meetings to spectacular gala evenings.
Finnishness is in the design
Situated right next to the Kamppi shopping centre, in the centre of Helsinki, the hotel offers guests easy access to shopping, various cultural events and all the main tourist attractions right at its front door. The bright and spacious rooms, designed by Paola Suhonen from Ivana Helsinki, offer guests the ultimate Finnish experience. The hotel lobby and reception's design is described as 'rugged luxury': concrete, brass and copper have all been used as building materials, creating an edgy but classy feel to the space.
Through small design details, the hotel's nearly 500 rooms, including five suites, are decorated according to five themes: Finnish 'sisu', midsummer, a fairy-tale forest, tranquillity and winter storm. Each theme is assigned by floor, and each floor has a unique feel to it as soon as you step out of the lift into the corridor. There are even sound effects specifically created in accordance with each theme. The recently renovated and redecorated rooms take guests on a journey into Nordic folklore and Finnish stereotypes. Each theme is brought to life in the room décor in interesting, quirky, and sometimes surprising ways. "We've had a lot of feedback on the traditional Finnish 'ryijy'-rug depicting an image of a mosquito in one of our midsummer-themed rooms. Mosquitoes are a very big part of Finnish midsummer," laughs the hotel's general manager, Hannele Laurila.
The hotel has two street-level restaurants, Bar Adjutantti and Bistro Manu. Drawing in local residents and tourists alike, the restaurant serves classic bistro-style food and drinks with a Finnish twist, made from predominantly Finnish ingredients. "Younger guests can enjoy themselves in Onni the Squirrel's play area. Families with children will most likely also love the Natural History Museum, situated across the road from us. We have the advantage of being in the heart of Helsinki, making everywhere within easy reach from the hotel," Laurila explains.
To top off the all-round Finnish experience, the hotel has saunas, also available to book for relaxed private sauna evenings, as well as a gym and a 14-metre swimming pool, perfect for cooling off after a long day.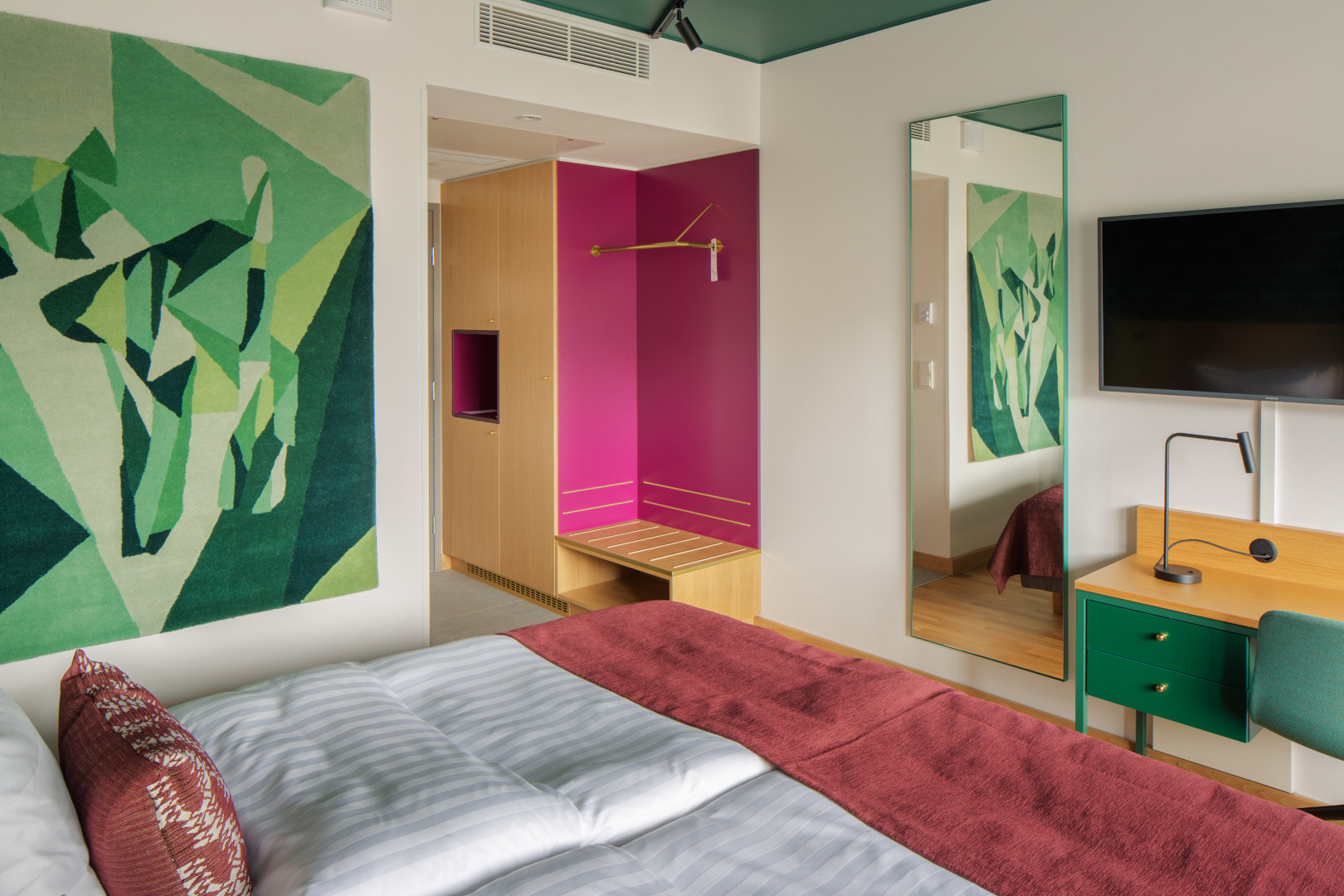 From small meetings to large-scale events
The hotel includes 15 conference rooms that can be converted for various events and meetings. The whole conference space has a capacity of 2,000 people. There is also an auditorium for up to 370 people with state-of-the art technology and equipment, including eight microphones, a video projector, a podium, and a computer. In addition to large meetings, the auditorium space is ideal for theatre performances and private cinema screenings. "We've renovated the conference rooms and auditorium with careful consideration for how to make a meeting run smoothly and efficiently. Each desk has individual plug sockets, and there are chairs with writing tablets," says Laurila.
All meeting rooms are named after Finnish ex-Presidents, and there are pictures of them dotted about the conference floor. The adjacent restaurant space also offers a chance for hosting cocktail parties and shows, for example.
Owing to the hotel's central location, warm atmosphere and welcoming staff, many of its guests return year after year. "We focus on offering a warm service and a truly authentic Finnish experience to all our guests. We take pride in providing excellent customer service, and we want all our guests to have a wonderfully memorable stay, whether they are here for a quick business trip or a long family holiday," Laurila concludes.
sokoshotels.fi/en/helsinki/sokos-hotel-presidentti
Subscribe to Our Newsletter
Receive our monthly newsletter by email