Oslo Chamber Music Festival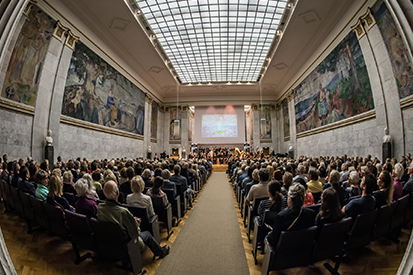 30 years of world-class chamber music
TEXT: JULIE LINDEN | PHOTOS © LARS OPSTAD
In August, Oslo Chamber Music Festival celebrates three decades of presenting world-class chamber music in Norway's capital city, and you are invited! Festival audiences can expect varied and magnificent musical experiences in renowned and sometimes unexpected venues, including the Royal Palaces and Oslo's medieval Akershus Fortress.
Founded by Norwegian violinist extraordinaire Arve Tellefsen in 1989, Oslo Chamber Music Festival was the first music festival of its kind in Norway. Tellefsen wanted to spread chamber music to wider audiences, and inspire musicians to come together to practise music in less formal settings than was common in more traditional concert seasons. A summer chamber music festival proved to be the perfect way of combining the two wishes.
"We're excited to be marking this 30th anniversary. It means a lot to us," says Kristin Slørdahl, festival director. "Norwegian music has developed enormously over the last 30 years. We have some of the best musical institutions in the world, and we have municipal art and culture institutions across the country that have produced some of the best classical musicians in Norway."
The programme for August's festival will be available on the festival's website from the beginning of January. Within the scope of the 30 concerts planned for the jubilee festival, there will be something for everyone. "Audiences will be able to experience musical performances that bring together several genres, so this is a wide-reaching festival that suits young and old," says Slørdahl. "We also use a number of different places, from Akershus Fortress and the Royal Palaces to private homes and other more intimate venues. The idea is to give the audiences as holistic an experience as possible."
Many of the planned concerts involve children and young people, and it is a goal of the festival to include younger generations of musicians playing together with more established performers. "Encouraging and supporting young people is a passion of our founder, and it's incredibly rewarding to see so many young people who have played at the festival succeed as musicians later on, both nationally and internationally," says Slørdahl.
Subscribe to Our Newsletter
Receive our monthly newsletter by email