Oslo Works: A young and curious architecture studio
With a combination of fresh enthusiasm and substantial experience, the people behind the young and curious architecture studio OSLO WORKS believe in the importance of innovation and technology in achieving the best solutions for their clients.
TEXT: INGRID OPSTAD | PHOTOS : OSLO WORKS
MAIN IMAGE: Akerselva Atrium. Photo: Einar Aslaksen.
Ever since OSLO WORKS was founded by Siri Bakken and Gudmund Stenseth in 2016, the Norwegian architecture studio has seen big growth in terms of both size and experience. "We had a substantial development in a very short time – we've been very busy. Today, our office consists of 14 employees with a great range of competence and knowledge," says architect Francis Brekke. He joined the firm as partner in August 2017, along with Håvard Skarstein.
Covering a wide spectrum of expertise, from large, urban zoning plans and architectural programming to project detailing and completion of built projects, the architecture studio currently has ongoing projects in Tromsø, Trondheim and the Oslo region.
Akerselva Atrium. Photo: Einar Aslaksen
In the summer of 2016, OSLO WORKS was contracted by DNB Næringseiendom NE to renovate the entrance and shared areas in the office building Akerselva Atrium. The space was given a comprehensive material palette, with micro cement floor, veneer walls and a perforated metal ceiling. "We removed some meeting rooms to create more informal meeting areas for the employees, which helps bring more daylight into the building," says Brekke. "In conjunction with the new reception solution, there is a green plant wall and a beautiful, sculptural staircase also lined with veneer to tie it all together."
Myntkvartalet. Photo: Jan Kühr
In their most recent project, the young firm worked on upgrading and transforming the artillery stable in Myntkvartalet into a smart building for the future. "The aim was to create a new technology-driven innovation hub named Share Oslo, supporting Norwegian scale-up technology companies towards international success," Brekke explains. The building is part of the historic Akershus Fortress, and this specific part of it was where the horses were kept.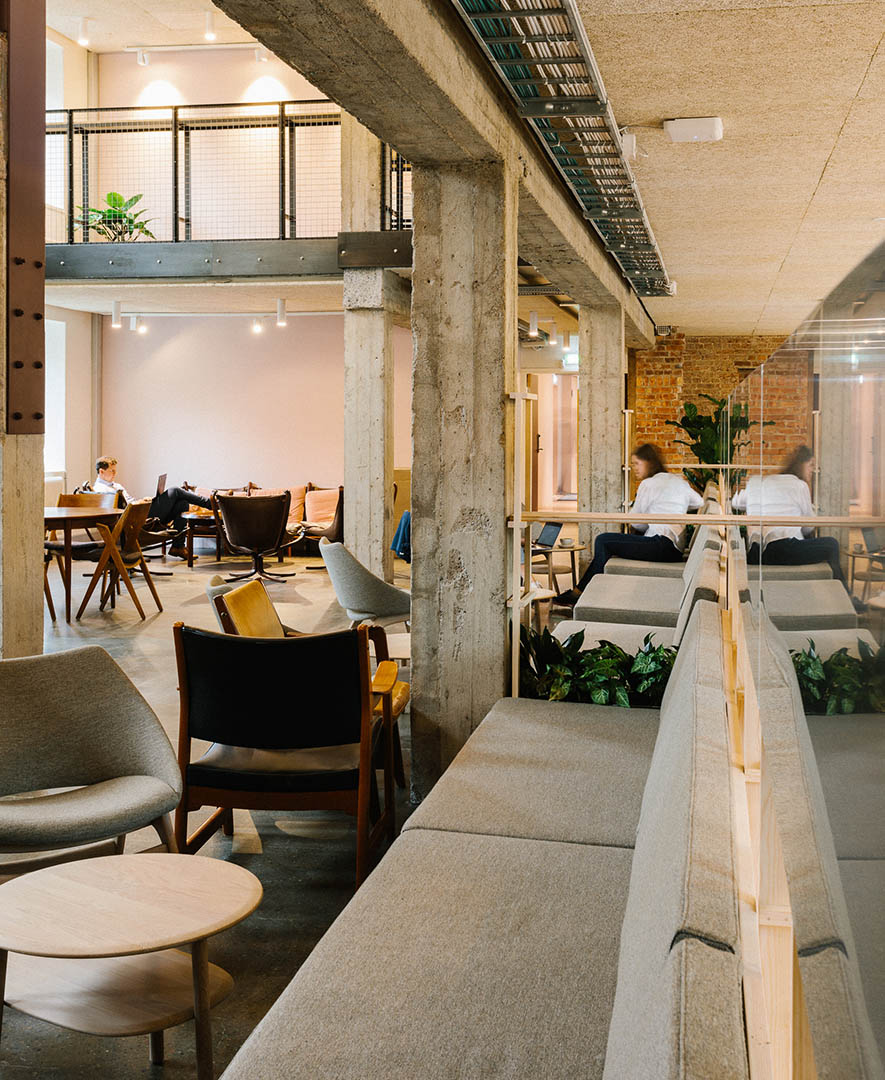 Myntkvartalet. Photo: Jan Kühr
"We have reestablished some of the original features and modernised the structure with open and inclusive solutions. Our idea was to remove much of the mistakes made during the remodelling in the 1950s and add as little as possible to the space, which has resulted in an industrial look that reveals traces of the past," says Brekke. Throughout the interior, plenty of natural materials have been utilised, and in terms of colour choices, the architects searched the building to capture existing tones from the early days. "On the windows, for example, we used a light-green shade, which was the oldest layer of colour we could find on the oldest window in the building."
Web: oslo.works
Instagram: @oslo.works
Myntkvartalet. Photo: Jan Kühr
Subscribe to Our Newsletter
Receive our monthly newsletter by email