Östergötland: bringing together wildlife and city life
By Astrid Eriksson | Photos: Östergötland
The province of Östergötland in the southeast of Sweden is a joyous mix of wildlife and city life. Here, deep forests and lush archipelagos meet university hubs and high seats of innovation. In this wide range you will not be pressed to find ways of spending your days. The options are many and the selection of attractions and activities broad.  
Few places display this kind of perfect balance between rich nature and the business of larger cities. Several major Swedish tourist attractions lie in close proximity to each other, and thanks to excellent means of transportation you are never far away from your destination. Visitors flock every year to experience the nature-rich environments, the charming cities, and the exciting and historical sites that can only be experienced in Östergötland. The fact that the region is located just a couple of hours from Stockholm is an added bonus – it is as easy as it is convenient. The public transportation system will take you from the city to the coast in no time, and once you are there you are free to tackle the nature in any way you like. Island hopping and seaside tours are just a few of the many options at your disposal.
A smorgasbord of experiences: from wildlife to Bamse
When it comes to offering visitors something unique, Östergötland is a smorgasbord of various experiences waiting to be explored. One of the biggest and most fun family attractions is Kolmården, the biggest wildlife park in Scandinavia – a zoo combined with roller-coasters, shows and events, a first class hotel and many more attractions and activities for the whole family to enjoy. There is a lot to do at Kolmården: for the animal lover this park offers 76 species, a total of approximately 750 animals and a knowledgeable staff always eager to tell you all there is to know about your favourite creatures. Safari, Marine World, dolphins and tigers – all gathered in this spectacular wildlife park, leaving no one unaffected by the loving and joyous atmosphere.
New for 2015 is the World of Bamse. The beloved children's story about the bear Bamse and his forest friends will become a reality for Kolmården's visitors in May 2015, when the zoo opens their new attraction sure to put a smile on everyone's faces.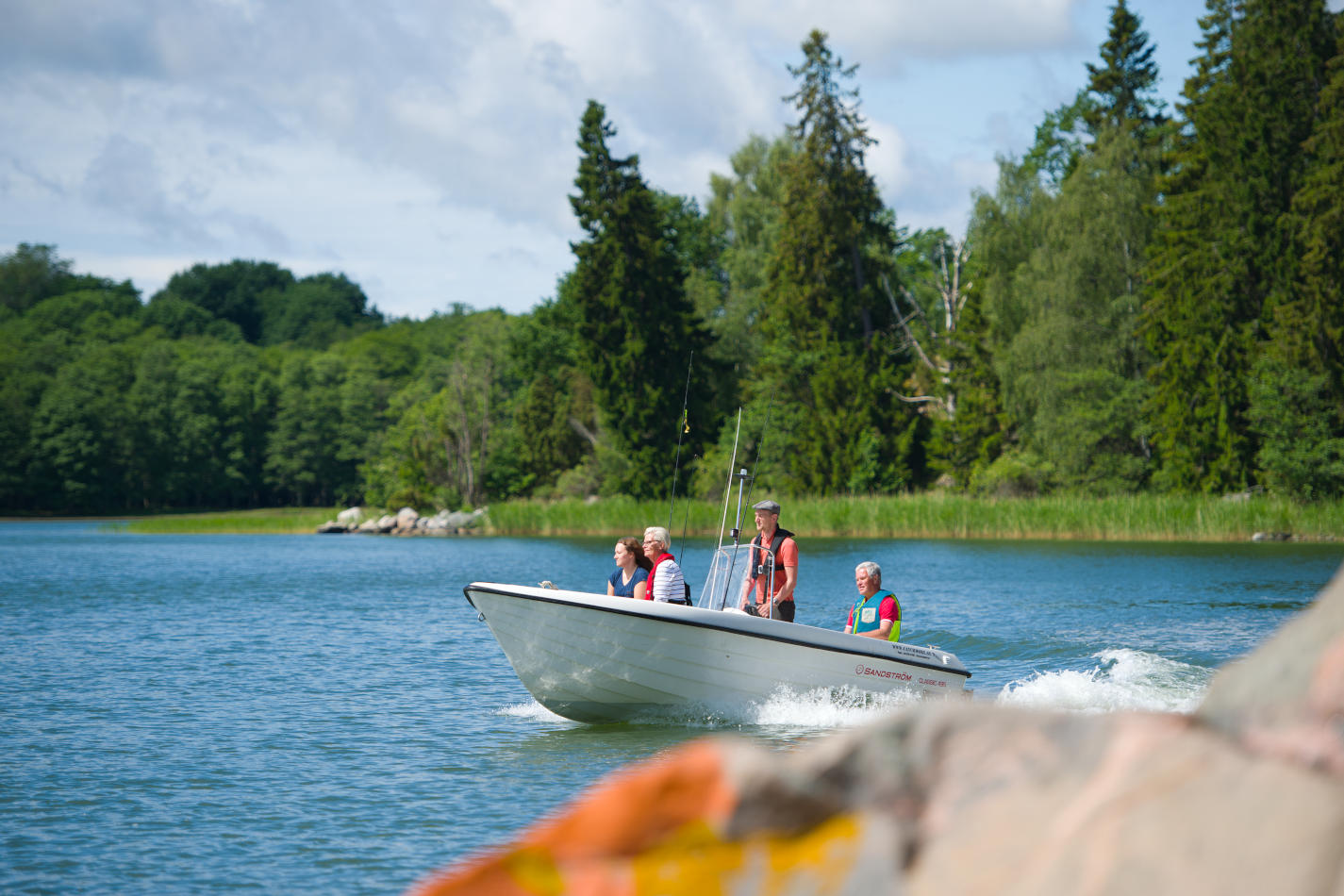 Innovation and nature: endless possibilities
Östergötland is a region where innovation is at the centre just as much as the beautiful nature. In collaboration with the University of Linköping new technologies are in the making, incorporating visual techniques into the tourism industry. "Vadstena Castle is a beautiful renaissance castle from the 16th century. Guided tours are immensely popular and tell historic tales of how the people who used to inhabit the castle lived their lives. But the castle has obviously gone through several transformations over the centuries," Susanne Fredriksson, Tourism Manager at Visit Östergötland explains. "Just imagine what we could do in regard to storytelling if the technology is merged with the tours. The possibilities are endless and since we have such a big and forward-thinking university in the region, it is actually possible. It's the beginning of the digital destination!" she says enthusiastically.
There is no shortage of beautiful waters in the region of Östergötland. Lakes appear around every corner and the coastline is nothing short of divine. Göta Kanal is a 190.5 km long canal that runs through the region, connecting the Baltic Sea with Kattegat. This is an excellent chance to enjoy nature at its finest as well as revel in the people of Östergötland's favourite pastime: 'utflykter' [excursions]. "It is something we do all year around," Fredriksson explains. "It doesn't really matter if you want to go to the archipelago, the forest or just have some quiet time out on a field, all you need is some traditional 'fika' (the Swedish term for coffee or tea with a biscuit and a bun) and you are ready to 'utflykta'! It's a fantastic way to get away from the hectic lives we tend to live, get out and breathe the fresh air of our lovely nature."
The Swedish Air Force Museum: a high-flying treasure
Another addition to this mix of attractions is the Swedish Air Force Museum – the only one of its kind in Sweden. The Museum reflects the development of Swedish military aviation from the early pioneers to the present day. This is an experience you do not need to be a diehard Air Force fan to appreciate. The technologies are fascinating for all, and how often do you really get the chance to enter an attack plane and even have a sit-down in the pilot's seat?
Östergötland really has something for everyone to enjoy and delight in. It is well worth a visit – this much fun deserves to be experienced.
For more information, please visit: www.visitostergotland.se
Subscribe to Our Newsletter
Receive our monthly newsletter by email