Our Guide to Danish Wellness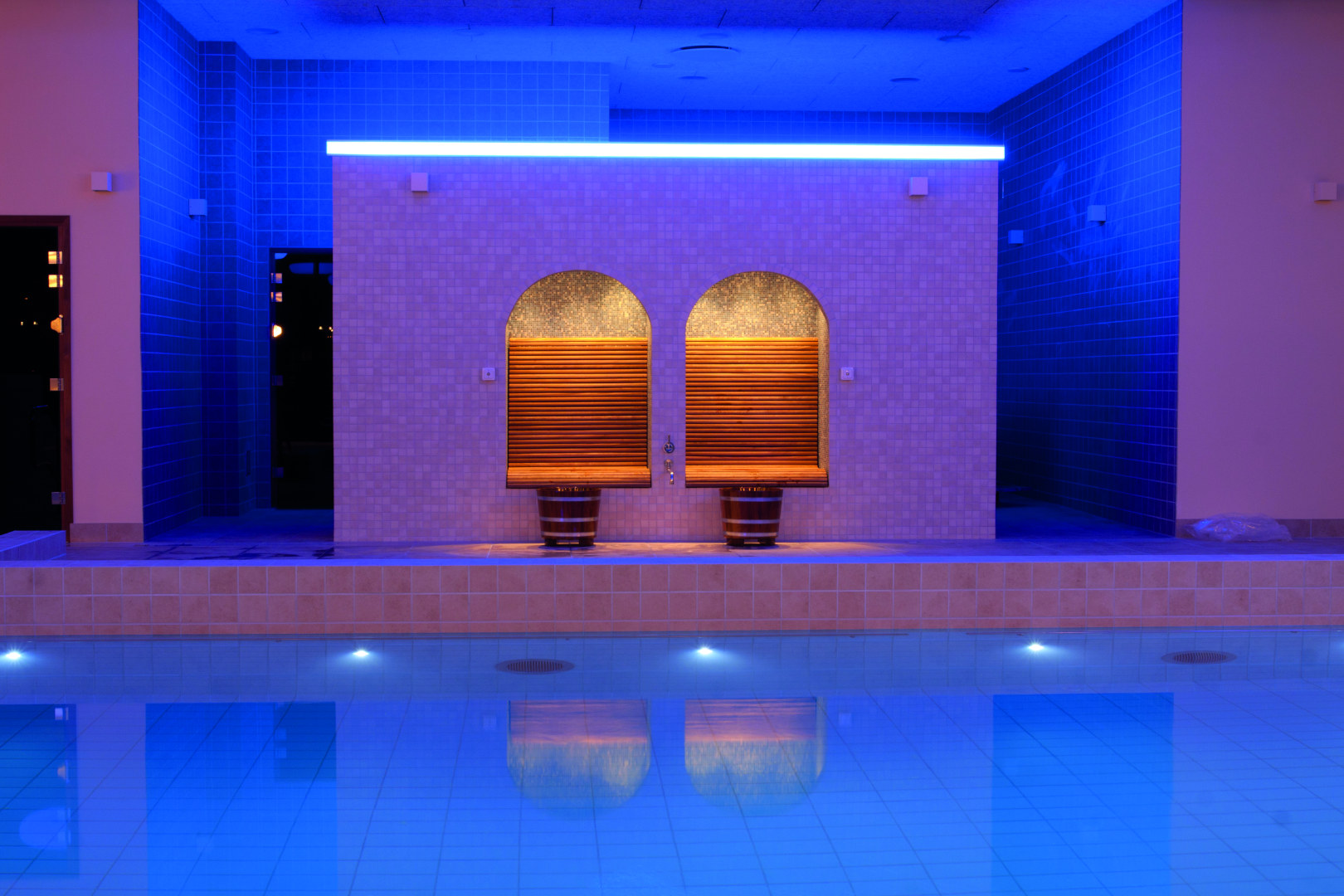 Ever been in Denmark and longed after a trip to the spa, but didn't have a clue of where to go, or what to look for? We are here to help you out. This guideline gives you the complete guide to Danish spa places, we think is worth experiencing. The guide is also for the ones, who seeks inspiration to new Danish beauty products no matter skin type.
DANISH SPA RESORTS


PHOTOS © SOFIEBADET
SOFIEBADET
You will notice it right away: Sofiebadet is not like any other spa you will ever set foot in. The tiles and floor are made of marble and the aesthetic decoration on the walls gives the place a special and authentic feel.
People from all around the world have travelled to Sofiebadet, and many come to experience the well-known hamam treatment that they offer. "On the navel stone in the hamam, guests are resting on a bed of suds and completely covered by a layer of foam from the organic olive soap. The body is massaged and then scrubbed with a 'kese', before the body is finally rinsed. We have all kinds of people coming here just to try this special treatment. We've even had a woman from New York visiting, who said that Sofiebadet was one of her two favourite spa places in the world," says Anne Poulsen, who has been working at Sofiebadet for over 12 years.
You can get an oil massage, lie in our tub with herbs, get a facial mask or try our classic mint-salt scrub, which exfoliates the skin. "There is something for everyone," Poulsen says.
Location: Copenhagen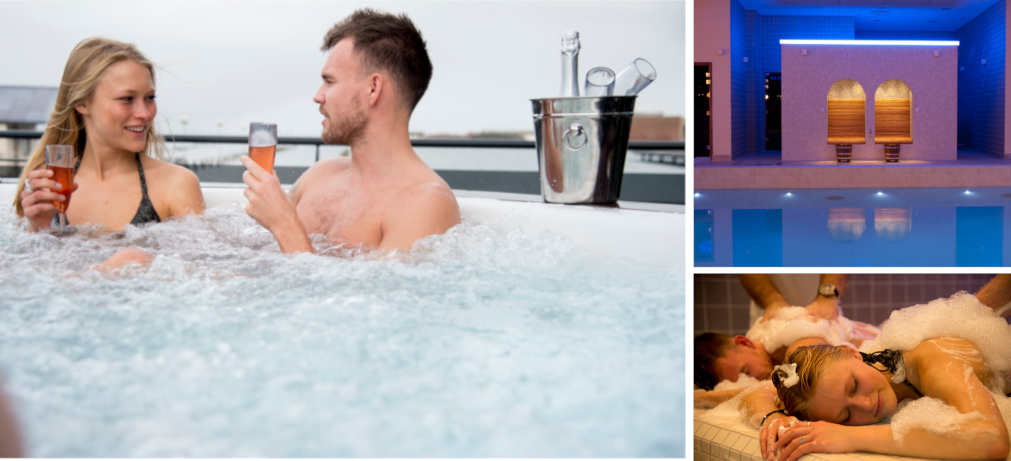 PHOTOS © KURBAD LIMFJORDEN
KURBAD LIMFJORDEN
Busy work schedules can make life seem hectic, but Kurbad Limfjorden offers a luxurious escape from the daily pressures.
Kurbadet offers single ad-hoc sessions as well as three different types of membership graded from bronze to platinum. Each membership consists of 20 hours of free access to Kurbadet Limfjorden, a bathrobe, a pair of slippers and a towel, and a higher-grade membership comes with wristbands that can be allocated to clients and business partners.
Spa treatments include massages, aromatic baths, body peeling and Turkish-style hammam, and the beauty menu offers facial skin treatments, pedicure, and feet and leg treatments, all delivered in a tranquil and soothing ambiance. Sauna experiences are carefully adjusted at 90 degrees.
Ulrich Helledie, Limfjorden's general manager, explains that the guests are offered three different kinds of sauna. "They are all really popular and are great for muscles and joints," Helledie says.
Each treatment comes with a face mask consistent with the bath scent chosen by the vistor. All scents are exclusive and include chocolate, malt and salt.
Location: Struer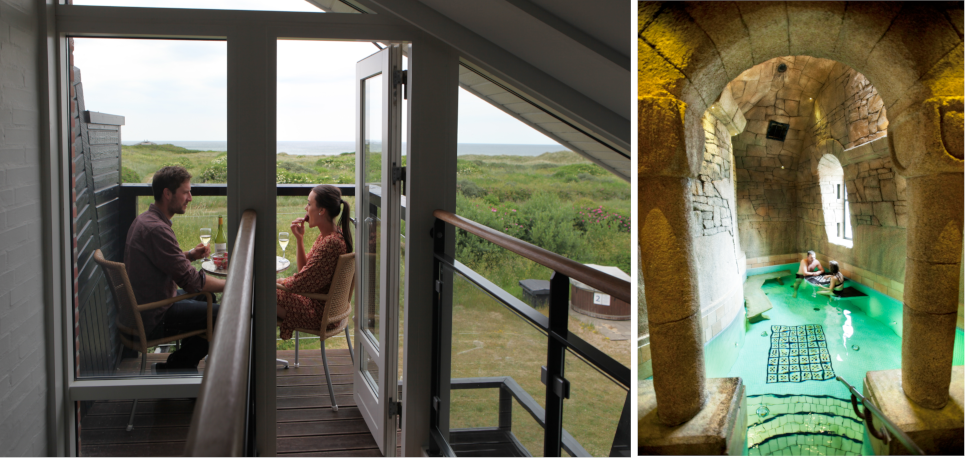 PHOTOS © SKALLERUP SEASIDE RESORT
SKALLERUP SEASIDE RESORT
Cycle through the sand dunes, jump in the sea, warm up in a Roman spa, reenergise with a pampering massage, and round off the day with a gourmet dinner before retreating to your stylish holiday home for a nightcap on your private balcony with a sea view.
A wellness retreat at Skallerup Seaside Resort offers a winning combination of grand natural surroundings, soothing quietude and absolutely delicious spa experiences.
Inside the Romulus spa you find a number of Roman-style hot tubs, where you can gradually raise your body temperature while simultaneously lowering your stress levels.
In the spa's panoramic sauna you can, for instance, enjoy a meditative chakra sauna infusion, an aroma therapeutic experience in which a therapist swivels waves of hot air at participants with a towel. With this luxurious combination of comfort, beauty and indulgence, both body and soul are in for a treat when visiting Skallerup Seaside Resort – no matter the season.
Location: Hjørring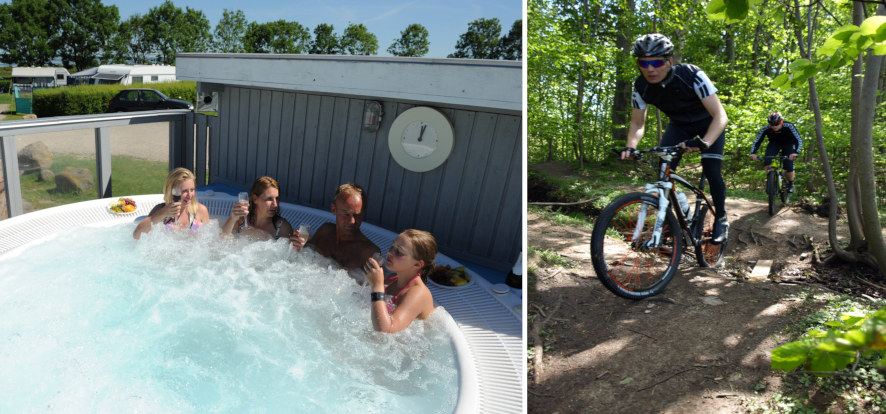 PHOTOS © OLE DZIEGIEL
HOLBÆK FJORD CAMPING & WELLNESS
Holbæk Fjord Camping & Wellness offers you the luxury of a wellness treatment, but combined with a palette of other experiences.
For overnight stays you can rent cabins or bungalows; and though there is no breakfast buffet and you will have to prepare every meal for yourself, you will be served fruit and champagne when purchasing a wellness treatment and either lunch or dinner at restaurant Vadestedet is included.
The campsite boasts a heated, covered swimming pool, where the water is always 25 degrees, which is open all year round except during the winter. Next to the pool there is also an outdoor spa pool and a sauna, which can be used freely by overnight guests, and you will also find a wellness house with practitioners ready to offer you one of several wellness treatments.
You can rent mountain bikes and go for a nice ride in the beautiful nature; you can go fishing or kayaking or just walk along the beach
Location: Holbæk

PHOTOS © DIAMOND SPA OF BORNHOLM
DIAMOND SPA OF BORNHOLM
Inspired by the landscape, legends and culture of Bornholm, the Diamond Spa of Bornholm offers a concentrated luxurious experience of the island's famous craftsmanship and natural beauty.
The spectacular features of the spa attract several dedicated spa goers, who travel to Bornholm specifically for this experience, but equally many guests drop by in connection with a conference, a private party or an island holiday.
With a range of wellness experiences including saunas, cold, hot and warm water pools, a Turkish hammam, a massage pool, an infrared light therapy room and much more, spread over 1,000 square metres, the Diamond Spa of Bornholm is indisputably the island's largest and most exclusive spa. The spa also includes an unsurprisingly popular outdoor Jacuzzi and saltwater pool from where guests can enjoy a captivating view of the Baltic Sea.
In addition to the many experiences included in the admission, the spa offers a range of individually booked massages and treatments for which therapists use Bornholm's local skincare products.
Location: Bornholm
BEAUTY PRODUCTS


PHOTOS © ZINOBEL ORGANIC BOOST
ZINOBEL ORGANIC BOOST
Zinobel Organic Boost was not born in the the same way most skincare brands are born. For 18 years, the founder, Joan Arler, worked with developing horse feed for world-class horses that competed in the Olympics. "When I worked for Blue Hors, I read hundreds of scientific articles and studies about nutrients. We created feed for world-class horses, so we needed to make sure that the compositions were the best of the best," she explains. Along the way, Arler started to develop a real passion for natural nutrients, and also for skincare.
You might be thinking that organic, natural and pure skincare products could not possibly also boast top anti-ageing qualities and truly make a difference for your skin. Think again. Zinobel Organic Boost is filled with nature's best nutrients, known to help prevent premature ageing of the skin.
The products contain ingredients such as rosehip, hyaluronic acid and grape seed extract. Rosehip is bursting with many different nutrients, including Vitamin C, and it has a sky-high level of antioxidants that protect against breakdown.

PHOTOS © RAUNSBORG APS
RAUNSBORG
Picking the right skin care product can sometimes seem like a daunting task, especially when you are faced with thousands of products all claiming to rejuvenate, revitalise and repair your skin. Raunsborg has chosen to simplify skin care with a few excellent products that go back to basics.
Today, Raunsborg has three ranges: WOMAN, MAN and SENSITIVE. Each range includes products that are affordable, easy to use and effective. The women's range is perfect for everyday use to protect the skin, while the men's range takes into account the slightly thicker skin men have and the irritation that shaving can cause. The sensitive range is without perfume, so that even the most sensitive skin can be moisturised.
Raunsborg really focuses on its customers. There are no gimmicks; instead there is established knowledge, an extremely passionate man and an experienced company full of perfectionists.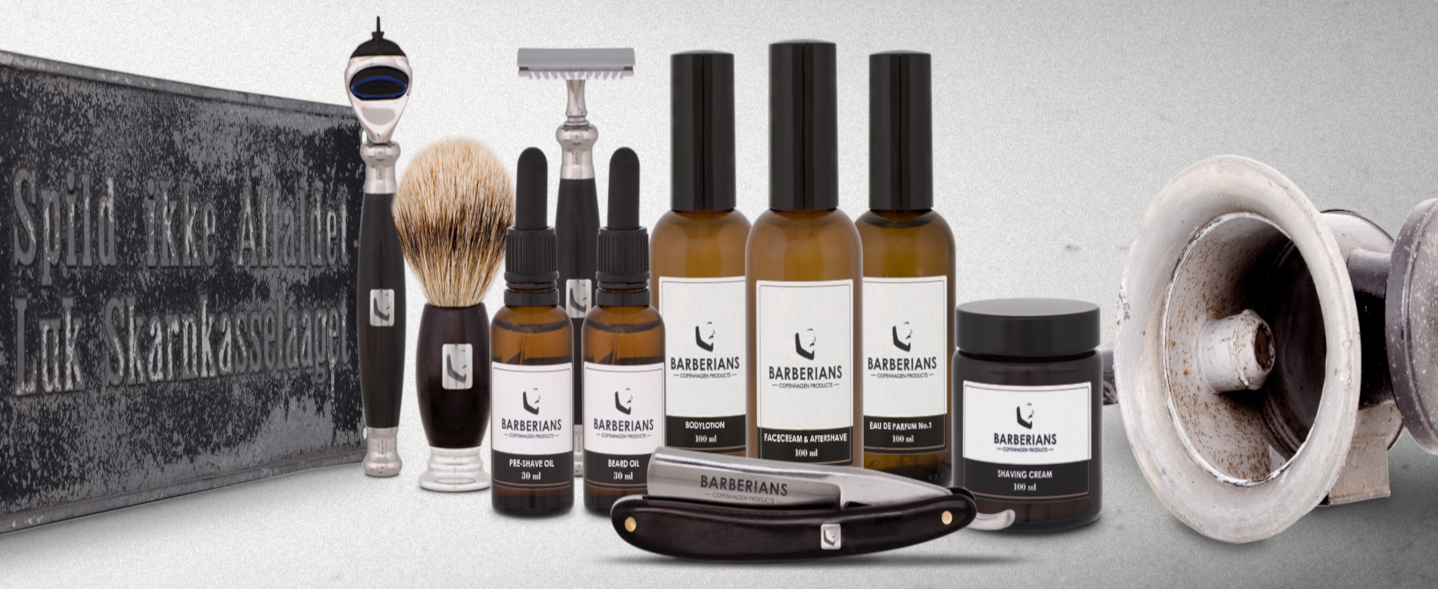 PHOTOS © BARBERIANS
BARBERIANS
Today the beard is a symbol of masculinity, used to express fashion sensibility and status. But keeping a beard and nursing your skin, be it a full Viking do, a small stylish moustache or a cleanly shaven chin, is an art form that has been neglected in Denmark for many years, says founder of Barberians, Martin Mollerup.
All products are based on organic and natural ingredients, and tools are made in a stylish Scandinavian design while elegantly adhering to the traditional.
Many might think that this is something that will take hours, but that's not the case. "It's just a question of making it a part of your lifestyle, and in reality it only takes a couple of minutes more than when you use regular products, and your body and soul – not to mention your partner – will appreciate it very much," Mollerup says.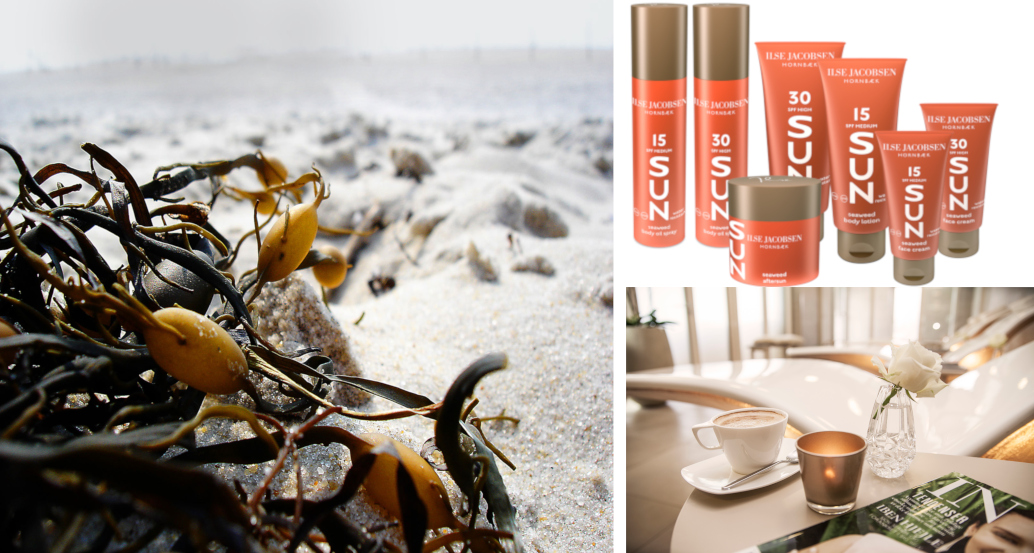 PHOTOS © ILSE JACOBSEN HORNBÆK
ILSE JACOBSEN HORNBÆK
An entrepreneur in all aspects of her work, Ilse Jacobsen has grown her business to encompass a wide variety of lifestyle brands, including a spa, flower shops, clothes, shoes and her own range of spa and beauty products.
The ILSE SUN range is free from parabens, microplastics and MI (methylisothiazolinone), a common preservative in cosmetics which may cause allergies. "We have to take care of our skin throughout our life and protect it against nature's damaging influences," Jacobsen says. "And what's more fitting than doing so with the help of nature itself? Using the ocean and its resources as inspiration is a part of my lifestyle and closely tied up with who I am."
Today, ILSE SUN is one of the world's first sun ranges based on seaweed. Costumers are offered a series of body lotions, face creams and body oils with seaweed extracts and aloe vera as their primary ingredients. Seaweed contains a wealth of vitamins, minerals and antioxidants that help slow down the ageing of the skin and protect against environmental pollutants and sun damage.


PHOTOS © ECOOKING
ECOOKING
Even though Tina Søgaard was trained as a typographer, she was forced to give up her job following a car crash in her late 20s. Soon afterwards, however, her unusually well-developed sense of smell got her a job at a cosmetics manufacturer. "I'd always been able to distinguish between different smells very easily, which meant I had a natural interest in the beauty industry," she explains.
The name Ecooking came about as an amalgamation of 'ecological' and 'cooking', referring to the simple organic ingredients that all the products are made of and the company's humble start in Søgaard's kitchen.
Each product is carefully and clearly labelled with the common names of ingredients and their main properties. The website includes tips for the use and application of each individual product, such as how to avoid further drying out skin, which skin types suit which products, and even godsends like how to avoid ingrown hair when shaving.
TEXT: HENRIETTE NEIMANN
Subscribe to Our Newsletter
Receive our monthly newsletter by email