Our guide to Norwegian wellness
We give you the complete guideline to Norwegian spa resorts and beauty products we think you should you try.
NORWEGIAN SPA RESORTS

PHOTOS © TOM ATLE BORDEVIK & DRAMMENSBADET
DRAMMENSBADET
There is something for everyone to enjoy – whether they are a new or experienced swimmer, or just want to relax in the spa.
At Drammensbadet there are four outdoor pools, which are open throughout the summer from the first weekend of June throughout August. These are a major attraction when the sun hits Drammen and, when a well-deserved break is needed from swimming, there are sunbeds and barbecue opportunities by the pool – all included in the price of the standard ticket.
There are senior classes, aqua classes and group fitness classes including yoga, pilates, spin, step, dance and body pump to name a few. Additionally, all members have unlimited access to training guidance on site as well, to help new members get started or to help with progress for the established gym-goer. There is not much you cannot do at Drammensbadet.
Location: Drammen

PHOTOS © SYVENDE HIMMEL A/S
SYVENDE HIMMEL
Syvende Himmel is an expansive spa in Bodø, divided across two locations in the city centre. Services offered range from hair removal to luxurious massages, but regardless of your appointment, Syvende Himmel put the craftsmanship of the experience first.
The locations host 12 treatment rooms in addition to a skin care school, which opened four years ago. "Clients who visit the spa have high expectations of the treatments, and we pride ourselves on being the Rolls Royce treatment in skincare," Guri Andreassen, co-founder of Syvende Himmel, explains.
Syvende himmel includes a school, providing a year- long skincare training course. It is an intensive programme, and students come from all over Norway to participate. The school teaches between 17 and 20 eager students every year.
Location: Bodø

PHOTOS © SØRLANDSBADET
SØRLANDSBADET
Imagine natural scenery so close you can almost feel it within the reach of your fingers. An outdoor and indoor water park located on an idyllic beachfront at the long and beautiful Rosfjorden has made this possible.
The outdoor facilities called 'Badeøya' are open during the weekends in the low seasons as well as during the entire summer holidays. One of the most popular activities is the 60-metre-long waterslide, giving incredible views over the water as you slide downwards.
Besides the swimming pools, they also have a spa recreational centre, spinning and gym classes. There is also a fitness center onsite offering different kinds of activity classes as well as physiotherapy, which makes it an attractive place for the locals.
Location: Lyngdal
BEAUTY PRODUCTS

PHOTOS © CAMILLA WAAGE, C FOTO
RÅ ORGANIC SKINCARE
RÅ Organic Skincare can in the simplest way be described as a skincare line committed to making high-quality products that are clean and natural, completely free from harmful ingredients.
RÅ Organic Skincare boasts an extensive range of 78 different products, from facial creams for those with atopic eczema to body lotions and hair oils for sensitive to normal skin. What makes the brand so special is that the formulas consist solely of exclusively handpicked, carefully chosen ingredients and all plant oils are organic.
While all 78 products are worth a mentioning, there is one in particular that really stands out: a soap and cream made of Norwegian forest oil. While one of the main ingredients in all the products is oil, Norwegian forest oil is somewhat of an exotic ingredient

PHOTOS © KAROLINE BILLEHAUG
LYKKE BY JULIE
We are all bombarded on a daily basis with the beauty industry's endless promises of renewed youth –and we often fall for the hype. Unfortunately, countless people end up disappointed time and time again, but still remain unable to break the cycle. Julie Ringnes, founder of Lykke By Julie, decided to take matters into her own hands and try something different.
On Lykke by Julie's products, customers are presented with understandable information so that they can easily figure out if the product is for them. In the bottles they will many find a mixture of oils from around the world, including some from the Nordic fauna.
So far, Lykke by Julie consists of four different products. The all- round oil that Ringnes originally created for her child got the name SKÅNE, which means spare, shield or guard. She has later made a healing oil named GLØD, meaning glow, for more mature skin; a konjac sponge named SKURE, meaning rinse or wash and recently a lip balm bearing the Norwegian word for a kiss.

PHOTOS © NEVEN BODY CARE
NEVEN BODY CARE
Neven Body Care handcrafts small batches of natural yet luxurious skincare products. The brand promotes the balance between nature and humanity as the key to social progress, peace and sustainability.
The product line currently includes shampoo bars, lip balms, body butters, face oils and healing balms. Each product has its own identity imprinted with components and intended purpose. All products are free from harmful substances, synthetic fillers, artificial colours and fragrances. Being 'junk-free' is what unites them.
The market for natural skincare is growing and consumers are choosing organic and locally sourced products more than ever before. The inspiration and motives of Neven mirror a modern Norwegian society where people are looking for a healthier lifestyle

PHOTOS © NINKS
NINKS
Sometimes it is the small things in life that make you feel spoiled and happy –like a gorgeously scented soap or a scrub that leaves your skin glowing. This is the aim of Ninks soaps, the company that makes natural soaps in colours and scents that add a tad of luxury to any morning routine.
With an array of colours ranging from the bright yellow Bali to the sophisticated and elegant Paris, there is something for everyone.
The most exclusive product currently on offer is her range of soaps with salt from Saltstraumen, the strongest tidal current in the world, situated high up in the Arctic. "You have probably noticed how good your skin feels after a dip in the sea. I wanted the soaps to give the same feeling", founder of Ninks, Nina Kristiansen says.


PHOTOS © ALVELAND
ALVELAND
The only ingredients that go into the mixing bowl of Alveland's products are those that will benefit you and your skin in one way or another. Founder, Rita King, has a main pride and joy, which is the soap containing cloudberries, which has a host of beneficial qualities, especially for people suffering from eczema and psoriasis.
In addition to cloudberries, blueberries, lingonberries, goat's milk and nettles, all from Andøya, find their way into Alveland's soaps.
A surprising add-on to the business came about when the family went looking for a venue to host King's soap workshop, boutique and café. An old house built in 1913, belonging to the county's policeman, was vacant. Purchasing the house in 2009 opened up for different business ventures, as the family now rents out rooms on the top floor as well as hosting a café on the entrance level.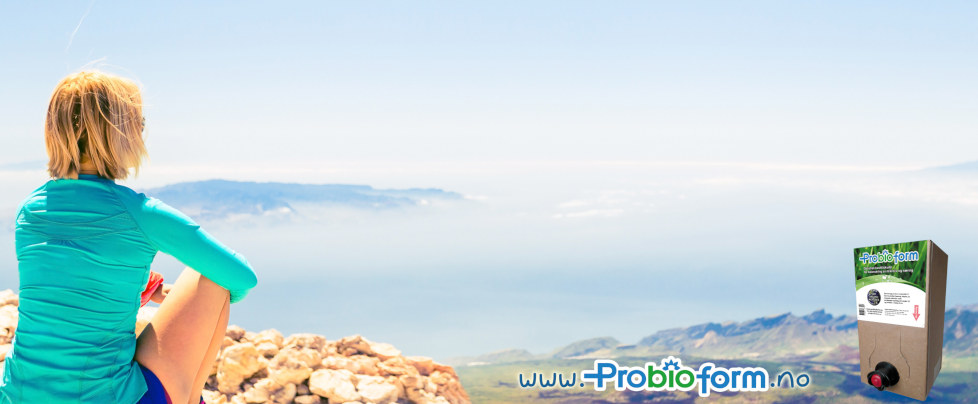 PHOTO © PROBIOFORM
PROBIOFORM
Mix Probioform in water and enjoy a whole host of benefits. The microbes balance and prevent undesired bacteria from establishing themselves in your digestive tract as well as increasing your colon's ability to produce and absorb vitamins, enzymes and proteins.
It is especially helpful in combating candida, a common yeast infection. The probiotic supplement can also be given to children and is a valuable asset in combating tourist diarrhoea on family holidays abroad.
Probioform is aimed at balancing your digestive tract and, as such, helps combating various intestinal ailments as well as general stress and infections. It is a supplementary product in helping your body's ability to retain and restore nutrients and transport waste out of the system. It is plant-based and free from milk, sugar, lactose, and insulin, so it is suitable for vegetarians, vegans and everyone in between.
TEXT: HENRIETTE NEIMANN
Subscribe to Our Newsletter
Receive our monthly newsletter by email