Our Guide to Swedish Wellness
We give you the complete guideline to Swedish spa resorts and beauty products. Regardsless, if you are looking for some of the most luxurious spa- treatments in Sweden or a place where you can relax with the family, the guide has something for you. The skin care products offers everything from fragrant candles and scents to organic products your skin will thank you for.
SPA RESORTS

PHOTOS © ARKEN HOTEL & ART GARDEN SPA
ARKEN HOTEL & ART GARDEN SPA
Arken Hotel & Art Garden Spa is nestled in between the Gothenburg harbour and the sea. Inspired by the five elements, this is definitely a place for pure 'me time' and days when you just need a breather.
The spa has plenty of room for you to unwind, such as in the orangery on level two, where you can lay back on a bamboo bed and enjoy the surroundings. There are no full-sized swimming pools, but instead you can soak in hot springs, try the steam room and ice scrub or relax in a cinnamon-scented sauna or outdoor saunas and a pool with a view. One of the most popular features at the spa is the copper tub, where you can relax on hot lava stones.
Once you are completely relaxed, you can always enjoy a nice dinner in the restaurant. It has room for 350 guests, but during busy weekdays the spa guests can always sit in a separate part of the restaurant – where even a bathrobe is perfectly acceptable at the table.
Location: Gothenburg

PHOTOS © BADHOTELLET
BADHOTELLET
For more than 100 years, Badhotellet has been dedicated to the health and wellbeing of its many guests. With a tranquil atmosphere, award-winning spa ritual and continuous developments, this classic spa hotel holds its ground as a modern sanctuary.
Over the years, the spa hotel has been continuously updated and now offers a mix of fine old traditions and modern facilities as well as a first-class service and cuisine.
The gym has been recently refurbished with new equipment from Technogym, and it has launched its very own spa brand, Küren. These fantastic products with near magical aromas will be available in the hotel rooms as part of the award-winning spa ritual, named Best Spa Ritual 2016, and in the hotel's spa shop.
The restaurant offers the new, modern concept Axels Matsalar (Axel's Dining Hall) with an exciting mix of French brasserie and Swedish flavours. With the kitchen moving up a level, guests can now get up close with the chefs in the open-plan kitchen.
Location: Tranås

PHOTOS © ANNETTE ANDERSSON
FÄRNA HERRGÅRD & SPA
Färna Herrgård & Spa (Färna Manor House & Spa) in the highly acclaimed beauty of Bergslagen, northwest of Stockholm in Sweden, is the ideal romantic getaway or stop for an energy-boosting conference or relaxing weekend.
The Manor House is situated in an eco-park, which brings visitors a unique sense of closeness to nature. Any guest can go for a stroll in the deep forest, enjoying the unique Swedish foraging bylaws and picking local berries and mushrooms.
A shop is also found in a big barn on the premises, with hand-picked modern Scandinavian design items, interior design and clothes. "What overseas visitors seem to appreciate more than anything else is how pure and untouched nature is here," says Sofie Andersson, director of marketing. "That you can walk in the forests for an hour without seeing another human being – and then come back to an exciting, hearty meal!"
Location: Bergslagen

PHOTOS © HOTELL MOSSBYLUND
HOTELL MOSSBYLUND
Just a stone's throw away from one of southern Skåne's most beautiful beaches, you will find Hotell Mossbylund. This small spa hotel focuses on the local, genuine and familiar. Guests can relax in the new spa, recharge with some exercise, or get reconnected in the modern conference facilities.
In 2013, the hotel went through an expansion with additional rooms and a completely new spa. Since then, the restaurant and kitchen have also been refurbished and the spa has expanded further. The spa is purely intended for relaxation and there are no strict spa rituals to follow, but, of course, there are plenty of treatments to try.
In the restaurant, talented head chef Christoffer Herbst and his team works with local produce from the many surrounding farms. "Our nature and environment is important for us and both our hotel and restaurant have been environmentally certified with Svanen," Ingrid Svensson, who is the hotel's owner and CEO, says, and explains further: "It's our goal to care for our surroundings and we put a lot of love and effort into what we serve."
Location: Skåne

PHOTOS © ORBADEN SPA & RESORT
ORBADEN SPA & RESORT
Orbaden is one of the most beautiful lakeside resorts in Sweden, located by the Ljusnan river and in the heart of Hälsingland. It is now also home to Orbaden Spa & Resort, with an exciting mix of tranquility and design collaborations.
Five of the suites are designed by different celebrities. Famous actor Peter Stormare is from the area and has designed a suite with Japan, LA and Hälsingland as inspiration. Local native, model and TV host Victoria Silvstedt has created the glamorous Very Victoria suite with influences from New York. Athlete Carolina Klüft has designed Local with a sleek Scandinavian style and colourful Global based on her work for human rights. Lastly, former model Carita Järvinen is the creator of Le Budoir with a Marie Antoinette and Versailles theme.
The general manager, Helene Åkerström Hartman recommends visitors to explore the beautiful surroundings and attractions such as Hälsingegårdarna, the typical old farmhouses now protected by UNESCO. Other activities include cross-country skiing and ice-skating in winter, and hiking, cycling and canoeing in summer.
Location: Vallsta

PHOTOS © PARADISET
PARADISET
Paradiset is one of Sweden's best combinations of spas and water parks. Make sure not to miss this piece of tropical heaven for splashes of fun, energising activities and relaxing treatments.
Located in the centre of Örnsköldsvik in Västernorrland, Paradiset offers a broad range of sports and water activities as well as renowned spa treatments in a peaceful environment.
The little ones have fun at their very own tropical island complete with a sandy beach and pirate adventures. For those who want more water-filled excitement, there are plenty more fun activities such as funballz, slides, streams and whirlpools.
The modern spa offers a combination of relaxing treats such as purifying rituals in the steam saunas, meditation in a special light sauna, star gazing in the infinity pool or floating in the salt water cave, hot yoga and lush massage treatments.
Hungry guests can head to Bistro Spa, inspired by One Thousand and One Nights, for a tasty meal of Mediterranean flavours or Swedish delicacies. All that bathing brings out the appetite like nothing else.
Location: Örnsköldsvik
Web: www.paradisetornskoldsvik.se/


PHOTOS © STRÖMSTAD SPA & RESORT & PETRA BJÖRSTAD
STRÖMSTAD SPA & RESORT
At Strömstad Spa & Resort, there is no need to choose between luxury comforts and the peace and beauty of nature. With its idyllic setting on Sweden's west coast, top-class facilities and eye-catching design, the spa resort is the perfect destination for those who want it all.
In addition to one of Bohuslän's finest golf courses just 50 metres from the hotel, and a selection of restaurants offering fine dining and sea views, the resort has an extensive spa, spread over two floors. Here, guests can enjoy no less than seven different pools – including a saltwater pool and a circulation-boosting 'kneippbad' – an outdoor Jacuzzi with sea view, and four different saunas. As a Decléor flagship spa, there is also an extensive range of luxury treatments available.
Strömstad Spa & Resort's location midway between Oslo and Gothenburg also makes it a perfect location for conferences. Annika Fritzén, Strömstad Spa & Resort's marketing and sales director, explains that the resort prides itself on offering a service which goes beyond the typical.
Location: Strömstad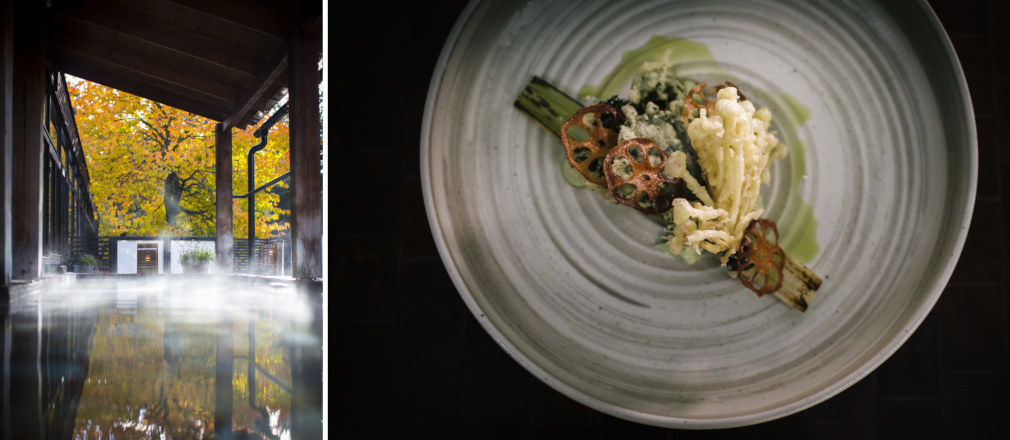 PHOTOS © MARKUS CREPIN
YASURAGI
Taking direct inspiration from traditional Japanese bathhouses, Yasuragi offers an authentic experience, with every detail carefully chosen to soothe, relax and re-energise the senses.
Yasuragi promotes a genuine, holistic philosophy of well-being through simplicity and calm. Guests are encouraged to slow down and step away from the frequently frantic pace of modern life. On arrival, each is given simple bathing clothes, a traditional cotton 'yukata' robe and slippers, which they are asked to wear instead of their own clothes.
The Yasuragi philosophy of encouraging harmony through simplicity also extends to the wider environment and, as part of the 2018 refurbishment, Yasuragi has paid particular attention to sustainability. In order to dramatically reduce the hotel's carbon emissions, a new, strictly vegan restaurant has been introduced, while meat has also been taken off the menu in the à la carte restaurant. In the Teppanyaki restaurant, where each table has its own chef to prepare food in front of the guests, red meat is no longer served.
Location: Saltsjö-Boo

PHOTOS © VADSTENA KLOSTERHOTEL
VADSTENA KLOSTERHOTEL
The ever-so charming Vadstena Klosterhotel unites old and new. With a past as a glamorous palace and then later a monastery, it is now an excellent spa hotel. A place where you can switch off and relax – and perhaps even find yourself somewhat.
In the spa, both day guests and those who are staying at the hotel can enjoy the salt water pool, warm spring, Jacuzzi, Finnish sauna, steam room with aromatherapy, treatment room, resting room as well as the café and bar. The spa only opened a few years ago but has already won two titles from the annual Spa Awards: Best Spa Kitchen and Best Newcomer.
One of the most popular spa rituals is a head-to-toe treatment with elements of everything from aromatherapy, hot baths, mindfulness and yoga with essential oils and the spa's own sauna honey. The idea of being steeped in the monastery heritage is a crucial aspect of the ritual. "It's important to have rest and relaxation of course, but also to enjoy the good things in life," spa manager Sofia Lindholm, says. "Our guests appreciate the peaceful setting and the opportunities for pleasure."
Location: Vadstena

PHOTOS © STOCKHOLM SALTSPA
STOCKHOLM SALTSPA
Big in parts of eastern Europe and Finland, salt therapy (halotherapy) and its benefits are still relatively unknown to the rest of the world. Stockholm Saltspa is on a mission to enlighten the Swedish capital of the health-boosting effects of this mineral.
Have you ever noticed that wounds seem to heal faster after a dip in the sea? Not that strange, really.
"Salt has bactericidal effects and will speed up the healing process," explains Riikka Hoffrén, founder and CEO of Stockholm Saltspa.The main attraction of Stockholm Saltspa is a room covered from floor to ceiling in salt. Customers spend 40 minutes in this room to treat conditions such as allergies, asthma and psoriasis. To maximise the effect, a special generator blows out salt in the air.
Stockholm Saltspa provides many other therapies such as salt yoga, meditation, massage, spa treatments, healing and counselling. It is plain to see that Hoffrén and her team are on course to convince Stockholm of the benefits of salt treatments.
Location: Stockholm

PHOTOS © PAMELA.SE
HOTEL TYLÖSAND
Hotel Tylösand is unlike any other spa resort. Inspired by pop culture, this award-winning hotel boasts an industry-leading spa, fine-dining restaurants, a world-class art gallery, and a buzzing nightlife – not to mention the amazing view of the sea.
The hotel houses 230 modern guest rooms, 30 different conference rooms and space for up to 750 people, the award-winning The Spa with 20 treatment rooms and more than 50 fitness classes per week at the gym. Hotel guests can also dine in style at two high-quality restaurants under renowned chef Torsten Kjörling – Leif's Bar & Grill and Restaurang Tylöhus – plus Titus Tapas and Bettans Bar during the summer months, and savour treats from the in-house bakery.
Situated next to the sea and the seven-kilometre sandy beach, Hotel Tylösand is a true spa resort. In addition to the many luxurious treatments with sound therapy and energetic gym classes, guests can relax in the lush lounges and pool areas overlooking the sea. Why not to take the opportunity to float in the big indoor pool while watching a movie, or enjoy the Happy Lounge with its pool bar and outdoor pools and tubs?
Location: Halmstad

PHOTOS © SEBASTIAN STREITH
MÖSSEBERG HEALTH RESORT
Generations of celebrities, members of high society, royalty, diplomats, artists and entertainers are among those who have flocked to the natural waters of St. Erik's spring to mingle, relax, see and be seen. Today, Mösseberg continues to attract high numbers of guests throughout the year, seeking to recharge their batteries in a unique setting.
Of course, the heart and foundation of the Mösseberg health resort is its natural spring water and hugely popular spa. It offers a range of facilities such as two outdoor warm water pools, sauna, steam bath, foot bath and relaxation area, a heated indoor pool and a shallow relaxing pool, where guests can sit and recline, immersed in the water. Furthermore, the spa offers a broad range of luxurious spa treatments.
As well as being one of the first businesses in Sweden to achieve the 'Cittaslow' certification as a champion of the 'slow food' movement, the hotel is a member of 'Smaka på Västsverige' ('A taste of West Sweden') – an accreditation scheme that recognises restaurants offering authentic, high-quality cuisine, using the finest ingredients from local and small-scale producers.
Location: Falköping


PHOTOS © LEKA & ERIK NISSEN JOHANSEN
STENUNGSBADEN
At Stenungsbaden, you will enjoy newly refurbished deluxe rooms, a spa with trendy treatments and hot springs, and a food menu inspired by the sea – which is just by your doorstep.
Stenungsbaden is a popular stop for the many sailors as well as a celebrated destination for spa junkies and a recommended place for hosting conferences.
The spa at Stenungsbaden works closely with Comfort Zone, an advising consultancy helping spas all over the world to develop their offerings. One of their biggest tasks at Stenungsbaden is to connect the spa experience with the outdoor surroundings. Seaweed massage and foot scrubs on the cliffs are two popular summer treatments.
Stenungsbaden offers a vast food menu with everything from organic breakfast to an exciting lunch buffet. The use of organic, locally produced food is a given throughout all of Stenungsbaden's food offerings.
Location: Stenungsund
Web: www.stenungsbaden.se/english
BEAUTY PRODUCTS

PHOTOS © KERSTIN FLORIAN
KERSTIN FLORIAN
With a new and fresh view on wellness and health, Kerstin Florian broke new ground when in 1978 she opened her first spa business in Laguna Beach, California with one vision: Outer beauty, inner health.
The year is 1978 and Kerstin Florian, a Swedish-born aesthetician and spa manager, opens her first spa in California. "Spa was so much more than what it was known as at that time – which was basically a bubbling hot tub," Kerstin Florian says.
Today, the luxurious brand is present in more than 30 countries and offers skin- and body care as well as treatments that have their origin in nature's most effective ingredients. "I create products with natural ingredients that the whole family can use – husband, child, mother, sister – to feel good and healthy and to care for their skin for a lifetime," Florian explains.

PHOTO © TERRIBLE TWINS
TERRIBLE TWINS
By a picturesque lake in the middle of Sweden, sisters Sara and Karin Ström are creating the most wonderful pieces and products for your home and wellbeing.
Today, their range includes various handmade interior pieces as well as a fantastically lush SPA series that has really brought their business to another level, locally as well as internationally.
The sisters' philosophy is brilliant in its simplicity: Make things people love by using eco-friendly and local resources and material. "We are an honest company, dealing in honest trade and labour," Karin says. "There are no short cuts when it comes to our products and the standards and conditions we want to set for our business as well as the people we work with".
The SPA series is distributed on a global scale through well-known resellers and there really is no telling where it will all end. Lifestyle and interior blogs are gushing over the products and people all over Scandinavia and the UK can't seem to get enough.


PHOTOS © JOAKIM ERIKSSON
TORPLYKTAN
What makes Torplyktans' candles and scents stand out is their environmentally friendly and sustainable ethos. The love for Swedish nature, along with the utmost respect for the environment, inspires each product designed.
The products aim to evoke a nostalgic feeling of what it is like to be in Sweden during each season.
"Everything we create is something we want in our own homes, and we encourage our customers to reuse the containers. Our generation is very aware of sustainability, which is the exemplum for our company," Bunmi Omotade, toxicologist and co-owner, says.
Each material and scent have been carefully selected and designed. From the selection of the materials to the presentation of the products, everything has been given careful attention to ensure that the products exude that Swedish feeling and culture.

PHOTOS © LOELLE AB
LOELLE
With a Finnish mother and a Moroccan father, the founder and CEO of Loelle, Dominique Samir Guellouchi, embarked on the mission to bring quality argan oil from Morocco to the Nordic market. Today, Loelle is a growing company with award-winning, organic beauty products.
"Unique for these products are that they contain barbary fig seed oil, an ingredient we were pioneers at using in Sweden," Guellouchi says. For each litre of this precious oil, you need one tonne of the cactus figs, but the reward is great. "Just like a cactus in the desert, the serum holds water, preserves moisture and evens out fine lines in the skin. There are many products doing the same thing, but most of them are chemical. This is a completely organic alternative," Guellouchi summarises.
Extracted from rose petals, the Rosewater cleans, resets the PH-balance and has anti-aging qualities. In a world where consumers are becoming more aware, Loelle continues to set examples with these types of products.

PHOTOS © ESTELLE & THILD
ESTELLE & THILD
The certified organic brand, Estelle & Thild, draws on cutting-edge scientific research and uses pure bio-active ingredients, providing toxin-free wellbeing for all.
Among the sophisticated skincare products you will find four areas of concerns. Super BioActive is anti-ageing, BioDefense is age-preventing, BioHydrate is hydrating care for all skin types, and BioCalm is produced specifically for sensitive skin being fragrance free and allergy tested.
All Estelle & Thild products are made using pure bio-active ingredients and exclusive raw materials, without compromising on the experience or the results. The innovative formulas are free from pesticides and toxic residues and are certified as organic by Ecocert. To be certified by Ecocert, no less than 95 per cent of the plant extracts must be certified as organic. Also, no less than 95 per cent of the total content must be of natural origin, and no less than ten per cent of all the ingredients must come from organic farming.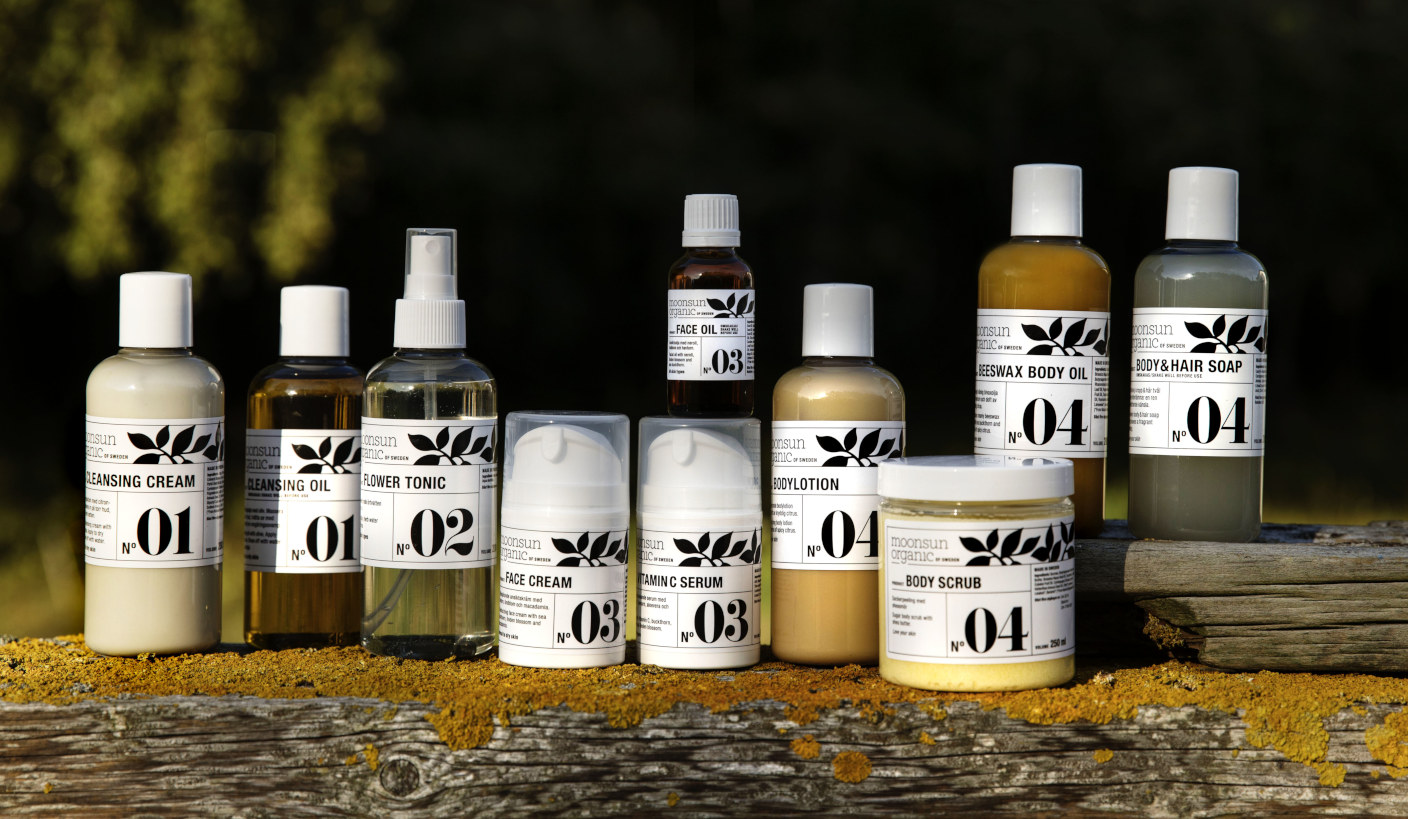 PHOTOS © MOONSUN-ORGANIC OF SWEDEN
MOONSUN- ORGANIC OF SWEDEN
With brand Moonsun Organic of Sweden, two skin therapists have successfully created a range of lush skin products with essential oils that are also environmentally friendly – pure heaven for your skin.
Skin therapists Mia Skaug and Jenny Svärdendahl are the creators of the brand Moonsun Organic of Sweden, a unisex series of holistic skin products with delicious natural aromas.
"Skin care is becoming increasingly popular, but there are a lot of certifications that are not telling the truth," say the founders. "We have come to understand what holistic really means – getting the whole picture – and how we can slow down and look at better products and ways of working.
The Moonsun Organic of Sweden multi-functional series, called Love Your Skin, reflects the two entrepreneurs' work as therapists in holistic and nature cosmetics, aromas and mindfulness. The ten unisex products for face and body consist of perfectly matched high-quality ingredients and essential oils, and have been thoughtfully developed and tested over a number of years to suit both men and women and work on any skin type.

PHOTOS © BARR
BARR
Based in Strömsund in the region of Jämtland, Swedish beauty brand BARR makes exclusive organic skincare products from natural ingredients. Inspired by nature and developed to carefully help improve skin health, the products are made by own recipes and only high-quality organic ingredients are used.
A popular item is the Secret Forest Face Oil, a luxurious oil with a high level of vitamins and anti-oxidants claimed to prevent wrinkles and free radicals, and with a fragrance from the depths of the forest. This oil is ideal for all ages, for dry skin, and for unbalanced and stressed skin.
All BARR's products are 100 per cent natural and include a high degree of organic ingredients. "We want to provide products that everyone feels are safe to use and can trust quality-wise. And we want to give a sense of Sweden and Scandinavia, through our design and our products," co-founder Rikard Andersson, says.
TEXT: HENRIETTE NEIMANN
Subscribe to Our Newsletter
Receive our monthly newsletter by email