Perho Culinary, Tourism and Business College: Nordic hospitality excellence
Text: Jo Iivonen | Photos: Perho Culinary, Tourism & Business College
With alumni that features a whole roster of celebrity chefs, Perho Culinary, Tourism & Business College could easily rest on its laurels. However, quite the opposite is true at the restaurant academy-cum-business school, which has developed a number of initiatives that aim to train a new generation of hospitality trade professionals, with hands-on expertise starting all the way at the field.
There's hardly a chef in Helsinki without links to Perho. The restaurant academy has been training chefs and service staff for decades, and its restaurant is a perennial favourite among foodies looking to experience tasty food and friendly service at attractive prices. For the last few years, however, Perho has focused on building a new legacy – one that fuses together hospitality, culinary knowledge and business in an industry-defining way.
"Finland has a lot to offer as a travel and culinary destination, but traditionally we haven't always been presenting those strengths in the best possible way," says Marja Hemmi, who's in charge of hospitality and culinary education at the college. "We're working in tandem with the trade to create the sort of expertise needed to stand out."
There are some 500 full-time students, who are learning the ropes as chefs and waiters; the chef programme is also offered in English and, over 15 years, students from all over the world have gained their qualifications in the restaurant business here. "We work closely with some 400 restaurants, including dozens of locations in Europe, so our students get to benefit from work experience at top venues in Finland and internationally."


Field to table
A two-hectare farm in northern Helsinki sits at the core of Perho's transformation into one of the most innovative hospitality sector training facilities in Europe. "Everything comes together at the field," Hemmi enthuses. "Getting your hands dirty digging up carrots – the ones you've grown from seed since the spring – teaches you more about food than you could learn in the classroom over a month."
The idea to start producing crops in the middle of the city came about in 2016. "One of our trainers returned from an exchange at Blue Hill at Stone Barns in New York. He told us about their business concept, where the restaurant is surrounded by their own farm. Each day, farmers, chefs and servers meet to discuss seasonal ingredients, and every staff member participates at the farm."
A light-bulb moment followed. "We all looked at each other and realised we're surrounded by nature that most of the world can only dream of," Hemmi continues. "We decided to bring together our expertise in the restaurant trade with a new focus on sustainability in the food chain. And that in turn is good for tourism, too."
Within a few months, the college launched into action, initially through a joint venture with an agricultural co-operative. Shortly thereafter, a field next to the Malmi campus became available for rent through the city of Helsinki. "We took on the project, and it's turned out to be a key part of our transformation and focus on sustainable development," says Hemmi.
The field produces everything from leafy greens to root vegetables and herbs. Every September, there's a community market, while the products can also be purchased at the school restaurant in Töölö. "Our dried Provence herbs mix is particularly popular," Hemmi says. "Something in the soil – which we're working towards to get certified organic – seems particularly suited for French tarragon especially."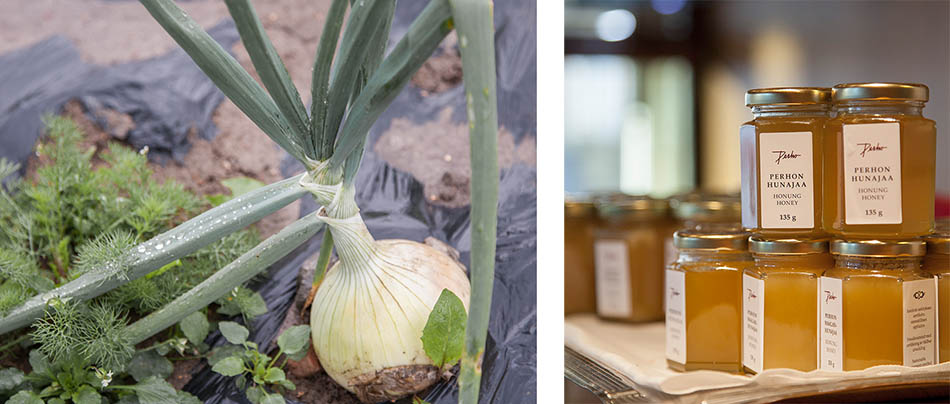 Sustainable development
Learning to cook from scratch is what going to a culinary academy is all about, but few schools have the capacity to teach students about the ingredients on a level as deep as here. "The field is a key part of our hospitality training in general," Hemmi continues. "There's a real sense of community and everyone learns to appreciate the sort of nature we're surrounded by. Once we appreciate something, we know how to share that with others."
Sustainable development is a buzzword across many industries, but at Perho, there's literally a buzz about it: the rooftop of the city centre campus has been converted to house urban bee hives. The Perho honey scooped up a gold medal at last year's honey awards. A colony of the bees has now been established at the Malmi campus, too, to work in tandem with the field. Just like the herbs and various vegetable pickles, the honey is also available to buy at the school restaurant.
Heartfelt service
"Internationally speaking, it's rare to get to experience nature as pure as here in Finland, even within the capital city. We aim to highlight that. The added bonus is our expertise in fine-tuning the kind of service culture that's founded on honesty." Service is a short word and one that often gets lost in today's fast-paced-everything world. "We think there's this magic that happens when people genuinely love what they do. That's where great service stems from," the restaurant trainer concludes.
Subscribe to Our Newsletter
Receive our monthly newsletter by email