PRIMA FÆRDIG HÆK®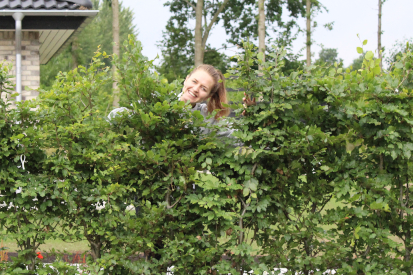 Ready hedge: Save yourself at least five years of wasting time
TEXT: JOSEFINE OLDER STEFFENSEN | PHOTOS © PRIMA FÆRDIG HÆK®
As the saying goes, there is nothing quite as excruciating as watching paint dry, although watching your hedge grow might come a close second – the rest of the garden is done, there is now only a four-year wait until you can no longer see the neighbour. PRIMA FÆRDIG HÆK® (PRIMA FÄRDIG HÄCK/PRIMA FERDIG HEKK) has come up with a solution to this, and, in fact, revolutionised the way hedges are bought and sold.
Lars Strarup, the owner of PRIMA FÆRDIG HÆK®, has, since he was a young boy, had a love and respect for plants, and in 1984, he set up his own nursery: Møllegårdens Planteskole, south of Odense, Denmark. It was here that an idea began brewing that would completely change the production from little hedge plants to mature and pre-grown hedges at 125, 150, 180 and 220 centimetres.
"I wondered why no one else had thought of it really. What I came up with was producing hedges that were bigger and older, so that people didn't have to sit at home and wait for their hedge to grow, and instead could get a ready-grown hedge and thus privacy from day one," explains Strarup. PRIMA FÆRDIG HÆK® was developed in 1992, and the first hedges were ready to be sold in 1995.
Not just a case of growth
It may seem a simple idea, but growing hedges that at a later stage need to be moved, actually requires a lot of hard work and ingenuity. Strarup came up with new methods and techniques to ensure that the root systems would be able to cope with being moved around and the plants would remain healthy.
Today, PRIMA FÆRDIG HÆK® is known for its high quality, and every single plant gets quality checked to ensure it has the best chances of growing in a new environment. Each plant is also delivered with a growth guarantee and can be swapped for a new one within a year. "We love our plants, and we want to give them the best chance at life. If our customers see something wrong with it or it isn't growing how it's expected to, they can always give us a call or send an email with a photo of the problem, and we'll help them to care for the plant," says Strarup.
All-in-all, PRIMA FÆRDIG HÆK® does much more than simply deliver a finished hedge. They can be a partner throughout the process of finding out what kind of hedge to buy to ensure that the soil and garden are ready to receive it. The website offers legal advice on the Danish law about fencing, as well as having a step-by-step guide on how to care for your plant. The company also has partnerships with local gardeners who can plant the hedges, so for those without green fingers, the hedge is given the best chance of life.
Variety is the spice of life
PRIMA FÆRDIG HÆK® today offers over 40 varieties of big hedges, with everything from classics such as beech and privet to laurel and katsura. "People tend to go for the classics, but I think they're also often surprised at how many types of hedges you can actually get."
The hedges come in different sizes and heights to make it easy to fit them into any space. Alongside the PRIMA FÆRDIG HÆK®, the company also offers a HERCULES HEDGE, which is the same plant but from crops that were a bit slower to grow and thus do not have the same volume as the PRIMA FÆRDIG HÆK®. These are therefore also a bit cheaper, but will grow to become like any of the other hedges offered by PRIMA FÆRDIG HÆK®. "The HERCULES HEDGE offer is great for those who want to save some money, who still want a hedge in place but don't mind waiting a couple of years until it is fully grown. This also ensures that we're utilising every plant we grow and not wasting anything."
If a more mobile hedge is the better option, then the hedges are also sold in specially made boxes on wheels with a watering system, making it easy to create a room within a garden, take them with you when you move, or simply add some greenery to a space where it might not be possible to plant anything.
500 kilometres of hedge
Møllegårdens Planteskole is today home to 70 hectares' worth of hedge production, growing over one million plants. It is possible to visit the garden centre to get a close-up view of the many varieties, but if you are not near Funen, a list of other garden centres offering the hedges can be found on the website.
The price of the hedges ranges from 500 (around 60 GBP) to 1,500 DKK per metre, and no job is too big or too small. "If you need just one plant, we'll get you one plant, or if you're in need of 300, then we can also manage that – as long as they're not sold out," says Strarup with a smile. PRIMA FÆRDIG HÆK® has recently finished a prestige project at Her Majesty the Queen's garden at Fredensborg Castle in Denmark, delivering 650 beech plants.
PRIMA FÆRDIG HÆK® is a great way to finish off a garden and create a green space in a matter of days, rather than years. The hedges are available to buy internationally, and the company also has resellers in Norway and Sweden. It was the first to create a finished hedge for purchase and has remained the leader in the field ever since.

-PRIMA FÆRDIG HÆK® is the Scandinavian leader in finished hedges.
-There are over 40 varieties to choose from.
-International shipping is possible and there are resellers in Denmark, Norway and Sweden.
-The hedges all come with quality and growth assurance.

Web shops:
Facebook: primafaerdighaek
Instagram: @primafaerdighaek

Subscribe to Our Newsletter
Receive our monthly newsletter by email