Q42 Conference Centre Kristiansand: South Norway's biggest conference centre
By Sunniva Davies-Rommetveit | Photos: Q42 conference centre Kristiansand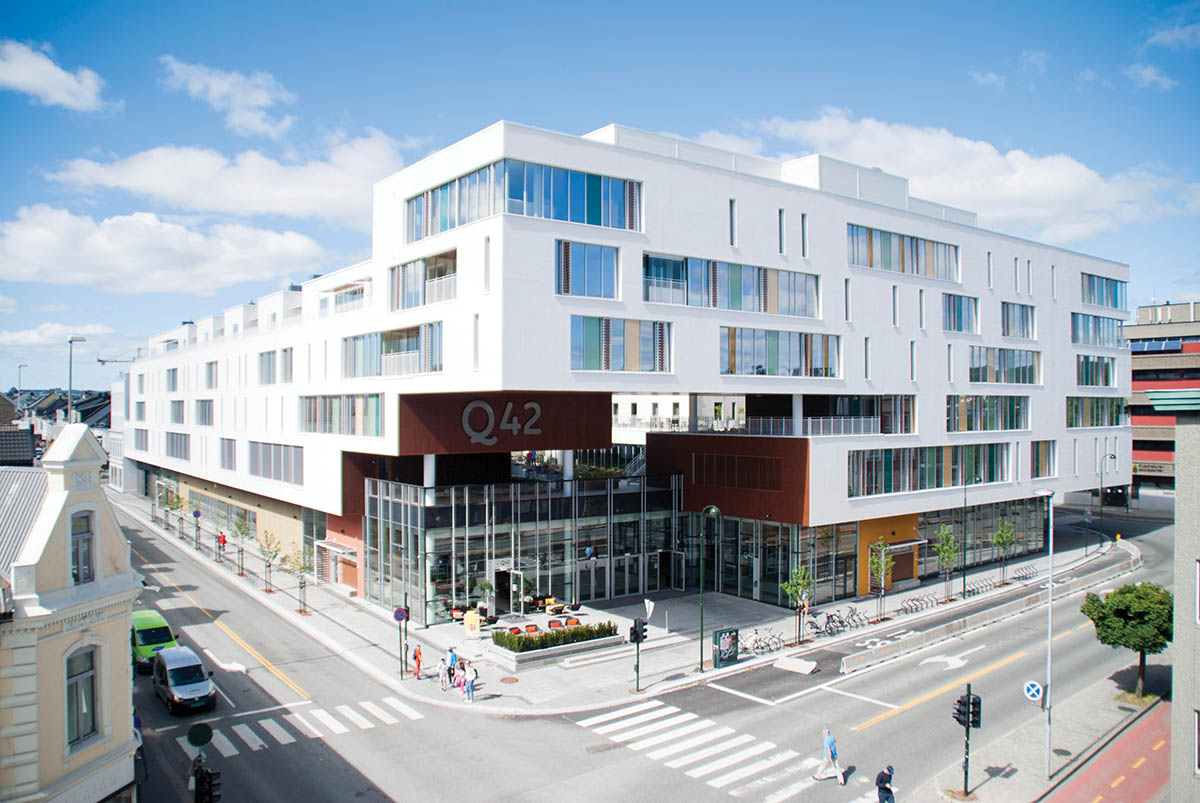 Q42 is not only the biggest conference venue in southern Norway, but also has state-of-the-art amenities and enthusiastic staff, who facilitate top class events, including big concerts.
Q42, operated by Kristiansand Kongressenter AS, is a conference centre blessed with very Scandinavian traits: cutting-edge facilities, excellent technological offerings and accomplished staff. A complex that also includes a hotel, restaurant, café and flats, the Kristiansand-based centre opened in November 2016, and welcomed 175,000 visitors last year.
As well as being the biggest conference centre in Norway's Sørlandet (between the oil town of Stavanger to the west, and Sandefjord to the east), it is also one of the most versatile conference halls in Norway. "We can be very flexible with the types of events we host — from evening banquets for up to 450 guests, to all-day conferences for up to 1,300 attendees, or concerts for up to 2,000 attendees," explains Q42 chief executive Billy Øksendal. Having room sizes that vary from a capacity of between 10–175 people and up to to 1,300 is great for trade fair events, he adds, because large conferences such as these "often split into smaller groups throughout the day, for seminars and talks in more intimate settings."
Unrivalled flexibility
It is not only the versatility of Q42's spaces that makes it stand out from the crowd, but also its holistic approach to event management. "We've had great feedback from previous attendees about both our technological offering and our events management services," Øksendal explains. This versatility is illustrated by the fact that the centre offers services as diverse as instrument rental for formal evening events and a language interpreting service for international conferences.
Such tailored event management ensures that all events, whether large or small, run as smoothly as possible. Anything and everything can be taken care of by Q42 staff — from sending out invitations and providing essential information before the event, to administering ticket sales and registration on the day. This means that event hosts can "focus more on an event's content, as opposed to the logistics of setting it up," Øksendal adds.
This customised approach doesn't stop at event management, either. The conference centre's varied menu and catering services mean that prospective event organisers can choose from a wide selection of options, including canapé menus for up to 1,000 people. "We pride ourselves on offering as versatile a menu as possible," says Øksendal. "This just adds to the good customer experience that our clients have had to date."
Technological innovation
In today's world, where technology rules, Kristiansand Kongressenter has made sure to prioritise a state-of-the-art media centre, which includes TV and radio production, event live streaming and social media management. The sound and light systems are also top-quality, Øksendal confirms, allowing Q42 to hold conferences, seminars, concerts and theatre productions all under one roof.
The types of concerts held at Q42 have been equally varied, with both local and commercial artists having used the main hall at the centre in the past. This September, internationally renowned gospel singer Kirk Franklin will take centre stage — just one of many events the centre has planned for people to enjoy throughout the autumn.
"A great place to hold a conference"
Located in Norway's fifth largest city, and just a few hours away from the country's oil capital, Stavanger, Kristiansand Kongressenter is well located for local and international business conferences alike. "From its location, to technical equipment, event management and venue setup, the centre was built with innovation and modernity in mind," says Øksendal. "If event organisers are wondering if a particular event is possible at Q42, it nearly always is," he adds.
The centre is not simply an amalgamation of conference and concert venues, either. Instead, it offers two spacious exhibition areas, or foyers, which Øksendal says are "really beneficial for a trade fair event", and are beautiful spaces in their own right. There is also a café and restaurant on site, which provides a welcome diversion for event attendees in between talks, or for concert-goers.
Having opened its doors just two years ago, Q42 has already attracted well-deserved attention. "We really do try to have as tailored an offering as possible," Øksendal explains, adding: "The vision of Q42 is that it should be a great place to be. That's what we're trying to live by in everything that we do and offer here at the centre."
Website: www.q42.no Venue capacity Main hall: 2,000 standing 1,315 theatre-style 400 desk set-up 450 banquet long table with buffet 300 banquet round table with buffet Hall: 175 theatre-style 125 desk set-up 140 banquet Additional venues: Four meeting rooms - between 12 to 25 people Two lecture theatres - between 35 to 100 people Exhibition areas: Two foyers, 500 and 400 square metres
Subscribe to Our Newsletter
Receive our monthly newsletter by email