Quality Hotel Skifer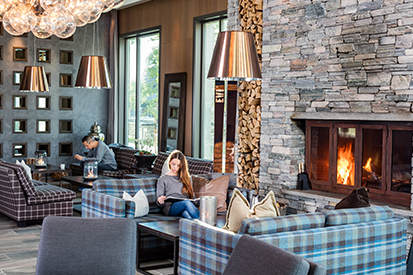 A modern hotel in picturesque nature
TEXT: SYNNE JOHNSSON | PHOTOS © MARTIN INNERDAL DALEN
Located on Dovrefjell in Oppdal, in the middle of Norway, Quality Hotel Skifer is mere steps away from all of the experiences that nature has to offer, from skiing in the winter to gorgeous hikes in the summer.
The hotel is easily accessible thanks to train connections to Oslo and a two-hour drive from Trondheim, making it suitable for conferences, family weekends, romantic getaways and weekends away for anyone who would like to spend a few nights surrounded by astonishing nature. "We have a lot to offer, all year round. There's conference facilities for 400 people, a restaurant, a bar, and also a little wellness department," says Marit Sæteren, sales and marketing manager. "There's a broad spectrum of activities to enjoy around here. In the winter, it's skiing season, and we are just around the corner from a ski resort. The rest of the year there are many beautiful hikes and other nature experiences."
Skiing is one of the main attractions, and there is a long-standing culture of skiing here. The first ski lift opened in 1952, and the resort is one of the reasons why Dovrefjell is now Oppdal's most popular winter destination. There are also good opportunities for cross-country skiing, with 180 kilometres of skiing trails.
During other seasons, visitors can enjoy cycling in the mountains, a zipline, rafting or even a muskox safari. The hotel also offers abseiling from its very own roof. "The wellness department consists of a relaxation area with views over the mountain. Guests can book different types of massages, and we also have a sauna and a steam room – so there is always something for our guests to do," says Sæteren.
Recently, they opened a terrace where they serve drinks and nibbles. Here, guests can sit outside and enjoy the stunning views all year round. In the restaurant, they serve local products such as lamb from farms nearby and fresh fish from the coast of Norway. "One thing that runs through the hotel is slate, which is why the hotel is called Quality Hotel Skifer – 'skifer' means slate in Norwegian. The slate we use is actually from Oppdal and is called Oppdalskifer," Sæteren explains. "It's the atmosphere in the hotel, combined with the beautiful nature, that makes this place so special."
Subscribe to Our Newsletter
Receive our monthly newsletter by email