Radisson Blu Plaza Hotel: First-class service in historic surroundings
Text: Mari Koskinen | Photos: Radisson Blu Plaza Hotel
Radisson Blu Plaza Hotel is situated in a beautiful landmark building in the heart of Helsinki, right next to the railway station. It is a vibrant, award-winning business hotel with full services for high-profile meetings and events in a memorable environment.
"I love the historical ambiance here. You can sense that these walls have witnessed many significant encounters during the past decades," says general manager Saija Syväjärvi. Originally, the building functioned as headquarters for SOK, Finland's leading consumer cooperative. The hotel is still affiliated with SOK and run by its subsidiary.
The Plaza building represents a significant chapter in the history of commerce in Finland. The cornerstone of the building was laid on the eve of Finnish independence on 5 December 1917. The building was opened in 1921 and functioned as the headquarters of SOK for 70 years. "The Plaza Boardroom, which used to be the SOK supervisory board's meeting room, is still a scene for many important deals and decisions. There, the guests can feel the historic flair and become part of that, while creating the future with the help of up-to-date conference technology," says Syväjärvi.
"The hall that now houses Plaza Restaurant used to be an exhibition space showcasing new products imported from all over the world, and where co-operative members would come to select merchandise for their shops," Syväjärvi continues. "Almost every type of consumer good – from canned meat to evening gowns – was displayed in the hall. Even the first ever Harley Davidson imported to Finland was displayed here."
Big yet boutique-esque
With 302 rooms, Radisson Blu Plaza is one of the biggest hotels in Helsinki. "Despite its size, many of our guests feel like they are arriving at a boutique hotel," says Syväjärvi. The hotel has both classic rooms, representing the historical setting of the hotel, and modern rooms located in the new section of the hotel. "There is art especially designed for this building, like the stained-glass paintings by renowned Finnish artist Juho Rissanen, and the ceiling version of Eero Aarnio's Double Bubble lamps decorating some of the rooms. Some of our suites are decorated with Alvar Aalto's most famous furnishings."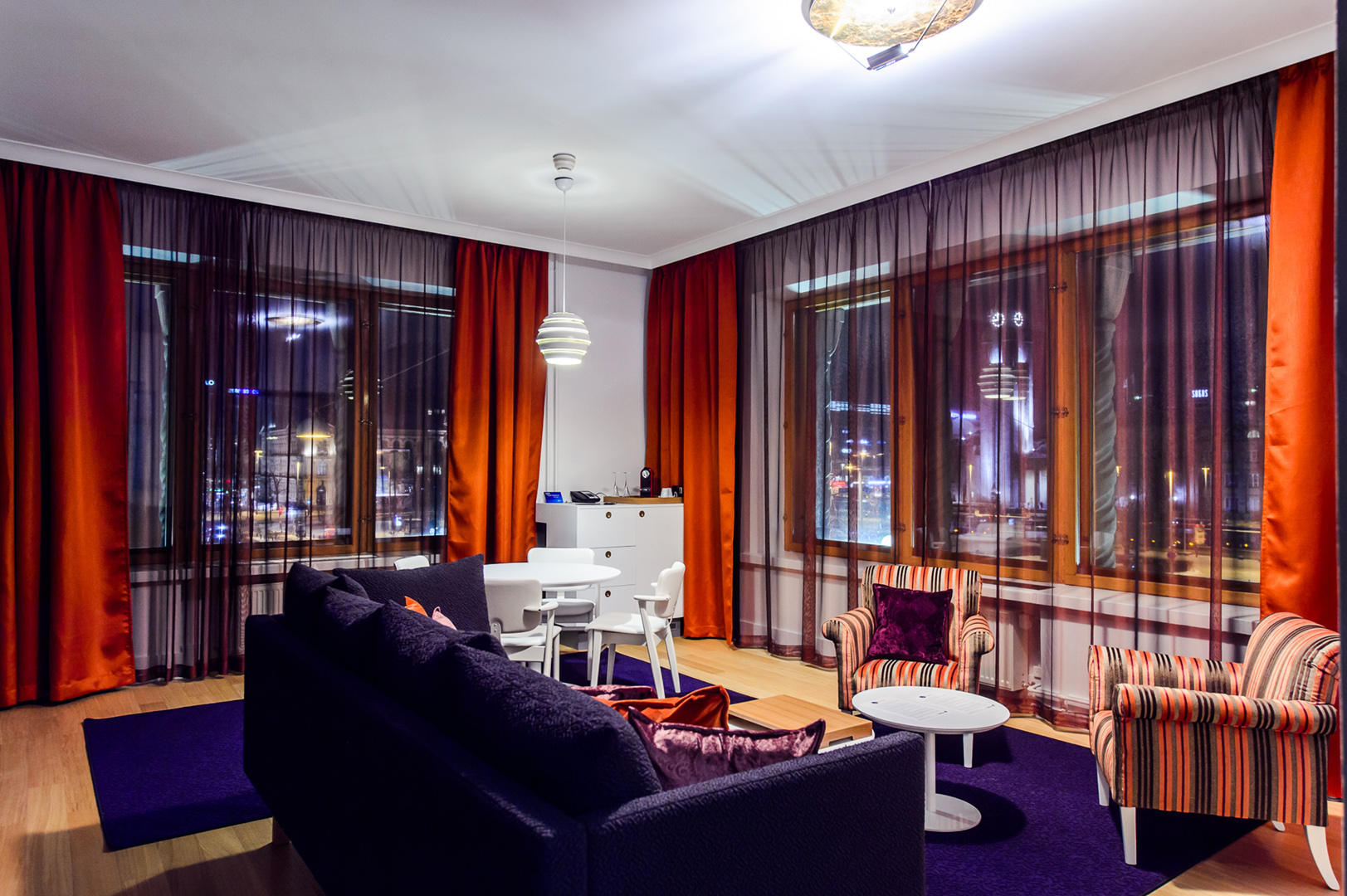 The hotel stands out also through its wide range of first-class services, aiming to cater to guests' every need: concierge, piccolo, doorman, private chauffeur service, fully-equipped gym and 24-hour room service to make sure that the guest enjoys their stay. "We also have a fully-equipped business lounge to give our guests a stress-free break from the city's hustle and bustle," Syväjärvi adds.
The Plaza Restaurant is located in a large, historical space, in the former exhibition hall. There, guests can start their day with a wide selection of delicious and nourishing options at the Super Breakfast Buffet. At other times, the restaurant offers top-level cuisine, offering Nordic flavours combined with the latest food trends, bringing the taste of the north to guests' plates. The bar Plaza Lobby serves drinks, refreshments and light snacks, and is open 24 hours a day.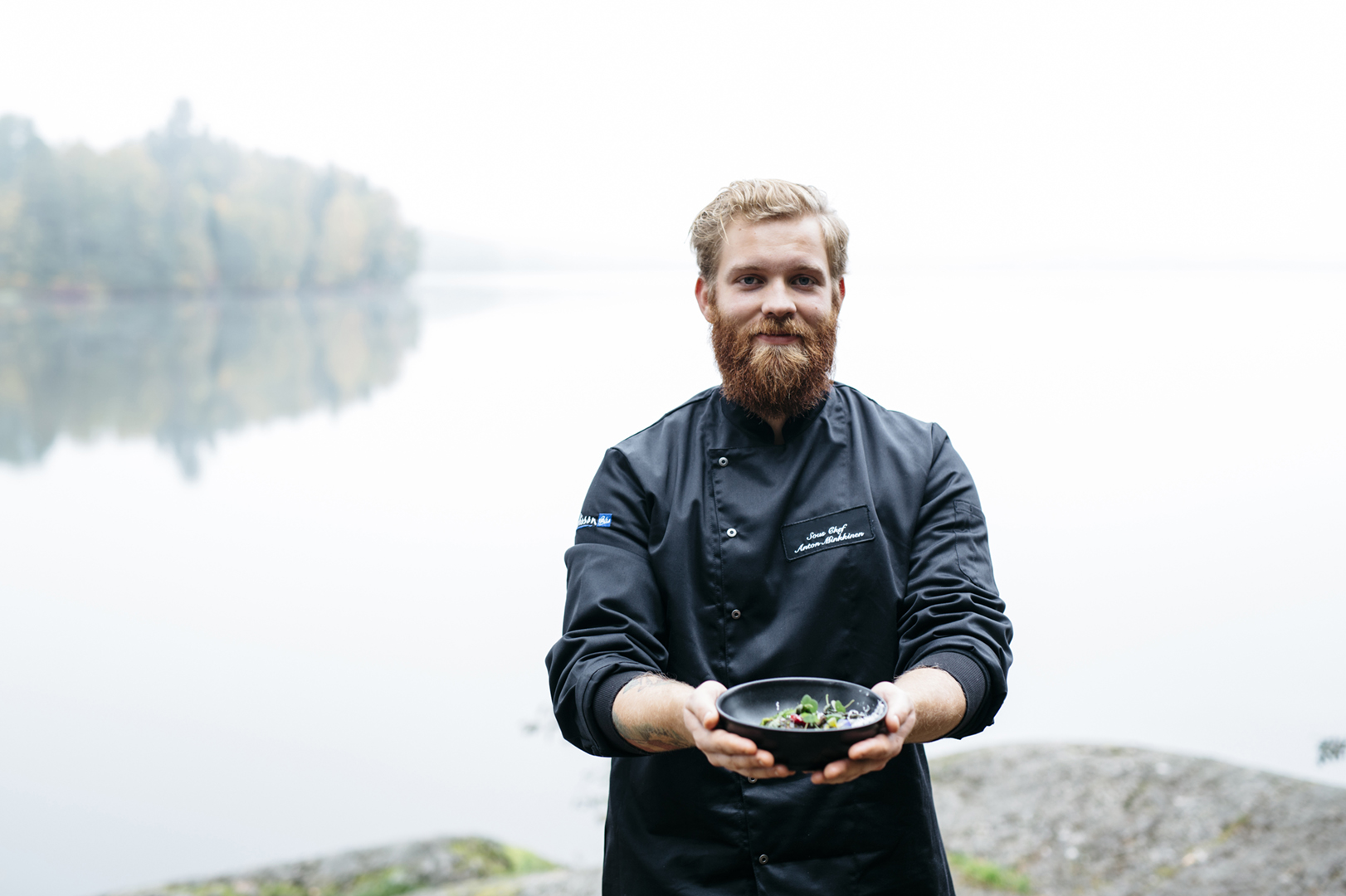 The hotel works closely with its neighbouring partners, offering, for example, dinner and theatre packages with its official partner the National Theatre, accommodation offers with Casino Helsinki, and ticket packages with Helsinki City Museum.
Exclusive events.
Radisson Blu Plaza is also famous as one of the city's top venues for meetings and functions. "We could even cater for 800 guests, which makes us one of the largest venues in town," explains Syväjärvi. "We have our own concept for events: 'the stage for your story'. It means that events are not just about function space and catering; we want to know what the client's purpose for the event is, and what feeling they want the guests go home with. From there, we then create a unique package with a variety of services in our exceptional facilities."
Syväjärvi continues: "We also have all-inclusive packages; we can create efficient meetings, wonderful weddings or, for example, an indoor summer music festival with bands, DJs, food stalls and even sunshine. Once, we arranged a collective wedding party for five couples together with the local church, and the ceremony took place here at the hotel at a pop-up altar built by the church."
Helsinki Wildlife by Soosseli
15 May to 30 September 2019
Plaza Restaurant is proud to present the Instagram phenomenon, nature photographer Ossi Saarinen, also known as #soosseli in this, his first exhibition. Saarinen is known for his incredible images of Finnish wildlife, mostly shot in Helsinki and nearby suburban forests.
Web: radissonblu.com/en/plazahotel-helsinki Facebook: Radisson Blu Plaza Hotel Helsinki Instagram: @plazahotelhelsinki
Subscribe to Our Newsletter
Receive our monthly newsletter by email