Rajamaa: Lapland in winter – the true story
By Emma Rodin | Photos: Rajamaa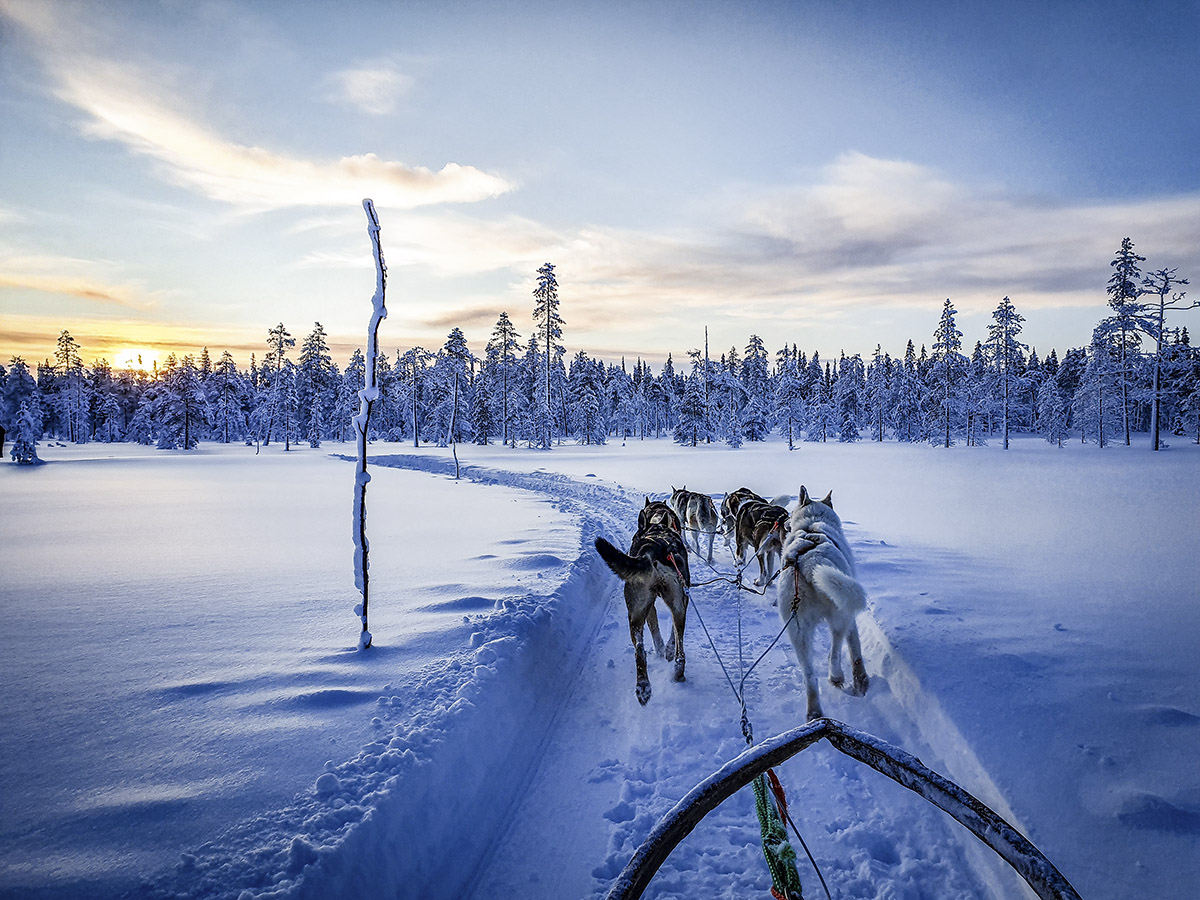 Head some 200 kilometres north of the Arctic Circle and you'll find Rajamaa. Nestled in the deep Taiga Forest, on the border between Sweden and Finland, the team at this small, family-run hospitality hub will give you a taste of what life in Lapland is all about.
For over 40 years, Rajamaa has welcomed guests from all over the world to enjoy adventure and nature combined. Situated on the island of Pitkäsaari (meaning 'long island'), Rajamaa is part of the Muonionalusta village which has seven inhabitants¬ – of which Rajamaa owners Kaisu and Lars Malmström are two.
Indeed, it is unlikely that you will stumble upon crowds while at Rajamaa. It is just you, the guide, your fellow guests and the seemingly never-ending wilderness. "We only ever host a maximum of 30 people at once. That way we can make sure that each guest gets the best possible experience," says Lars.
Rajamaa's main building includes a reception, dining room and sauna. On the grounds, there are ten newly-renovated chalets for guests – five smaller, and five larger ones suited to families. All chalets are fully equipped with amenities.
Experience Lapland, for real
Rajamaa's winter adventures are all about enjoying Lapland's nature with its endless forests, white snow and frozen waters. Whenever you choose to visit and whatever you wish to do, nature is at the core of every experience at Rajamaa.
"We want to give our guests a genuine experience of Lapland and we do it by spending time outside. Up here, we are all part of nature and we want to share that special connection with visitors," explains Lars.
A week-long stay at Rajamaa is filled to the brim with memorable adventures, but it's also a rich learning experience. Rajamaa's experienced guides are not only experts in their fields, but are often local residents, able to share with guests an in-depth understanding of the surrounding areas – be it tracking animals via paw prints in the snow, explaining the region's rich plant life or sharing historical facts about the indigenous Saami people.
Adventure awaits
There are plenty of adventures to explore at Rajamaa. For one, there is husky sledding – where guests will man the sleds themselves (after some instructions and meeting the dogs, of course). There is also a two-day forest ski tour, using traditional, wooden skis, to a wilderness lodge in the middle of nowhere. "The lodge has no running water or electricity. We collect water from the frozen river and use the fireplace to keep warm. It is very much back to basics," says Lars. Being so far out in the wild and without any light pollution, this is also a great place to spot the Northern Lights.
Included in the standard winter package is also a visit to a local Saami family. Although they have adopted more modern practices, the Saami people still live the same way they have for centuries. It's a fantastic opportunity to learn more about the indigenous way of life, including their role in the reindeer husbandry, and the challenges they face today.
An eco-labelled business
Rajamaa is also part of the Swedish Ecotourism Society. This means that they follow several guidelines to achieve certain eco credentials. For one, they avoid transportation by motor. Likewise, they minimise plastic usage and sort waste at the source – something each visitor is also asked to take part in.
"We use as much local and regional produce as possible," says Lars. That includes reindeer meat from local Saami herders, moose from local hunters and fish from local fishermen, as well as berries and mushrooms from the Taiga Forest. Rajamaa supports its community by hiring people from within it and supporting its economy. "It has become a cornerstone for us to work with likeminded people who have the same respect for nature and Lapland life as us," concludes Lars.
Cold and dark yet warm and bright, there is something about Lapland that is hard to describe. Odds are you will travel here for the memories, but come back with much more.
Web: www.rajamaa.com Instagram: @rajamaainlapland
Subscribe to Our Newsletter
Receive our monthly newsletter by email