Ravintola LiV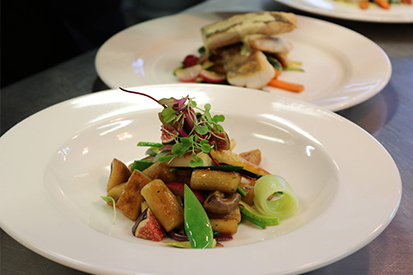 Restaurant LiV— fine dining with a relaxed attitude
TEXT: ANNE KOSKI-WOOD | PHOTO © JONNA LINTULA
Something delicious is cooking in Tampere. Restaurant LiV offers a mixture of Finnish and European-inspired food in a lively and friendly atmosphere, where a customer does not need to wear a tie in order to get five-star treatment.
Looking at the white tablecloths and silver service, LiV could be one of those fine restaurants where ever-so-serious waiters serve thumbnail-size portions. However, Mika Lintula, the headwaiter and one of the founders of LiV, wants his restaurant to be a place where customers can relax and enjoy the food and wine while being well looked after. You can simply pop in for a very nice three-course set menu lunch, or book a table for dinner.
Inspired by French bistros and their lively atmosphere, Lintula and his founding partner Kalle Viljakainen like to spend time on the floor and be close to their customers. They know their wines and food, and carry a few tips and suggestions up their sleeves, sharing them with their customers with a dollop of humour.
LiV is for living and loving
Just reading through the menu makes the mouth water. For starters, LiV serves duck-liver mousse, followed by beetroot risotto with goat's cheese. For pudding, there is a selection of French cheeses or a chocolate-hazelnut tart served with homemade cherry ice cream.
The impressive wine list contains classics such as Joseph Drouhin Mersault, or vintage 1987 and 1992 Sancerre, as well as 2001, 2014 and 2015. The portion sizes are a plus too. "People leave our restaurant with full bellies," says Lintula. The wild card on the menu is reindeer sausage with Port wine sauce. The idea of homemade reindeer sausages is original and the dish has earned a lot of praise. Of course, there is also fish on the menu, which the local fisherman delivers to the restaurant twice a week.
Why settle for just 'good'?
The restaurant has become very popular and has earned its place at the top table of restaurants in Tampere. Maybe the secret to this success lies in the kitchen. The creators, chef Juho Hänninen and his crew, take food seriously, where every mouthful comes with a lot of thought and attention to detail, but also with an aim to exceed expectations. As Lintula says: "Why settle for just good?" Once the plate is placed in front of a hungry customer, the seriousness disappears and all there is left, is pure joy.
Subscribe to Our Newsletter
Receive our monthly newsletter by email