Reinefjorden Sjøhus: Live through history on the islands of Lofoten
By Marie Mannes | Photos: Reinefjorden Sjøhus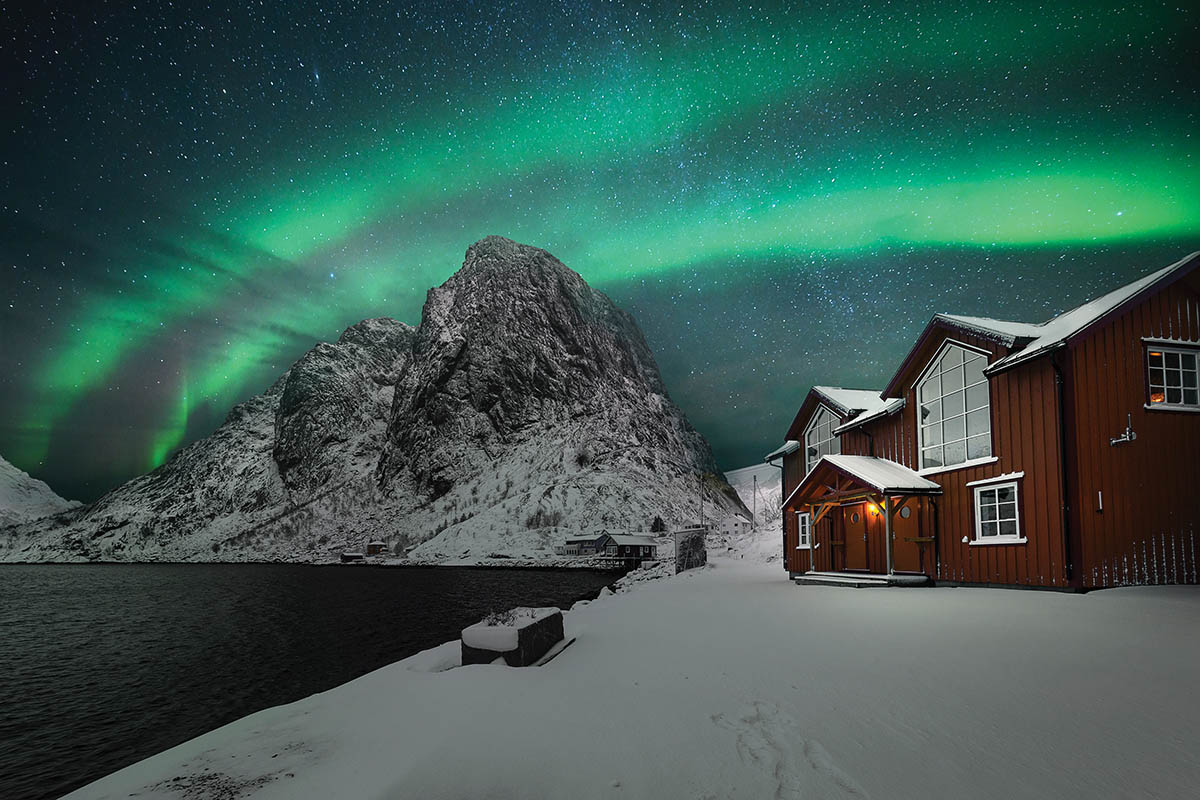 L ofoten in the north of Norway is a popular place to visit among people who'd like to catch the midnight sun or the northern lights. At Reinefjorden Sjøhus, you can do just that, while also being immersed in the history of the old fishing village.
Hotel manager of Reinefjorden Sjøhus, Linn Maria Therese Larsson, says that though people often associate Lofoten with hiking and stunning views, it has a lot more to offer, including great photo opportunities, the northern lights, the midnight sun and fishing. "It has become a destination that people visit all year round. From September to April, we have the northern lights season, and our location is a perfect spot to see it. Then from February until the end of summer, it's possible to see the magnificent killer whales and enjoy never-ending days with the midnight sun," she says.
Hiking trails
Reinefjorden Sjøhus is located in Skagen, Hamnøy, at the edge of the famous fjord Reinefjorden in the west of the Lofoten islands. "We have numerous popular hiking trails, like Reinebringen, Munkebu, Tindstinden, Kvalvika and Ryten, which are located just a short drive away. In the close surroundings, you will also find a wide range of activities and restaurants," says Larsson.
Reinefjorden Sjøhus is a place steeped in history. Previously, the area was a small fishing village, and the owners have chosen to keep elements of it intact for the authentic atmosphere to remain. "All the buildings have some sort of history; Villa Væreiergården, for example – the house that is suitable for big groups – was the house where the owner of the village lived with his family," Larsson explains.
The owner was the man who oversaw everything in the village, and therefore his house was also very grand. Væreiergården can accommodate up to 20 people for meetings and 12 for sleeping. The house has a meeting room and space for conferences. Since Lofoten offers a range of different activities, it is also ideal for groups wanting to go somewhere for a team-building experience.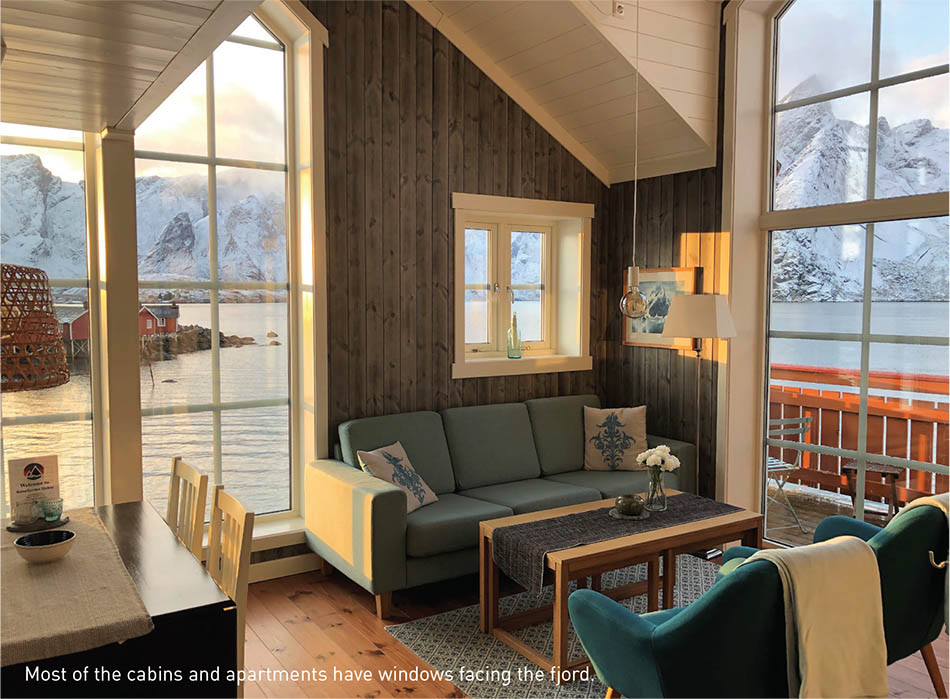 Overlooking the water
The smaller houses that were once used for other activities in the village, including fishermen's cabins and seaside houses, are suitable for smaller groups and families to stay in. "Most of the houses have large windows overlooking the water and the fjord, so you get great views before you even step outside," Larsson continues.
The current owners bought the village in 2014 and ended up rebuilding it with better-insulated, homely buildings. "The focus on comfort was important when they renovated, so all the beds and other furniture are very comfortable, and all of the buildings have fully equipped kitchens," Larsson says.
Welcoming to all
Reinefjorden Sjøhus aims to welcome anyone who wishes to visit and offers three fishermen's cabins, all accessible for people with disabilities, as well as universal accessibility throughout the main floor and the outdoor areas.
It is situated immediately by the water's edge and is surrounded by fjords. "We always recommend that people who stay with us go out on the water at least once, as it's a magnificent experience," says Larsson.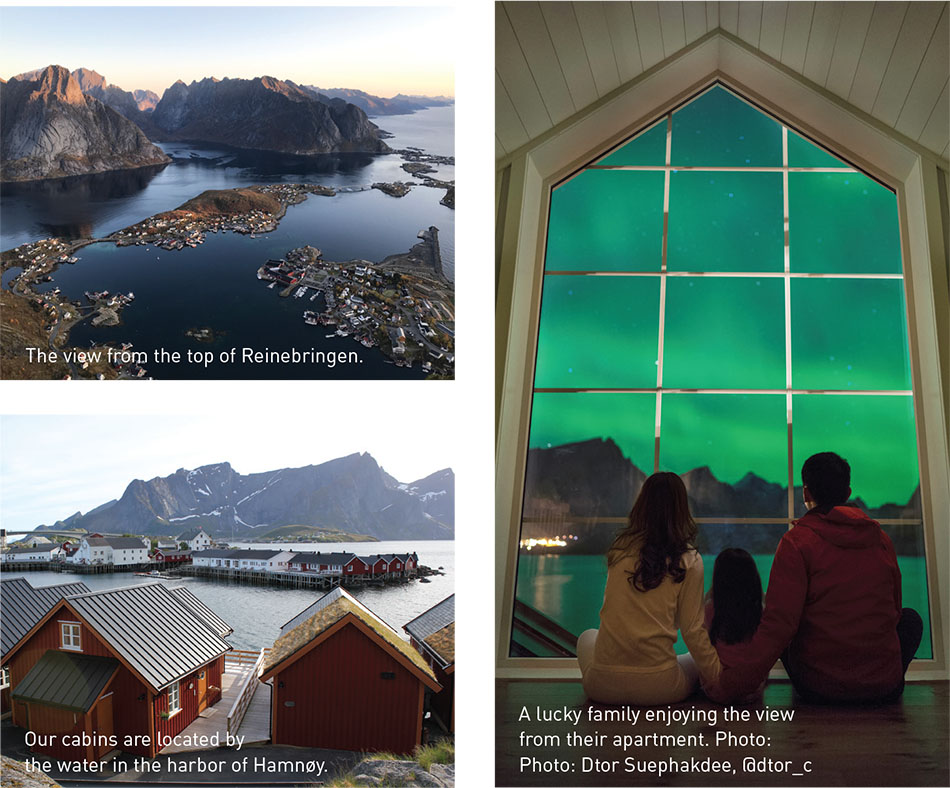 Boat hire
It is possible to rent boats directly from Reinefjorden Sjøhus, including those that are accessible for wheelchair users. "There are a lot of different things you can do on the water – fishing trips are very popular, as is going out on a kayak," Larsson says.
All accommodation is located away from the main road, which means that there is very little noise pollution. But though it's nicely secluded, and somewhat of a hidden paradise, it is not too far away from civilisation, with a small car journey taking you to the nearest shops and restaurants.
A short drive from Reinebringen
One of the main draws of the location is its close proximity to the mountain Reinebringen, which is only a short drive away. With its 445 metres, it's the perfect place to go if you want a scenic hike and a good view of Reinefjorden and large parts of the Lofoten islands. "It depends on those taking the hike, of course, but it usually takes around an hour to get up," Larsson explains.
Reinebringen was upgraded less than a year ago, when the Nepali Sherpa team built stone staircases all the way up, like they have done at other famous sights, including the Pulpit Rock. It is therefore easier than ever to climb up the 1,600 stone steps to the summit. "But you still need to be careful and watch your step, stay on the stairs and keep an eye on the weather – it's an amazing but steep hike!" stresses Larsson.
Since Reinefjorden Sjøhus first opened in 2017, it has had almost exclusively positive feedback. "We focus on providing great service as well as excellent information, alongside the good location and comfort," says Larsson.
In short, Reinefjorden Sjøhus is a place that ticks most people's need for a unique break – be it an active holiday, time away with family and pets, or a relaxing business trip.
Web: reinefjord.no Facebook: Reinefjorden Sjøhus Instagram: @reinefjordensjohus
Subscribe to Our Newsletter
Receive our monthly newsletter by email