Rørbæk og Møller Arkitekter: Building green diamonds
When it comes to sustainability, gold standards are not enough for Rørbæk og Møller Arkitekter and the Technical University of Denmark (DTU). With the design for DTU Skylab, a new 3,000-square-metre extension to the university's successful innovation hub, DTU is going for a German Sustainable Building Council (DGNB) Diamond certification. This requires the building to be not only environmentally, socially, and financially sustainable, but of the highest architectural quality as well.
TEXT: SIGNE HANSEN | PHOTOS : RØRBÆK OG MØLLER ARKITEKTER
MAIN IMAGE: Rørbæk og Møller Arkitekter's 3,000-square-metre extension to DTU's existing Skylab is designed to meet the requirements of DGNB's new Diamond certification, which on top of environmental, social, and financial sustainability, evaluates the building's longevity in terms of architectural and aesthetic qualities.
While a lot of attention is paid to the carbon footprint of the transport and food industry, the building industry often goes unmentioned – this despite the fact that it accounts for around 40 per cent of Denmark's total energy consumption. This fact is one of the reasons sustainability is at the core of Rørbæk og Møller Arkitekter's work. Partner Nicolai Overgaard explains: "Sustainability is a question of social responsibility, and that's always been a core value at our firm, which is why we focus on sustainability at every stage of our projects – from the first rudimentary sketches, to the proposals and all the little details that are added as the project is realised."
While Rørbæk og Møller Arkitekter has worked with sustainability for decades, DGNB's award system (adapted by the Danish Green Building Council in 2011) now makes it possible to fulfil an increasing demand from clients for documented sustainability. But more incrementally, it provides the firm with a tool to measure its performance at each stage of the design process, explains partner Anders Wesley Hansen. "To our firm, it's been important to get a tool with which we can direct and guide the design and planning phase, because that's where the real difference is created. You can design a building and then try to amend it to make it more sustainable, but that's too late; sustainability needs to be part of the core concept, otherwise it becomes very expensive."
More than gold
Set to be finished in 2020, Rørbæk og Møller Arkitekter's 3,000-square-metre extension to DTU's existing Skylab is designed to meet the requirements of DGNB's new Diamond certification, which on top of environmental, social, and financial sustainability, evaluates the building's longevity in terms of architectural and aesthetic qualities.
"The core aim behind the DTU Skylab design was to preserve and promote the special innovative vibe, which saturates the old DTU Skylab. It's about creating this huge house of innovation, connected across different floors and disciplines and doing that via a sustainable structure. One of the keys to this was to create a flexible building with a lot of large open spaces, because in a dynamic environment like DTU's, we cannot know what the space will be used for in two or ten years, and that makes flexibility essential to the building's sustainability," explains Hansen.
To minimise heat loss, DTU Skylab is designed with a small surface, while also maximising natural daylight. Internal and external facades are made of aluminium cladding that can be reused, and the building is partly aired through a natural ventilation system. "It's quite complex, really, but we've succeeded, and that all means that we get top points on the environmental scale, and when it comes to the social dimension, the entire building is structured around this large developer floor, the Innovation Room. It's a building where everyone can see and sense what's going on," says Hansen.
Building and collecting expertise
The expertise that allows Rørbæk og Møller Arkitekter to aim for the DGNB Diamond certification comes from decades of experience of pushing the limits and testing new solutions. "Working with clients who, like DTU, represent the world of innovation and progress, has allowed us to collect a continuously growing set of data; every time we try out new solutions, we evaluate what we can do better, and it is that accumulated knowledge that we, in dialogue with experts from all fields, carry into new projects," says Hansen. "It's a lot of things that have to come together, and only a few parts have to slip for the result to become less than perfect when it comes to both environmental and economic sustainability."
Sustainable beauty
Among other recent projects to have challenged and expanded the firm's knowledge on sustainable solutions is the recently completed renovation and transformation of Holmens Kanal 20, a listed building from 1937. The building houses two ministries, and the aim of Rørbæk og Møller Arkitekter was to open up and adapt the old in-situ cast-concrete building to current needs, while maintaining the original functionalist Danish architecture. "The building was quite scarred by various mismatched reconstructions, so our first job was to go back and find its original expression. We decided that it was possible to bring the house back to its original spaciousness and quality, and by doing so, creating the most sustainable solution," explains Hansen.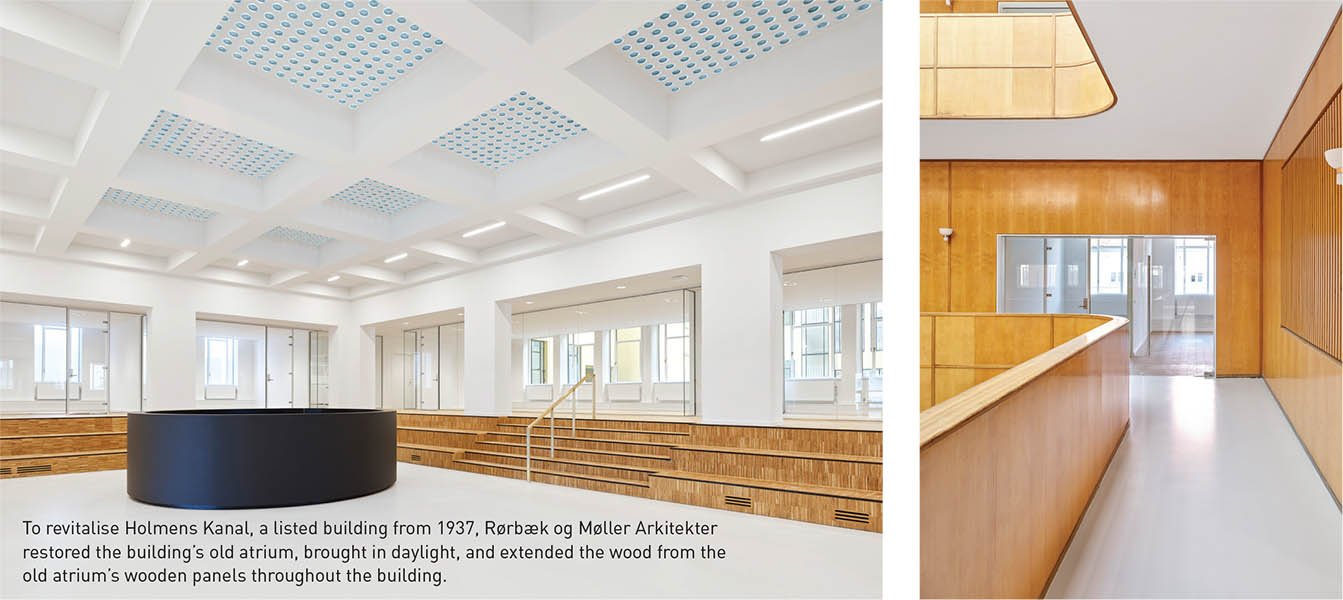 To revitalise the work environment, the building's old atrium was restored, creating a new social heart, and daylight, acoustics and air quality were improved. At the same time, the building was adapted to possible future needs by creating flexible office spaces divided by glass prisms that allow natural daylight to enter and, with rubber floors, fabric ceilings and wood cladding, provide a pleasant work environment. During the restoration, old materials, like the wooden panels from the old atrium, were reused and extended throughout the building.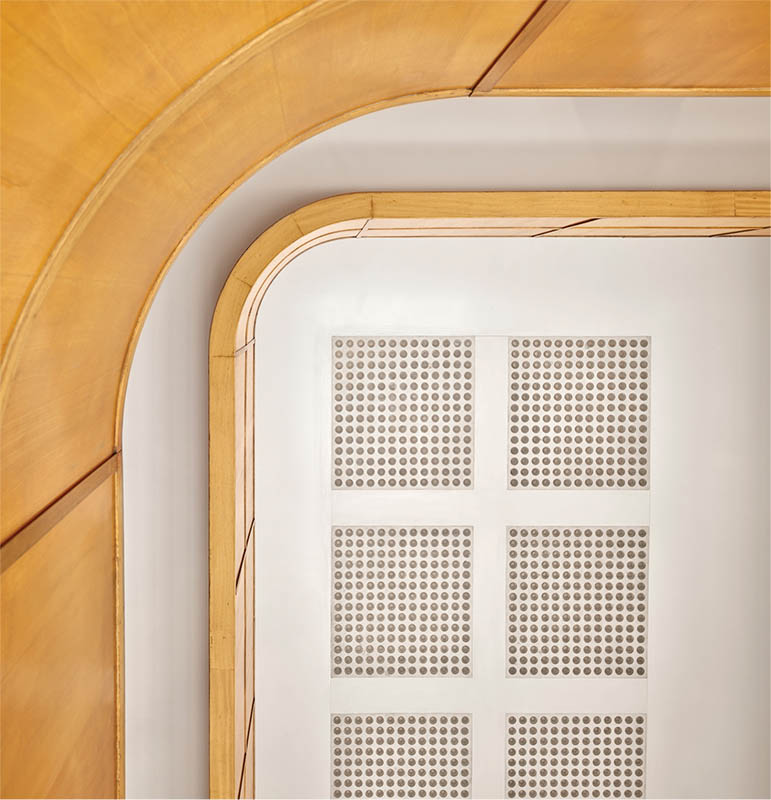 Like many other projects, the renovation was guided by DGNB's principles. However, DTU Skylab is the first of their projects to be designed to meet the requirement for DGNB's Diamond certification. As a matter of fact, if awarded, which it looks set to be, it will be the second such certification to be given to a building in Denmark, ever. But the demand and interest for projects that combine certified sustainability with quality architecture are increasing, and that is, says Overgaard, a positive development to a firm that has, for decades, aspired to create just that. "As architects, we have to rejoice in the direction things are moving in when it comes to sustainability. Because of course we want to create sustainable buildings, but we don't want the sustainable ambitions to compromise the architectonical qualities. So, hopefully, in coming years, we'll see a lot of Diamond-certified buildings."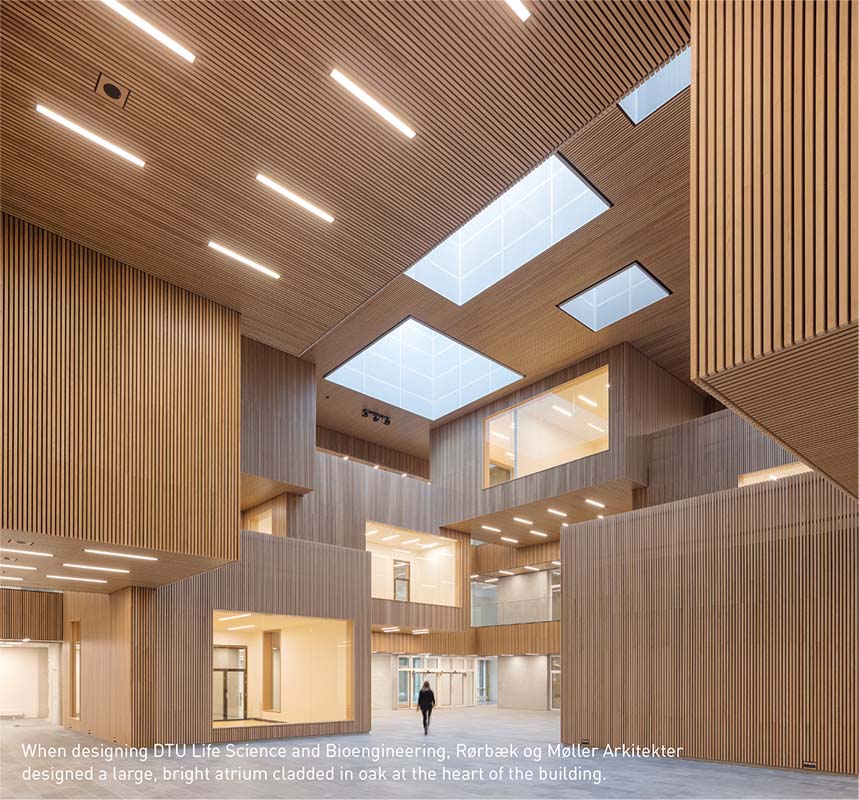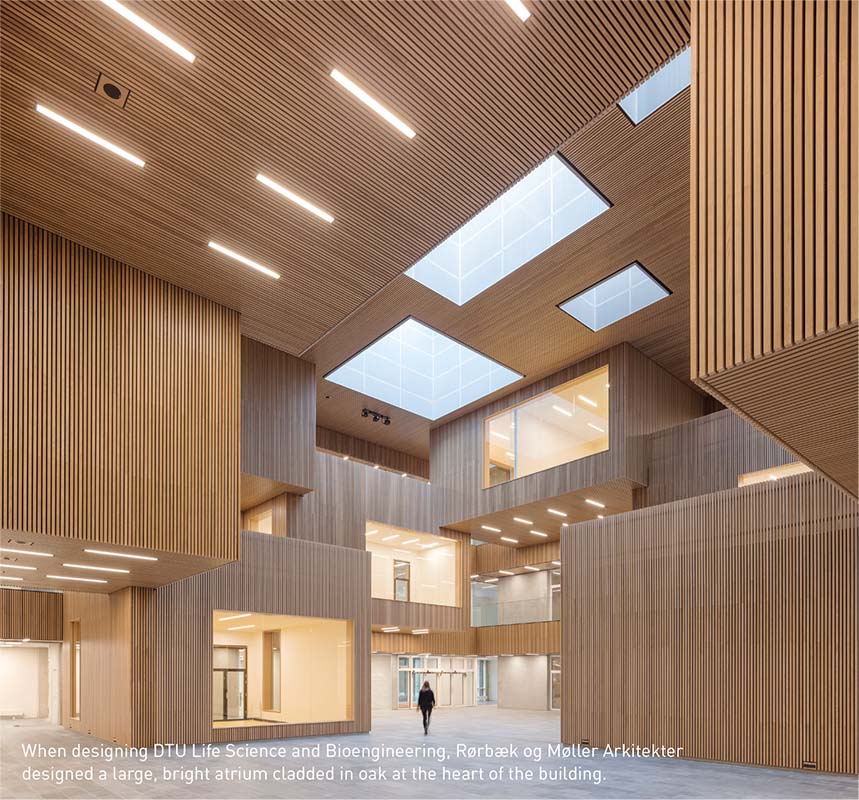 The DGNB certification
The DGNB sustainability award system was developed by the German Sustainable Building Council and adapted by the Danish Green Building Council in 2011.
The DGNB Diamond certification pilot programme launched in spring 2017, developed in collaboration between the Danish Green Building Council, the Danish Association of Architects and the Danish Association of Architectural Firms.
To be eligible for a DGNB Diamond certification, a building must first earn a DGNB certification for sustainability, evaluating elements such as economic impact, social benefit, environmentally conscious construction and the technical inclusion of elements such as solar energy and low-impact building materials.
To promote a new understanding of sustainability, the Diamond certification extends the evaluation to measure a building's longevity in relation to its architectural and aesthetic quality. This means that beyond judging the immediate use of resources, DGNB Diamond certification gauges the building's sustainability in terms of its service life.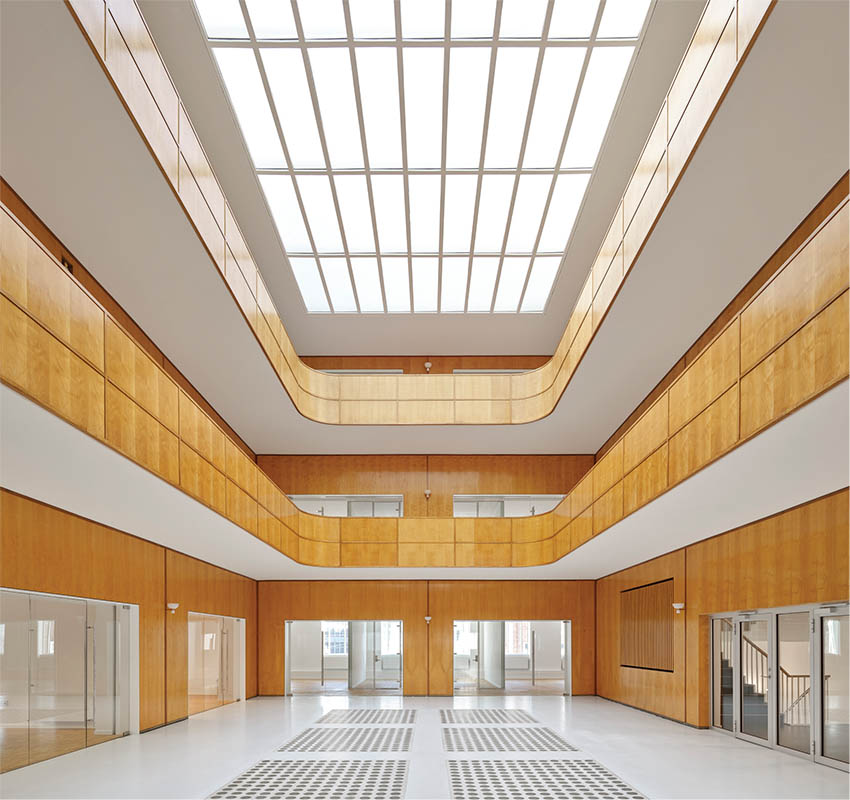 Skylab
-Developer: The Technical University of Denmark
-Location: Lyngby Campus
-Funding: The Skylab project is supported by a donation of 80 million DKK (approx. 9.5 million GBP) from Den A.P Møllerske Støttefond (the Maersk Foundation).
-Project collaborators: EKJ Rådgivende Ingeniører, CITA, Urgent Agency
Rørbæk og Møller Arkitekter
Founded in 1950, Rørbæk og Møller Arkitekter is an architectural practice working with newbuilds as well as the restoration and transformation of existing and listed buildings.
A dedicated team of around 50 employees work at their office, located in a former steam laundry from 1918 in northern Copenhagen.
Web: www.r-m.dk
Subscribe to Our Newsletter
Receive our monthly newsletter by email