Ross Architecture & Design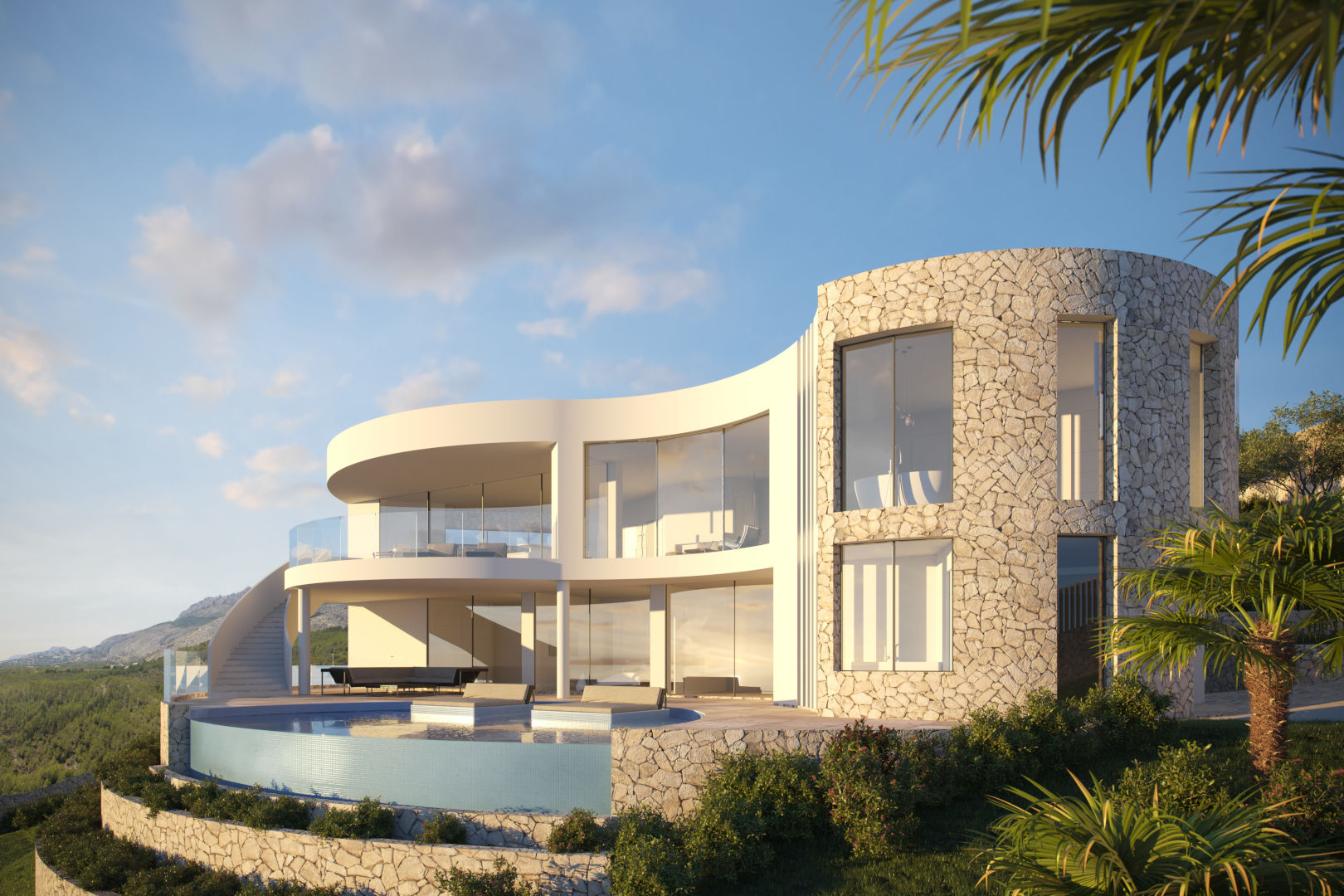 Because life is not square
He is the architect who refuses to put life in a box, designing beautiful, exclusive homes with organic curves since 1996. Now, Pål Ross of Ross Architecture & Design is bringing his internationally award-winning services abroad – and onto Swedish TV screens.
BY LINNEA DUNNE | PHOTOS: ROSS ARCHITECTURE & DESIGN
The people who turn to Ross Architecture & Design for their second home in the sun are people who want not just any second home, but a home with a capital H. "Maybe if you're going to be spending every day on the golf course, you don't mind under-door draughts and cold floor tiles," ponders Pål Ross, founder and lead architect, "but if you want the same quality as at home and envisage spending more and more time in your home in the sun, with your kids and grandkids visiting a lot – then we can offer that."
When he talks about the same standard as at home, he talks, of course, about the same exceptional Ross standard. This means, for instance, that lifts are a given, because "you'll still want to get up to that roof terrace when you're 99". A recent project in Turkey, meanwhile, was one of the first to install under-floor heating, an obvious solution, according to Ross, in a location with plenty of sun hours also in the winter, making it not just comfortable but also incredibly cost-effective.
At the time of writing, the team at Ross Architecture & Design is busy with its first ever project in Spain, a classic Ross house on the beautiful hills of Altea, north of Alicante – "an absolutely magical project that really makes the most of the context and the stunning views," says Ross. With three out of six team members fluent in Spanish, the firm has been able to assist the customers seamlessly with everything from planning permission to construction liaison, and Ross is excited about the prospect of expanding further afield. Another current project has brought the firm to Denmark, while conversations with a client in Florida are ongoing. "Working in new markets means that we have to fine tune our routines as we work with people who bring questions from a different cultural context, and that allows us to grow and improve," the architect says.
Living life with a tailwind
Ever since he founded his Stockholm firm back in 1996, Ross has been guided by a keen belief that life is not square – one that has shaped his work and made his creations stand out in unmistakable ways. "There are no straight lines in nature. No rivers flow in perfectly straight lines; it's only we humans who make straight ditches," he explains. "So you either build straight, square houses and expect humans to adapt, or you pay attention to natural human moving patterns and build accordingly. Take spiral staircases, for instance: they can flow the right way so that you just keep moving as you get up, or they can require sudden stops and awkward turns. Both bring you up – but with one, you just dance on. It's like living life with a tailwind."
Moreover, Ross insists that quality is always cheaper in the long-run. "It's OK to spend 50 per cent more on a house that will stand more than five times longer – actually, it's much cheaper," he says. This mindset means that the firm is always thinking ahead, including features that you might otherwise miss ten years down the line. In the early days, they imported central vacuum systems from the States as you couldn't get them in Sweden, something Ross finds incredible, considering their superiority with regards to pollen allergies and similar. The same goes for features such as lifts, guest spaces and raised washing machines. "It may be OK to bend over to do your laundry now, but it won't be when you're older," Ross asserts. "It just makes so much financial sense. You spend more now and reap the benefits forever."
Grand Designs
As if he needed proof of the grandness of his creations, Pål Ross and one of his new Swedish projects have now been selected to be featured in the first ever Swedish season of the successful TV show Grand Designs, giving viewers insight into a radically different kind of architecture and construction. That's in addition to a long list of awards and accolades, including Best Single Residence Sweden at the European Property Awards in 2014 and Sweden's Most Beautiful Villa in 2009. With an impressive portfolio of customers who are still happy and loving their homes as much as 18 years later, none of this is surprising – not to the architect himself, nor to anyone who's ever come across his passionate, pedagogical plea for better-quality, smarter, more healthy homes for people who dare to think outside the box. Or, as Ross himself would put it, for people who dare to dream of living in a work of art.
Don't miss out – register your interest now
Ross Architecture & Design is busy and fully booked all spring and summer, so if you want to discuss a project for the autumn or winter, make sure to get in touch now.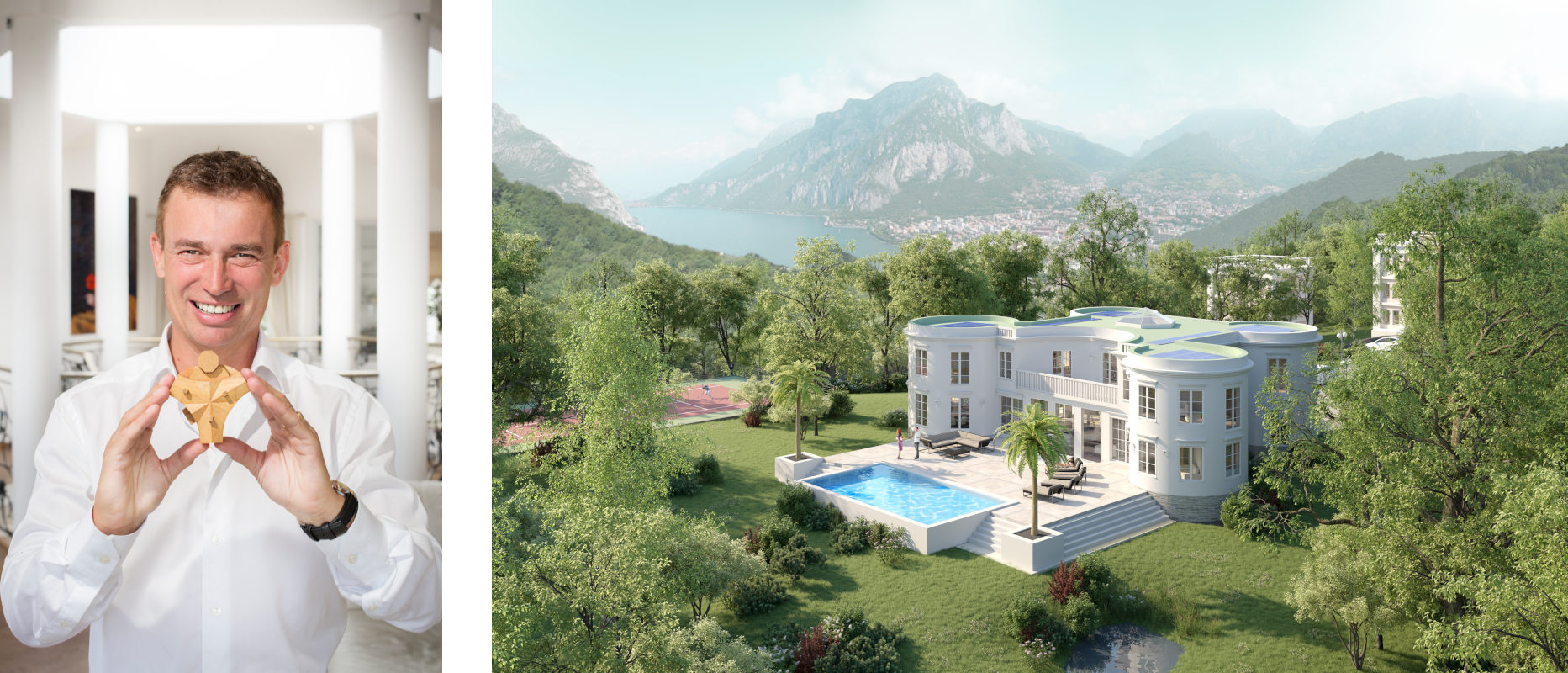 Founder and lead architect Pål Ross. Photo: James Holm. | Villa Casa Blanca. Photo: Ossian Tove
About Pål Ross
Pål Ross was born in Stockholm in 1961.
He grew up the grandson of a mechanical engineer and the son of an artist. As a boy, he loved creating elaborate designs and entire little towns with LEGO, and building cardboard spaceships.
When Pål Ross was six years old, his mother got a stipend to go to Spain and work on an exhibition, and so they spent a number of years there. Ross is now fluent in Spanish.
Before his career in architecture, Ross worked as a teacher in mathematics and physics, and he admits to having considered studying psychology at one point. A pedagogical streak and a keenness to listen to his customers are still evident in everything he does.
Ross founded Ross Architecture & Design in 1996 and has since drawn well in excess of 300 exclusive villas.
Ross houses are characterised by organic shapes and a luxurious feel.
Web: www.ross.se
Facebook: rossarkitekturdesignab
Instagram: @designbyross
Subscribe to Our Newsletter
Receive our monthly newsletter by email