RUM: Sharing spaces – saving resources
Text: Signe Hansen | Photos © Kob Lerche and Rune Fjord
A perforated school wall in China, tables on the ceiling, and a continuously changing mosaic wall − Scan Magazine talks to Horsens-located architecture practice RUM, about the firm's exciting new projects at home and abroad.
Having just finished a new primary school in Chengdu, China, RUM has had the firm's well-established methods tested in the eyes of a new and different clientele. The design of the school incorporates many of RUM's core values such as user involvement and social, economic and environmental sustainability. "At RUM, we have worked with user processes long before it became common. It's an approach to architecture which is deeply anchored in our roots, and it's an approach which might make us a bit different from other firms," says Elbek. "It's not that we don't prioritise the aesthetic expression of a building, but we add depth to it by working with the users and ensuring that the functional value matches the aesthetic value."
In Chengdu, the result of this process is a distinct 19,000-square-metre star-shaped school and a 2,400-square-metre kindergarten merging Nordic architecture, Danish pedagogy and Chinese culture. The school, which is officially inaugurated 25 October, is just one of many learning facilities designed by RUM: others include a new school in Sorø and a shared learning facility in Silkeborg.


Sharing and safekeeping
Traditionally, schools in Denmark act as culture and community centres hosting multiple organisations and events outside school hours. To enable that, RUM often works with a number of practical and creative design features to alleviate security concerns, something which became vital at the hi-tech zone school in Chengdu. "One of the points which proved to be the biggest, but also most interesting challenge, was defining the degree of openness we could design into the school. Often, a Chinese school has a school wall and a guarded gate which means you can't enter unless you're a pupil," explains Elbek. "We worked towards dividing the school into different zones with different levels of access and, for instance, making the canteen space more accessible and flexible. One of the results was that we had the school wall but it's perforated so you can look in from the outside."
Another significant step in opening up the school was to design its library as an open learning environment rather than a closed-off room for books, something which required a combination of creativity and practicality. "We created an entirely different environment with a mountain of books and open and flexible reading pockets and then just safeguarded more precious books in a closed archive," says Elbek. "But there were also number of things which remained more traditional – it's a perfect merger between the Scandinavian and Chinese learning culture."


Saving space and resources
Sometimes, the desire to share and save space is also a fundamental requirement from the client. This was the case with Campus Bindslev, a multiuse educational 'marketplace' commissioned by a collaboration of different educational institutions and organisations in Silkeborg. "The focus on sharing and saving spaces has always been a core value for us, but as there's an increasing focus on sustainability, it's making more sense to more people," explains Elbek. "Often, we measure a building's sustainability through its materials and how many resources are used to produce them, but another aspect, which is important, is not to build more than necessary. That's why as a starting point, we need to make the greatest possible use of everything that we build."
One of the special requests at Campus Bindslev was that no space should be wasted on storage. To meet this, RUM came up with the idea of a special system that stores extra tables and dividing walls under the ceiling, where they appear as a sculptural installation until lowered via a computer controlled hoisting system.
The requirement for optimal use and minimal square metres was also at the heart of the new Frederiksberg School in Sorø. Faced with the task of building a smaller and more compact school to replace the existing 11,000-square-metre, one-plan building, RUM created a flexible and open building with extensive user involvement in the process. Pupils were asked to leave their very own fingerprint on the new school through contributions to a large art wall. "While the building work took place, the children took part in an art project with artist Rune Fjord, where they created pieces for the art wall. This way, when they moved into the new school, they already felt part of its identity, and the artwork, which acts as a large visual signpost for the school, can be continuously altered," explains Elbek.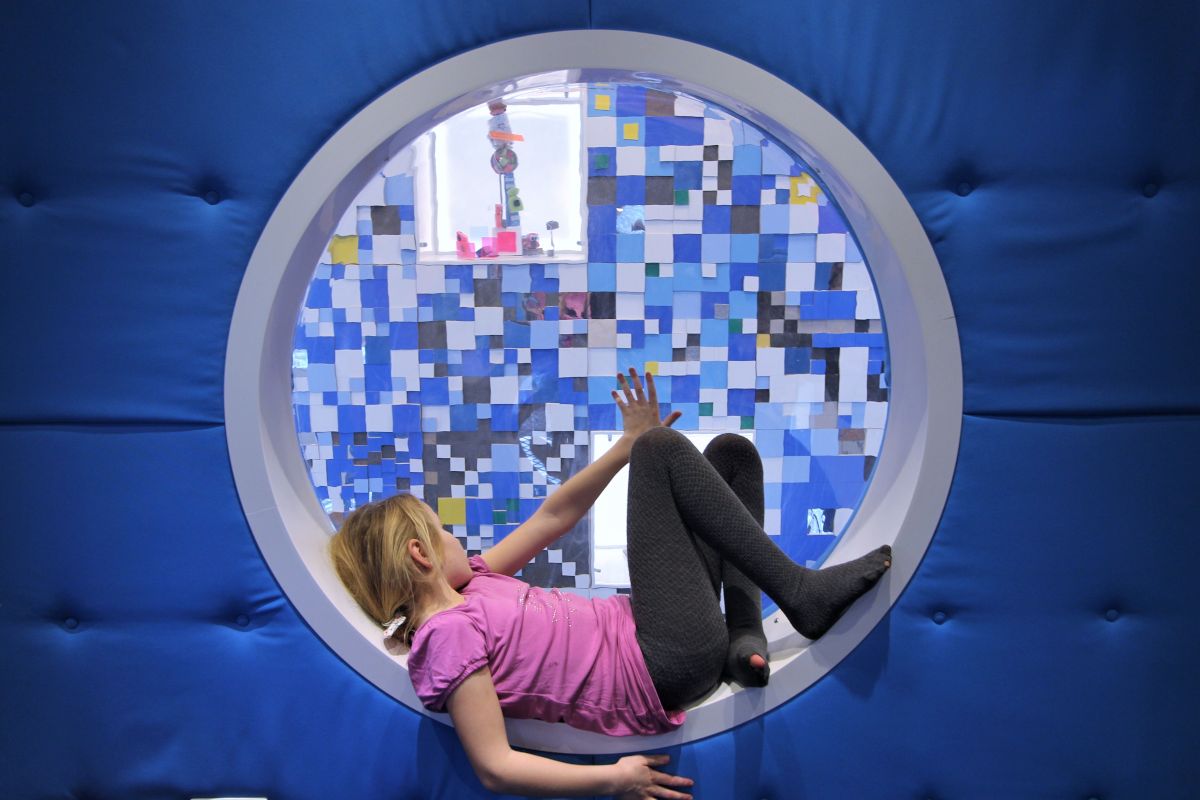 Facts: RUM is owned by Anders Johansen, Claus Jensen and Karin Elbek. The practice is located in Horsens. RUM specialises in architecture within the sectors of health, workplace, residential, and education and culture. The hi-tech zone school and kindergarten was created by Team Horsens Architects with RUM as the project manager. The practice has approximately 50 employees. rumarkitektur.dk
Subscribe to Our Newsletter
Receive our monthly newsletter by email