Rush Trampoline Park – High-flying experiences for all
By Maria Vole | Photos: Rush Trampoline Park
Since opening Norway's first large trampoline park in Oslo in 2016, Rush has expanded to nine other locations: Drammen, Bergen, Hamar, Haugesund, Larvik, Stavanger, Trondheim and Bærum, a suburb of Oslo. Their next park will be opening in Tromsø in 2023.
Rush trampoline parks welcome jumpers of all ages to enjoy their huge indoor playground, offering plenty of fun elements and challenges. With a range of exciting activities and games, Rush caters to kids, teenagers and adults looking for a fun and different day out. "Our parks are very varied, and there's truly something for everyone here," says the venture's marketing coordinator, Even Singstad Ingebrigtsen.
The unique activity parks feature elements like wall-to-wall trampolines, multi-sport arenas, laser mazes, wipeout machines, slides, battle beams, foam pits and much more. Here, little ones will be able to explore fun movement safely, while older kids take on more challenging, exciting adventures in the huge indoor arena.
"There's an increasing trend of kids and adults moving less and spending most of their time in front of a screen," says Even. "At Rush, we want to make exercise fun!" It's no secret that time flies on a fun-filled day out, but make no mistake – this bouncy activity is a real workout. "When you're jumping on a trampoline, you're using every fibre of your body," Even says. "Jumping is a full-body workout that helps you develop core muscles, improves your balance and coordination and much more."
Safety first
At Rush trampoline parks, safety is paramount. "Maintaining the safety and security of our parks is our number one priority," Even says. "Everyone taking part in activities at Rush is briefed on our safety rules, and our trained staff are always there to keep an eye on things."
In addition to the expanding parks in Norway, the Rush Group has several popular parks with the Rush, Airhop and Jumphouse brands in Sweden, Denmark, England, Germany and Finland. Beyond frequent quality-testing and checks, as well as constant monitoring of equipment in the parks, age restrictions are enforced for different sessions and activities and knowledgeable employees are present at all times to ensure everyone's safety.
"Our team does a fantastic job of making sure everyone's staying safe and having fun," Even says. "Committed and engaged staff members can really make someone's day and help first-time visitors feel welcome."
Rush parks are about having fun while exercising, enjoying movement and spending time with others. During most school holidays, kids can sign up to Rush Camp. The Rush Camps are designed to get kids out of the house for a fun exercise while offering the chance to socialise with their peers.
Spreading the joy of movement
There's no shortage of fun activities at Rush trampoline parks. The team behind Rush have developed a host of different birthday party concepts, such as Super Monday with special offers, and Quiz Tuesday for the knowledge-hungry. Meanwhile, Glow Parties on Wednesday evenings transform the brightly coloured, user-friendly indoor parks to a huge trampoline party on glow-in-the-dark trampolines – a completely different experience. Hour-long weekend morning sessions for babies to six-year-olds welcome little ones to have a big adventure, while teenagers can take part in exhilarating Rush After Dark parties on Friday evenings.
"It's an incredible thing to see kids coming to our parks for the first time, to see their boundless excitement at stepping into this wonderland of play and the joy they get from just moving their bodies," Even says.
The regular Rush At Night events invite older kids and teens to spend an exciting night at the trampoline parks, with a disco, glowsticks, dodgeball competitions and fun games. "Local kids often come back again and again, forming great bonds with those working in our parks. It's a safe and friendly environment for people to get moving while spending time with their friends," Even says.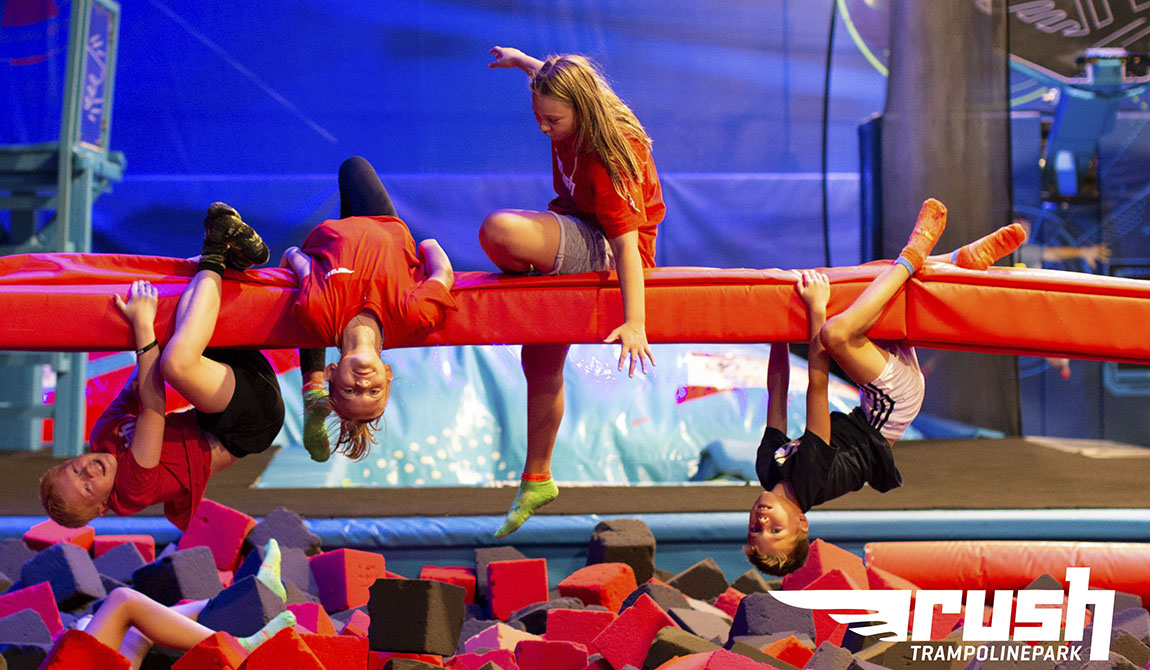 It probably comes as no surprise that these El Dorados of fun are a popular venue for birthday parties. Rush throw parties for kids and adults alike, with a range of activities and food available to make the day extra special. For companies planning an enjoyable day out for their employees, tailored team building sessions and meeting rooms are available at the parks. Trampolining is also a popular destination for bachelor and bachelorette parties, sports clubs, school classes and groups of students.
The Rush trampoline parks all have cafés where people who aren't jumping can enjoy food and drinks while watching the fun unfold. Visitors are welcome to just drop in, but due to the popularity of the Rush parks, booking your visit in advance is recommended.
Web: www.rushtrampolinepark.no Instagram: @rushoslo Facebook: rushtrampolinepark
Subscribe to Our Newsletter
Receive our monthly newsletter by email