Sankt Jörgen Park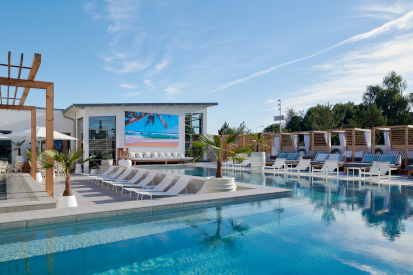 Gothenburg's coolest summer hangout
TEXT: KIA ANDERSSON | PHOTOS © SANKT JÖRGEN PARK
It is ten years since Sankt Jörgen Park first opened its doors and, in its jubilee year, the team which gave the world the spa ritual concept is not resting on its laurels. This year's innovation was the opening of a stunning poolside beach lounge.
Sweden may have sizzled in temperatures of over 30 degrees Celsius this summer, but in Sankt Jörgen Park at least, life has been cool. Although the award-winning hotel, spa and conference centre is just ten minutes from the centre of Gothenburg, guests have been treated to an altogether more tropical vibe, as they relax by the poolside, surrounded by palms and chilled drinks.
The poolside lounge, which opened in May and is planned to stay open throughout September, is the latest addition to Sankt Jörgen Park's impressive facilities and comprises a large, L-shaped pool, surrounded by cabanas and an open-air bar. Shaded seating areas, a warm spring and a 15-square-metre TV screen, displaying rolling images of Caribbean idylls, complete the set-up. And when the sun finally goes down, beats from the DJ booth warm the cooling air of the long summer evenings.
"We wanted to create the same feeling of when you go abroad and head out to a pool bar for the day – somewhere where you can just relax by the water, take it easy, eat lunch and stay all day – while also maintaining the same feeling of luxury that fits in with our concept. And it's been fantastic," says Resort Manager Kia Andersson. "During the World Cup, we had the games on the big screen and people were sitting by the pool and in the pool, just hanging out together and enjoying themselves. The atmosphere was incredible."
As well as for conference and hotel guests, the poolside lounge is open to anyone who wants to come and laze in luxury just for the day. However, for those wanting to make a short break of the experience, there is the option of a 'Pool Lounge Overnight' package, which includes a night's stay in a double room, three exquisite meals, and full use of the poolside lounge, gym and sports facilities and spa.
Something for everyone
The poolside lounge is a completely new concept for Sankt Jörgen Park, and adds another impressive string to its bow, in addition to its award-winning spa, 18-hole golf course, gym, conference facilities and hotel, which was last year crowned Sweden's Most Stylish Design Hotel by the World Luxury Hotels Awards.
"We do offer a very wide range of experiences and activities, and that's important for both our hotel and conference guests," Andersson says. "We feel that one of the main reasons a lot of our conference guests choose Sankt Jörgen Park is because of what we can offer in the evening, when work is over. There's the gym, there's the spa, there is scope for group activities. We have a boules court, for example, because not everyone wants to wind down with a spa or high intensity exercise. So there's something for everyone."
The same philosophy applies to the food on offer, with guests able to choose between classic cuisine in the hotel's Inez & Ernst restaurant, traditional Swedish cooking in the golf club's Greenhouse Café, or nutritious raw food selection in the spa's bistro. "Our raw food restaurant has been open for five years now, and we are developing it constantly," Andersson explains. "We have a lot of people who come in from outside just to eat there, and often, if a company is staying with us for a few days, they'll choose to eat there. It's something that guests really appreciate."
And when it comes to experiences at Sankt Jörgen Park, it would be amiss not to mention the spa ritual. Now a staple at spas across Sweden, the experience, which entails hot and cold springs, saunas, showers and baths, with a selection of carefully chosen products, began here. Andersson and her team have continued to develop the concept, introducing a one-year-only limited edition ritual every year. Past themes have been inspired by destinations – often coupled with charity initiatives, such as the 'Ghana' and 'Rio' rituals, which saw money donated to a Ghanaian school and a sheltered home for mothers respectively – or concepts, such as the 'Sparkling' theme of 2013.
In Sankt Jörgen Park's tenth anniversary year, the spa offers a ritual with the theme of 'Jubileum', where guests can indulge with the spa's signature series of luxury products, beautifully presented in a stylish bag. "We've added a touch of elegance in our jubilee year and we look forward to celebrating with our guests," Andersson adds.
Subscribe to Our Newsletter
Receive our monthly newsletter by email