Sittingsuits: The wearable blanket that will change your life
By Heidi Kokborg | Photos: Sittingsuits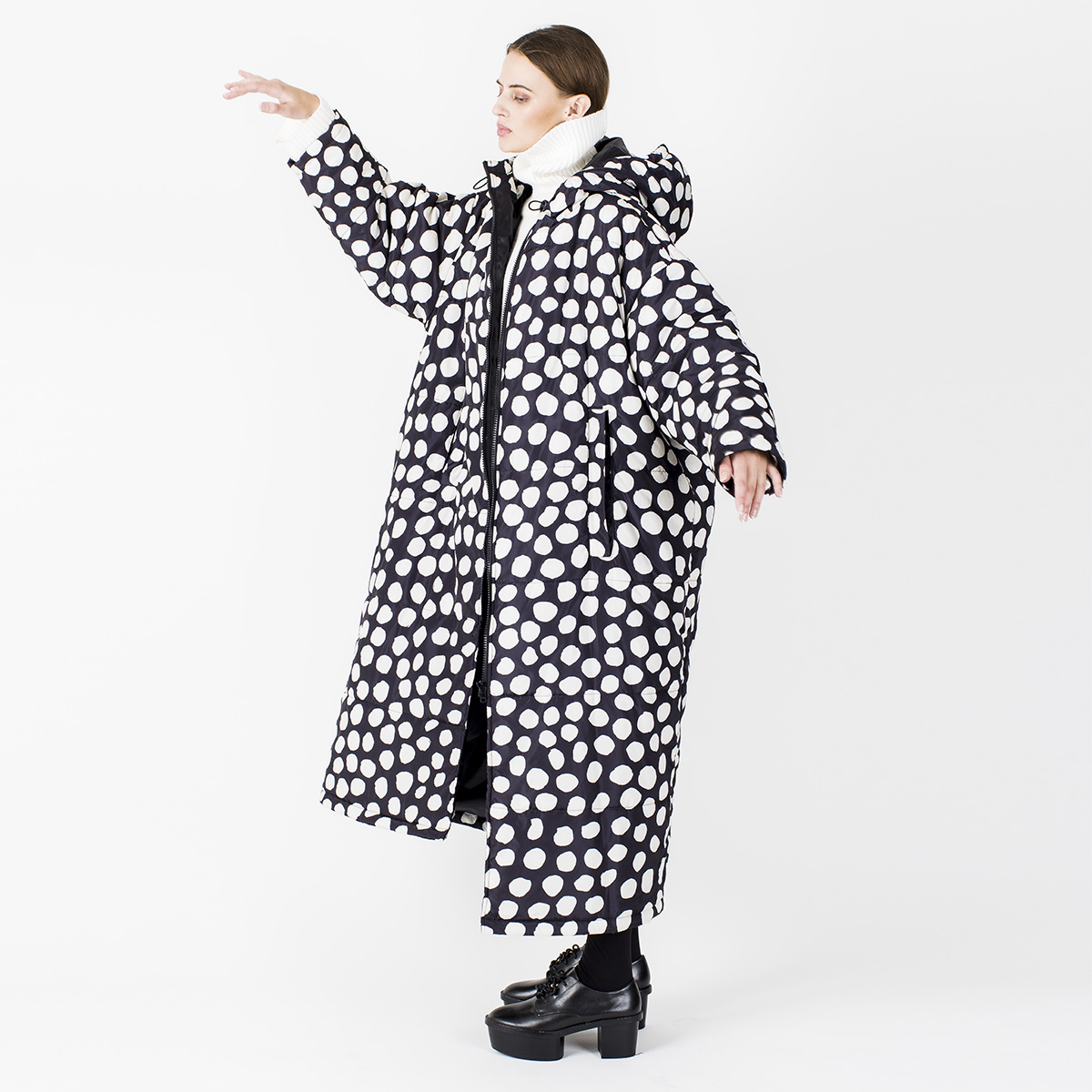 Once you have tried the Sittingsuit you will wonder how you ever lived without it. From restaurants to football stadiums and from spas to festivals, Sitttingsuits has snuck in through the backdoor while you weren't watching. The design is simply genius, and you can use it for, well, everything.
Every now and then a new product pops up that makes you wonder how on earth you ever lived without it before. The Sittingsuit is one of those products. In just a few years the Danish brand Sittingsuits has stolen the hearts of not only the Danes but the rest of the world as well.
"We almost just snuck up on people. Many assume we've been around for ten or fifteen years, but we actually started during COVID-19. It's funny, because people generally think the Sittingsuit has always been here, but it just hasn't," says Rebecca Garde Johansen, CEO and co-founder of Sittingsuits, with a smile.
Goodbye outdoor heaters and wet blankets
Sittingsuits was founded by Rebecca Garde Johansen and Vibe Johansson. Rebecca owns Axelhus and Axelbar, two renowned restaurants in Helsingør. As a restaurant owner with more than 450 outdoor seating spaces, she needed an alternative to outdoor heating and the blankets she was using to keep guests warm and comfortable in the unpredictable Danish weather.
"That's how Sittingsuits came to be. Never once did I think Sittingsuits would be the second love of my life. I was tired of blankets that easily got wet, dirty and just kind of gross. That was my biggest challenge in my work," says Johansen.
Rebecca partnered up with designer Vibe Johansson, and together they founded Sittingsuits. Little did they know that Sittingsuits would end up being a huge success, and restaurants, hotels, spas and many others would be quick to embrace the Sittingsuit.
"Both people and businesses are so happy and grateful for the Sittingsuit. People are literally thanking us for it, while it has increased the profits of the businesses who use it. People are sitting outside longer and therefore ordering more at restaurants, and at hotels and spas, people are strolling around the city in a Sittingsuit with the hotel's logo on the back," says Johansen.
From restaurants to dog walking
Although Sittingsuits was originally created with restaurants in mind, Rebecca and Vibe quickly realised that their design was much more versatile than they first assumed. As it turned out, almost every industry and person had been missing the Sittingsuit.
"Restaurants use them as it extends the season, and guests can enjoy their food and drinks outside despite the weather when wearing a Sittingsuit. But theme parks, hotels, and spas also use them for their guests with huge success," says Johansen.
"People also use the Sittingsuit when they are walking their dog in the morning, and they want to stay in their pyjamas. It is also used in almost every sport, from football to ice hockey and from ballet to horseback riding. Often it can get cold if you are at a stadium or similar but with the Sittingsuit, you are always warm and cosy. Corporations give Sittingsuits as company gifts and people even use it around the office during the colder months. There is no limit to what it can be used for," she continues.
A sustainable, fashionable and functional design
The Sittingsuit really is that extra layer that will keep you warm and cosy on chilly days. With its sustainable, fashionable and functional design, it is an absolute must-have for your outdoor life. The fabric is windproof and water-repellent with a padding made from 100 per cent recycled plastic waste that ensures perfect protection from the elements. Whether you are going camping, to a sports game, or meeting up with friends at your favourite restaurant, the Sittingsuit is a must.
Vibe Johansson has thought about every little detail in designing the Sittingsuit. "It covers your legs down to your ankles, and instead of pockets, it has practical side openings for easy access to pockets underneath. It also has an elasticated hood, and it is big enough for you to wear over your coat for an added layer of protection," explains Johansson.
All Sittingsuits are unisex and one size, and with a weight of just one kilogram you can easily bring it with you wherever you go, from festivals to camping grounds or weekend trips to the big city.
Sittingsuits come in various colours and patterns, from a minimalistic black design to bold patterns and prints. Sittingsuits regularly launch versions made in collaboration with Danish and international artists, creating maximalist wearable art pieces – most recently with the world-famous artist Lin Utzon. "You can be as crazy as you want. The Sittingsuit almost gives you an excuse to dress a little wild," says Johansson.
Web: www.sittingsuits.com Instagram: @sittingsuits Facebook: Sittingsuits
Subscribe to Our Newsletter
Receive our monthly newsletter by email