Skatka Modelækkerier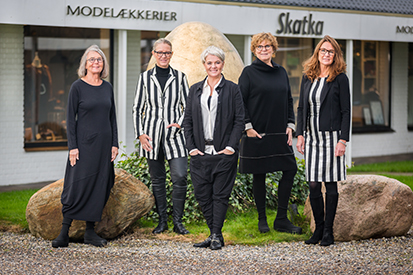 'Being kind to yourself should be more in fashion'
TEXT: SIGNE HANSEN | PHOTOS © HELLE THORNGAARD JESSEN
With a strong, fashion-savvy team and an extensive collection of high-quality brands, Skatka Modelækkerier helps women look and feel their best when it matters the most.
Going to a party for the first time after a major life-changing event, like a divorce, can be daunting, especially if you are not confident in what you are wearing. This is why many women do not mind driving that bit further to get to Skatka Mode. They know that, whether they are looking to dazzle at a party or make an impression at work, the store's founder Jane Skatka and her team will know exactly which pieces of clothing can achieve that goal.
"It's a matter of trust; we have had many customers come to us to help them find something they can feel good in after having had a mastectomy – those can be very emotional situations and can make a lot of women feel really down, so for them to put their confidence in us is a serious matter," says Skatka. "Or it might be a woman who is going to her first party after her divorce and just wants to look the absolute best she can."
To make sure they can achieve this, Skatka and her team all take time to try on any new items in the boutique's collection. This means, Skatka explains, that when a customer walks in, they know exactly what items from the collection will complement her body type, size, and complexion.
It is a matter of trust
When 50-year-old Skatka first came up with the idea for Skatka, a 180-square-metre, high-quality fashion shop located "in the middle of nowhere", not a lot of people believed it to be viable. However, eight years later, Skatka is attracting customers from as far away as Odense, and many guests from Norway, the UK and Austria have made a visit to the boutique a regular part of their annual holiday in the area. Some know Skatka from her previous jobs in the fashion and retail industry, while others have been drawn to the store more recently. Through the years, many have come to put all their faith in Skatka and her team to make them look and feel their best at work and in private.
"A lot of our customers actually don't like to shop. We have a lot of women who visit us two or three times a year; they just tell us what they're looking for, then they go into the fitting room, and we help them find what they need," says Skatka. "We're all grown women and we're able to look at a customer – see what body-type she has, what kind of clothes she likes, and how much effort she likes to put into her wardrobe – and then dress her from top to toe. That's how we make our living; it's the quality of our service."
With many of her customers having come to her for years, Skatka also offers the service of sending individually selected collections of clothes to their home. They can then try it on and return whatever they do not want to keep.
Focusing on the best bits
Having been in the retail and fashion industry for most of her life, Skatka has, she says, always loved working with people and quality clothing. But, if she could, there is one thing she would change in her customers: their tendency to obsess about their least flattering features. "There are a lot of women who are extremely focused on the parts of them that are the least flattering. It is a bit scary how much time they spend thinking about what they don't find attractive about their body, rather than what they do find attractive," she says. "That's one thing we try to change when a woman comes in here – we want them to be kinder to themselves, and a way to do that is to help them focus on, and highlight, their best features."
Subscribe to Our Newsletter
Receive our monthly newsletter by email