Solo Sokos Hotel Torni Tampere: A tribute to Tampere
Text: Hanna Heiskanen | Photos © Aki Rask
Solo Sokos Hotel Torni Tampere delivers on many fronts: there is the rock-themed beer heaven, the display and sale of the work of a mix of local artists, and the cocktail bar with a view that celebrates those reaching for the top. A sense of pride of and respect for the past binds it all together.
"The inspiration behind the hotel is the classic Eagles song: 'you can check out any time you like / but you can never leave'," says hotel manager Mikko Kankaanpää. "We want to create an experience that makes our guests feel something that stays with them long after they've left."
The hotel, which opened in 2014 close to the city's main railway station, is deeply rooted in Tampere, its history and culture. One of the two buildings that make it up dates back to 1874 and was originally a railway roundhouse, and local artists are on prominent display on every floor. The design of the hotel was a collaboration between architecture agency Sampo Valjus and design agencies Gullstén & Inkinen and Stylt Tramboli AB. Having an outsider on board was helpful in establishing the genius loci and bringing it to life.
Celebrating history and culture
"The entire building is a tribute to our way of life," Kankaanpää says. There are 14 different meeting spaces and banquet rooms, including a large creative lounge covering the 17th floor, all named either after the types of steam locomotives that used to be maintained there from the 19th century until the 1960s, or after train tracks. These spaces can be combined flexibly to create the right platform for different kinds of unforgettable events – for smaller meetings or up to 1 500 guest occasions. The ground floor's Paja Bar is dedicated to the vibrant local rock music scene that has produced many of the country's most loved songs.
Visual arts feature in every hotel room, and if you develop a liking for the painting in yours, simply go ahead and purchase it. All in all, works of art by 22 artists, all members of the Tampere Artists' Association, are on display, making it the largest show and sale of its kind in the Nordics. The top floor of the 88-metre-high tower is reserved for the Moro Sky Bar and Tampere-bred Olympic-medal winning athletes. "It's the most popular place in town for enjoying a cocktail and fantastic views over the centre of Tampere," describes Kankaanpää.
A local favourite
In addition to passing tourists, the hotel is also an important landmark and living room for the city's inhabitants. "It's common for locals to mention with pride to their friends that they've visited one of our restaurants or event spaces," Kankaanpää says contentedly. "You see a lot of people in the Moro Sky Bar scanning for the roofs of important buildings in their lives." The bar does not take bookings, which contributes to its feel of inclusivity.
The hotel manager himself was born a stone's throw from the hotel he now spearheads. "I moved away for 25 years only to return to where it all started. As someone who grew up here, I would describe the spirit of Tampere as relaxed, down to earth and congenial. I'd like to think we resemble Australians in that respect," he muses. He was particularly pleased to be tasked with taking on the new hotel in 2014. "I'm proud to be from Tampere and proud to be able to bring Tampere to this hotel and its visitors."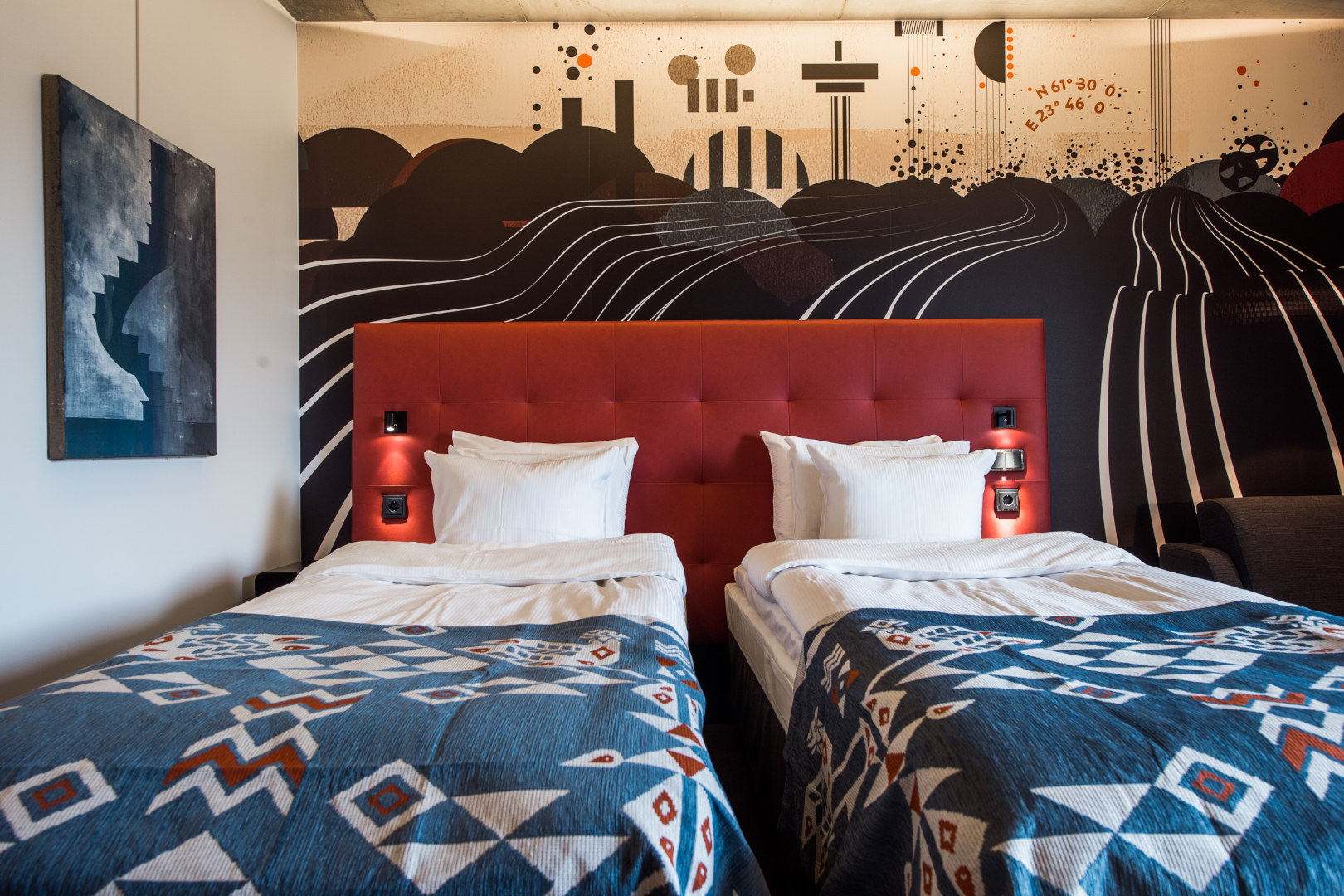 Beer, books and bands
To finish off its innovative approach, Solo Sokos Hotel Torni Tampere is not only in the hospitality business: it is also involved in brewing beer and publishing books. The downstairs Paja Bar serves five beers developed in close collaboration with the award-winning Pyynikin Craft Brewery that were originally not available anywhere else. "One of them turned out to be so popular that the alcohol retailer Alko wanted to start selling it too, as people kept asking for it," says Kankaanpää.
If you want to take some of the Tampere pub and music culture with you, you can even acquire a collection CD named after the bar. The city is also famous for its crime novelists, many of whom have contributed to a collection of short stories that all take place in Tampere, available in all the rooms.
"I would like to think that we provide something for everyone. Our hotel comes with bucketloads of personality, and it's not afraid to be itself. Personally, my goal is to provide a space that inspires as many people as possible to visit. And it's all topped off by excellent service, of course."
Web: www.sokoshotels.fi/en/tampere/solo-sokos-hotel-torni-tampere Facebook: tornitampere Instagram: @solosokoshoteltornitampere
Subscribe to Our Newsletter
Receive our monthly newsletter by email