Sølvgarden Hotel: A Norway in miniature
By Eva-Kristin U. Pedersen | Photos: Sølvgarden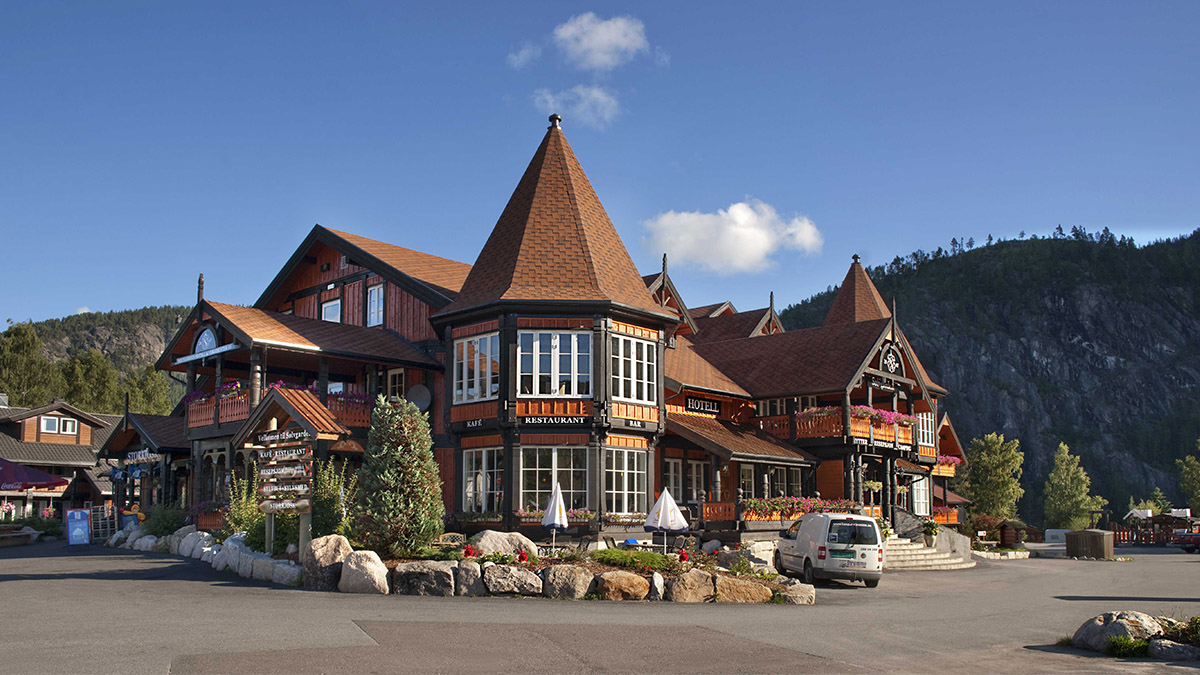 Sølvgarden at Rysstad in Setesdal offers locals and tourists a taste of one of the most traditional and enthusing areas of Norway.
Ever heard of Setesdal? For Norwegians based in the south and the south west, this mountainous valley is a favourite both for skiing in the winter and for hiking in the summer, but tourists from elsewhere often tend to overlook the area. Unfairly so, because Setesdal and its surroundings are a Norway in miniature, where seemingly endless mountains dressed in violet heather and dotted with dark-blue mountain lakes are only interrupted by scattered farms in traditional wooden style. In other words, it has a lot to offer.
A hidden treasure of local tradition
Setesdal is probably one of the areas in Norway where local traditions are best upheld. It comes with relative isolation; for example, some of the settlements in Setesdal are so isolated that language here changed more slowly than in the rest of Norway. Far into the '90s, elderly people would still speak in a dialect very difficult for people from elsewhere to understand. But it's not only the dialects that have been preserved. Traditional music and dancing have always been an important feature of life in the area, and not by accident; still today, many of Norway's top-performing folk musicians and dancers live in Setesdal.
Capitalising on all of this is Sølvgarden, a relatively new hotel built in old style and on even older traditions. The hotel was conceived and constructed by two silversmiths who decided to build a hotel around their workshop on an existing campsite they were already running. And what else could they call it but the Silver Farm, or Sølvgarden in Norwegian?
Silversmithery is another strong tradition that still flourishes in Setesdal, and guests at Sølvgarden can visit the workshop in which fourth-generation silversmiths demonstrate their craft and produce top-notch jewellery in ancient Norwegian design. "We make a lot of silver for the 'bunad', the traditional Norwegian dress, but also independent pieces," explains Inger Rysstad, one of the two silversmiths that built Sølvgarden.
The crossroad between east, west – and south
Sølvgarden is located in Rysstad, one of the main settlements in Setesdal and close both to very famous destinations such Kjerag and the Pulpit's Rock, and to the southern coastline. At the same time, there really is no need to go elsewhere; the area has a lot to offer travellers in its own right.
"There are 50 tourist trails in the area in varied terrain suitable for all types of trips. Moreover, we have several lakes that are good for swimming, and the temperature in the summer isn't bad at all," smiles Rysstad, disarming anyone who fears Norwegian temperatures might not be so inviting for pleasant summer swims.
Rysstad explains that the area is excellent for climbing as well. "There are more than 400 places for climbing, and we have three via ferratas here. One of them is even visible from the hotel, and it is the longest such iron-supported pathway in northern Europe."
Rysstad adds that one of the three pathways has been adapted specially for families, allowing old and small climbers to get a taste of Norwegian mountains.
Hunting the trout
Fishing is another popular activity in the area. The lakes are abound with mountain trout, and while it's fun to try and catch, the trout also makes for very tasty food that, not by accident, is one of the main dishes at the restaurant at Sølvgarden.
"We prepare local food using local produce," Rysstad stresses, explaining that in addition to trout, typical dishes include salted and dried lamb served with potatoes and creamy cabbage and, for Christmas in particular, nepespa, a traditional soup made of rutabaga.
Like everything else in Setesdal, the food is an expression of very old and extremely local culture. Typical dishes will change from settlement to settlement.
"Every family has their own way of making what we call the 'spa', the soup. We make it with rutabaga, others will use fish or meat, or different types of vegetables," Rysstad explains.
Musical heritage recognised by UNESCO
Another incredibly important ingredient in Setesdal's cultural offering is folk music. The folk music of Setesdal is even on UNESCO's World Heritage list, because it is in danger of extinction. Guests at Sølvgarden, however, will be able to experience this very particular tradition; the hotel organises 'folk music pubs' throughout the year that may even include improvised performances of 'stev', a traditional Norwegian form of singing. In the summers, there are concerts by some of the country's top performers. "Culture is very important here," Rysstad explains.
Whether it's culture or nature you're after, Setesdal offers both, and Sølvgarden certainly seems like a perfect base for exploring this spellbinding area – a Norway in miniature.
Web: solvgarden.no Instagram: @solvgarden
Subscribe to Our Newsletter
Receive our monthly newsletter by email