Spitzbergen Adventures: Experience the endlessness of nature in the Arctic region of Svalbard
TEXT: HEIDI KOKBORG | PHOTOS: SPITZBERGEN ADVENTURES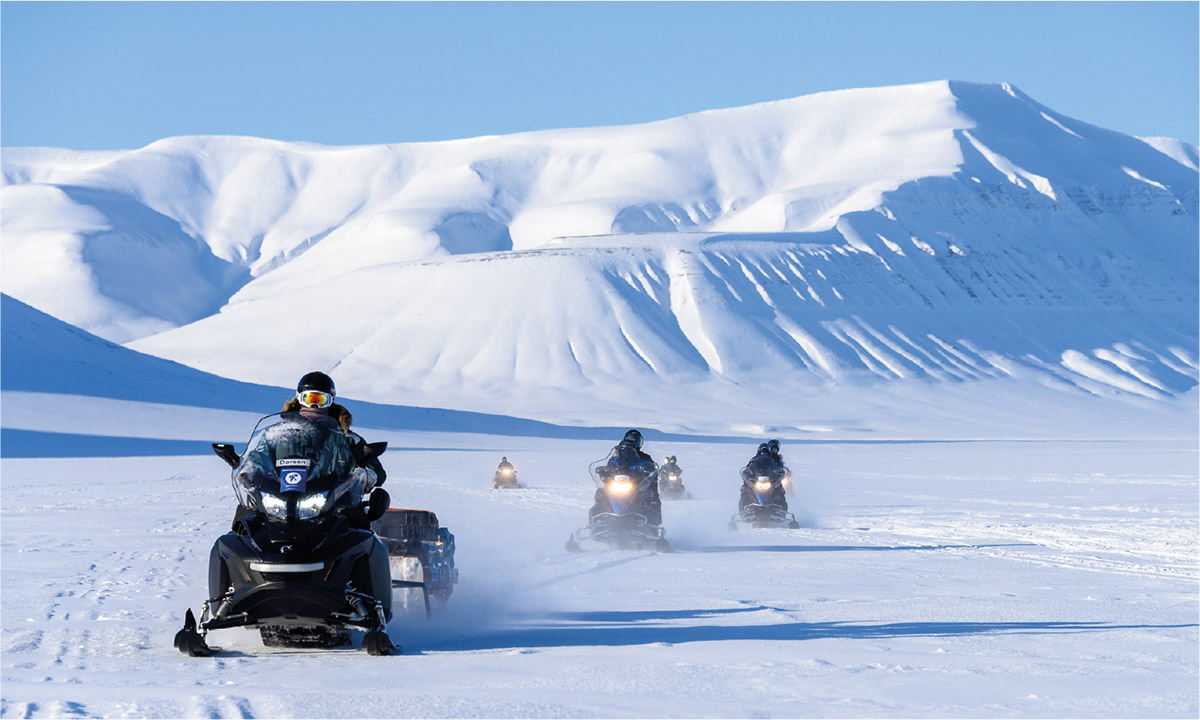 If you wish to have the experience of a lifetime, consider visiting Svalbard. With Spitzbergen Adventures, you can explore Svalbard by snowmobile, chase the northern lights, go on cosy sleigh rides, or take a hike to the ice caves. Discover snow-covered mountains and magnificent glaciers, and maybe even spot a polar bear in this incredible corner of the globe.
Located in the Arctic Ocean, 800 kilometres north of mainland Norway, Svalbard is among the most remote places on Earth – and also one of the most magical. Here, you will experience powerful nature and be in awe of the majestic glaciers, while the reindeer and polar foxes will melt your heart with their cuteness. And if you are really lucky, you might even see a polar bear – it is their kingdom you have entered, after all.
"The nature in Svalbard is incredible. You feel very small when you look around and you are surrounded by the endlessness of nature," says Doreen Lampe, owner and founder of Spitzbergen Adventures.
The company offers a variety of cool winter activities that are suitable for almost everybody, including adventure seekers, families with kids, and disabled people. The sleigh rides, for instance, are accessible for wheelchair users, and kids love the rides as well. The northern-light tours and the hikes to the ice caves are also great options when travelling with kids.
Spitzbergen Adventures takes you on snowmobiles to different destinations, and you can choose between day tours and multi-day trips with overnight stays. All you need to drive the snowmobile is your normal driver's license. If you wish to explore the cultural side of Svalbard, you'll also have plenty of opportunity to do so.
"It is possible to visit the Russian settlement of Barentsburg, which is still very much open, or you can go to Pyramiden, one of the biggest ghost towns in Europe, if you like cultural history. If you prefer wide valleys and amazing glacier fronts, a day on the east coast or at Tempelfjord might be just the thing for you," says Lampe.
All activities are hosted in small groups, unless otherwise requested, so you will feel safe and taken care of. They never ride with more than six snowmobiles in each group, so you will get personal follow-up and service from the guide on your tour of a lifetime.
Web: www.spitzbergen-adventures.com Facebook: Spitzbergen Adventures AS Instagram: @spitzbergenadventures Youtube: Spitzbergen Adventures AS
Subscribe to Our Newsletter
Receive our monthly newsletter by email