Spliid: Adding a new dimension to Scandinavian minimalism
By Signe Hansen | Photos: Spliid
Though the interior designs by Spliid emanate a bohemian French charm, many of them are based on British Liberty and William Morris patterns, and yet, they are quintessentially Scandinavian. Indeed, it is not surprising that the collection of home accessories by the new small Danish interior design brand has secured the affection of design enthusiasts in various parts of the world.
Founded in 2019 by former freelance fashion- and interior designer, Charlotte Kjær Spliid, Spliid offers something slightly different than most of the dominating brands of the Scandinavian design market. In her collection, minimalism, muted nuances and clean lines are replaced by uplifting colours, beautiful intricate patterns, and softly textured surfaces. "I felt like adding a bit of colour and soft patterns to the minimalist design Scandinavia is otherwise known for," explains Spliid. "But it's a fine line – I still like the Scandinavian style, I just want to give it another touch, make sure it doesn't become too boring." In doing so, Spliid has created a new dimension, a softer and warmer one, to the Scandinavian minimalism.
A cushion that will lift your spirits
While Scandinavians are well-known for their fascination with sleek and classic designs, they are also known for their love of cosiness and their desire to put their own individual fingerprint on their homes, and it is those last two passions that Spliid's collection eminently captures. With charming tea cosies, cushions in beautiful patterns, beautiful tote bags, prints, and knitted blankets, the collection allows people to add little touches of colours and softness to their homes, providing a beautiful contrast to the muted colours often dominating Scandinavian homes.
"The art is to ensure that it doesn't become too cluttered, too much," Spliid stresses. She goes on to explain that though the patterns drawn by William Morris in the late 19th century are world-known for their striking colours, new nuances of classic designs – such as one of her own favourites, the Pimpernel pattern – ensure they complement modern interiors. "The iconic patterns are still very relevant today, especially when you add a new nuance," she says.
Reducing waste
Having always dreamt of doing so, Spliid took the leap and started her own business when she was in her early fifties. "I always wanted to do it, and almost did several times, but then I never quite had the courage, until one day – when my kids had grown up – I did," she says plainly.
The late start, however, not only meant she had many years of experience working with textiles under her belt, but also that she was highly aware of the unnecessarily high environmental footprint of the industry. Thus, when starting her new venture, she set out to increase resource efficiency in her own business. For this reason, many of Spliid's products are produced in Denmark and the rest in other locations in Europe. This, she explains, ensures not only the best quality, but also reduces the carbon footprint of her products, which are mainly sold in Europe.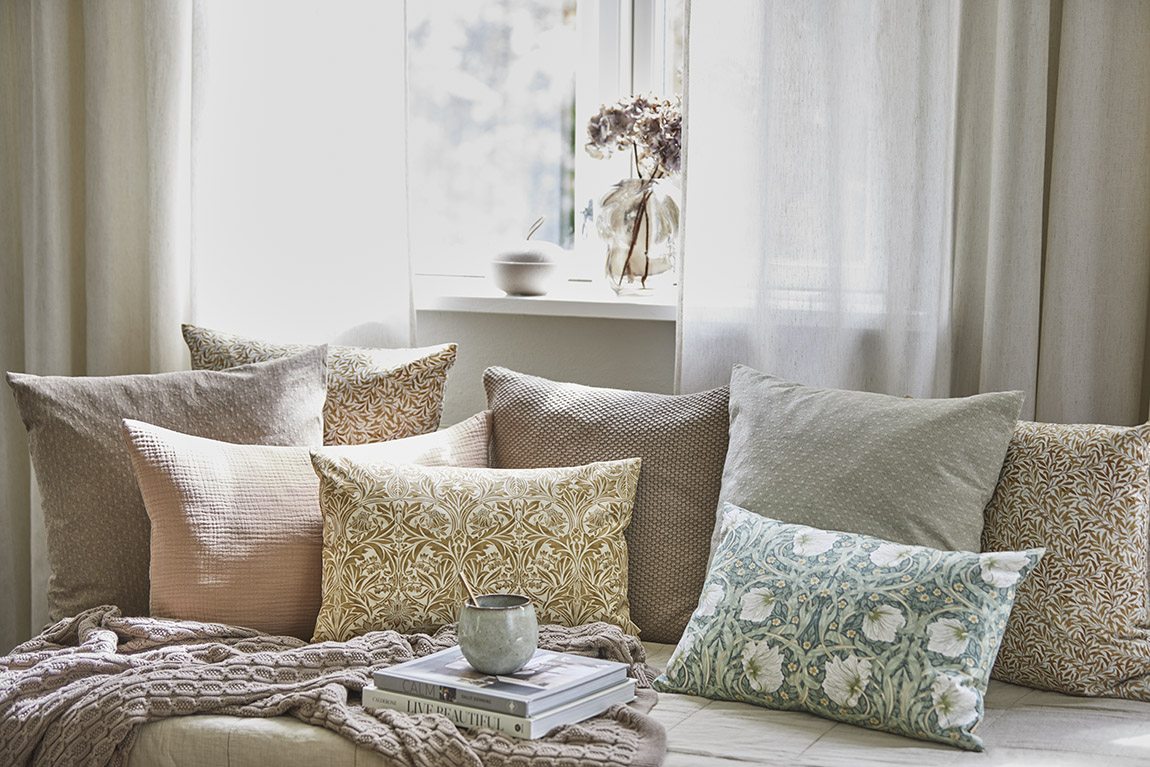 Likewise Spliid has worked to reduce fabric waste by various measures; her collection of striking tote bags is, for instance, produced using surplus fabric from the cushion production. Moreover, her collection of striped cushions is made from 100 percent recycled cotton. "We also aim not to use plastic, so when we ship out products it will be in cardboard boxes, and we always use used boxes, we never buy new ones; it means they might look a little worn," she explains in a way that leaves no doubt that she is less worried about this than about the unnecessary waste and resource consumption using new ones would cause.
Besides agreeing with her on this point, in some odd way, the idea of opening a slightly frayed cardboard box to find Spliid's collection of beautifully coloured and softly patterned home interiors seems just perfect.
Spliid's products are sold through concept stores, interior design centres, coffee stores and more in various parts of the world, but principally in Scandinavia and France. Products can also be purchased through the brand's website.

www.byspliid.dk Instagram: @spliid.dk
Subscribe to Our Newsletter
Receive our monthly newsletter by email