Stella Polaris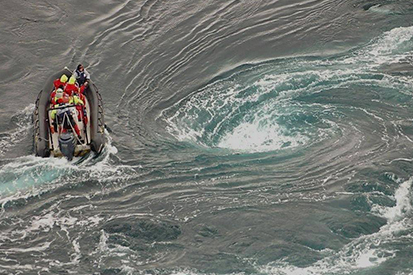 Real adventures in the north
TEXT: INGRID OPSTAD | PHOTO © STELLA POLARIS
If you are planning a visit to Bodø and want to experience real adventures in the north, the regional tour operator Stella Polaris can help make it a reality. The company largely provides activities as well as complete packages that consist of both transport and experience, often in connection with courses and conferences, so you can just sit back and enjoy the trip.
Stella Polaris was established in 1990 by Torbjørn Engen and Knut Westvig, with the aim to showcase the Bodø region as an attractive and exciting destination. "Before GPS and other navigation equipment, one would often use the northern star Stella Polaris to navigate. We like to look at ourselves as a modern navigation aid that will help and guide people to find their way north and to Bodø," daily manager Knut Westvig explains.
With their local knowledge, expertise and resources, the regional tour operator presents their own custom nature and culture-based activities as well as outsourced experiences through their network of suppliers to make sure they always meet the customers' needs. With everything from boat trips, Arctic coastal walks and fishing to glacier hiking, northern lights tours, cave tours and museums on the programme, for both individuals and groups, there is something for everyone to enjoy.
"We focus on providing a broad spectrum of adventures on land and at sea, all with a dash of the typical northern Norwegian charm. We work informally and enthusiastically, bringing with us good stories that spice up the experience and make it more personal," Westvig smiles. "It has been important for us to handpick guides and boat drivers over the years, making sure we have the best crew, who are good at interacting between themselves and the guests as well as making it the best experience possible. We also work closely with hotels in the area as well as Hurtigruten and cruise ships."
Stella Polaris is proud to offer RIB safari trips to Saltstraumen, an activity unlike anything else. Saltstraumen is a small strait with one of the strongest tidal currents in the world, and with these special rigid inflatable boats accommodating 12 passengers, you are not only close to each other but also close to the magic. Another popular excursion is that of encompassing the experiences at Kjerringøy, an open-air museum where you get the chance to walk along the same paths that Knut Hamsun once went down. "A trip to Kjerringøy is like a journey back in time, and an insight into how modern coastal Norway developed."
Subscribe to Our Newsletter
Receive our monthly newsletter by email