Storsätra Fjällhotell: Enjoy the silence of the wilderness
TEXT: MALIN NORMAN | PHOTOS: STORSÄTRA FJÄLLHOTELL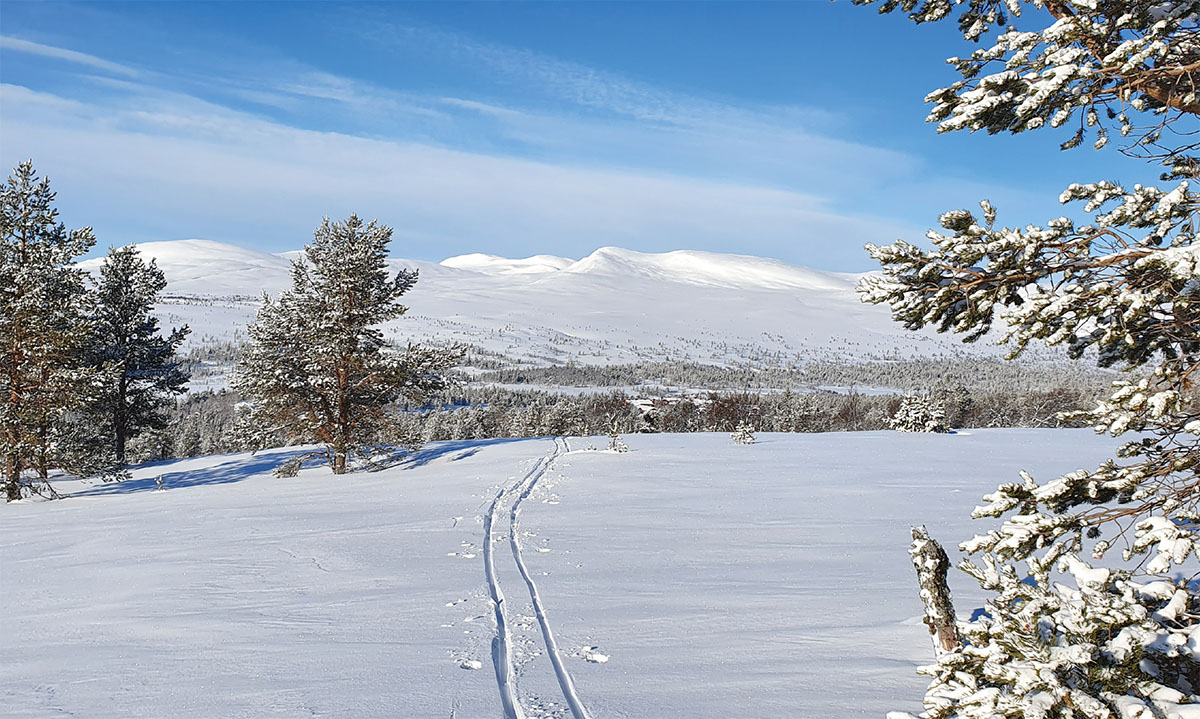 At Storsätra Fjällhotell, guests can learn the true meaning of relaxation. This gem in Grövelsjön entices visitors with a genuine atmosphere, delicious food and stunning surroundings on its doorstep. An unforgettable experience awaits.
The classic four-star hotel in Sweden's southernmost alp destination, Grövelsjön, was opened in 1939 by Margit Jonsson. As Dalarna County's first alp hotel, it became a popular destination thanks to great cross-country skiing and hiking, fresh air, tasty food and a cosy, familiar atmosphere. And this is still true today.
"Grövelsjön is genuine and peaceful, and we want to keep it that way," says Jimmy Halvarsson, who runs the hotel with his mother Maria. "In winter, we have fantastic cross-country skiing on the mountain and in the forest. And in summer, we have great hiking routes from a few kilometres to several days' of hiking. It's not like one of those massive ski resorts. Here, the focus is on outdoor activities and fresh air in the day and relaxation in the evening, perhaps reading a book by the open fire."
As proof of its successful concept, Storsätra Fjällhotell won Private Luxury Hotel of the Year 2018 and 2019 at the Luxury Travel Guide Global Awards. Also praised in 2016, it was awarded Luxury Traditional Hotel of the Year – Sweden. So if heading to the Swedish mountains, make sure not to miss this treasure, as it boasts all the good things in life.

Dream for cross-country skiing
Storsätra Fjällhotell is surrounded by no less than three national parks, untouched nature and, of course, amazing views right outside the window. This is also the southernmost Sami village and hosts pasture for reindeer.
The unexploited area is great not only for reindeer spotting but also cross-country skiing, with around 100 kilometres of prepared tracks starting outside the hotel – ideal for those who want to train for the big ski race, Vasaloppet – as well as trails leading as far north as Kiruna and into Norway. There is also a ski slope with six pistes around one kilometre from the hotel, and the popular ski resort Idre is only 30 minutes away. "Here you can really focus on skiing while enjoying your stay," praises one happy guest.
Together with Experience Grövelsjön, the hotel offers a range of winter activities such as guided ski tours, off-piste skiing, courses in telemark and cross-country skiing, and more. In summer, the opportunities for hiking and fishing are endless. Among nearby places to discover is the Sami village Idre Sameby, and a great day excursion is Valdalsbygget, where you can experience a traditional chalet, or summer pasture, enjoy a peaceful 'fika' and buy local products to bring home.
Food at the heart of the hotel
It's easy to unwind at Storsätra Fjällhotell, where every meal is prepared with care and a big portion of love. Guests are served a fabulous breakfast buffet in the genuine dining hall, so they are all set for a day in the great outdoors. There are tasty packed lunches to bring in the backpack with something nice and warm to drink in a flask, plus afternoon 'fika' in the hotel lounge, which is a lovely spot for reading magazines or chatting about the day's adventures in the wilderness.
In the evening, you can relax in the restaurant with a carefully prepared, delicious three-course dinner, often with fish or game from the area. One guest enthuses that "the dinner was the perfect ending of a great day" – and Halvarsson agrees: "People come to us to take part in outdoor activities, and after a great day outdoors, they return to a set table in the evening and just enjoy."
Storsätra Fjällhotell has 35 comfortable rooms. There is a popular relaxation area with a sauna and a heated bath tub next to river Grövlan, and guests can also book a relaxing massage at the hotel.

Web: www.storsatra.se Facebook: Storsätra Fjällhotell Instagram: @storsatrafjallhotell
Subscribe to Our Newsletter
Receive our monthly newsletter by email