Storyteller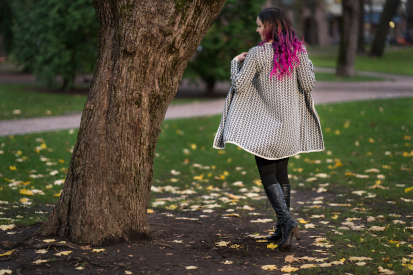 Stylish knitwear perfect for mid-winter
TEXT: SUNNIVA DAVIES-ROMMETVEIT | PHOTOS © STORYTELLER
Finnish knitwear brand Storyteller values high-quality designs that protect against the Scandinavian weather, while also making bold and refined fashion statements.
The brand is owned by textile design company Yellow Coconut, whose founder and designer Jenni Laurila is passionate about ensuring top-quality knitwear that works against the harsh mid-winter.
"I love different shapes and silhouettes, and I want to create something that empowers the wearer," Laurila explains. "A sweater should feel like a warm hug against the northern climate, while also being a unique story in itself."
Made in Kurikka, Southern Osthrobothnia, the knitwear is produced through a process during which high standards are maintained throughout, "from picking the material − which is beautiful merino wool − to the finishing of the seams".
Sustainability goes hand in hand with using the best materials, so hazardous chemicals are not used in the production, while the materials are recyclable and the use of plastic is avoided as much as possible. The sheer quality of the knitwear produced is clear, with a wide range of products − from a fuchsia-pink poncho to a stylish, rouge shawl.
Storyteller uses the best-quality materials to ensure that wearers are protected from the Scandinavian winter, while the knitwear is always stylish and kind to the environment. "We believe that less is more and that clothes should last for years − every favourite knit should have a great story to tell," Laurila explains, adding: "Each design is unique, proving that environmentally friendly clothing can look stylish and be functional too."

Web: storyteller.fi
Instagram: @storyteller_knitwear
Subscribe to Our Newsletter
Receive our monthly newsletter by email