Svensk Husman: Stepping up for tradition
By Amanda Düring | Photos: Svensk Husman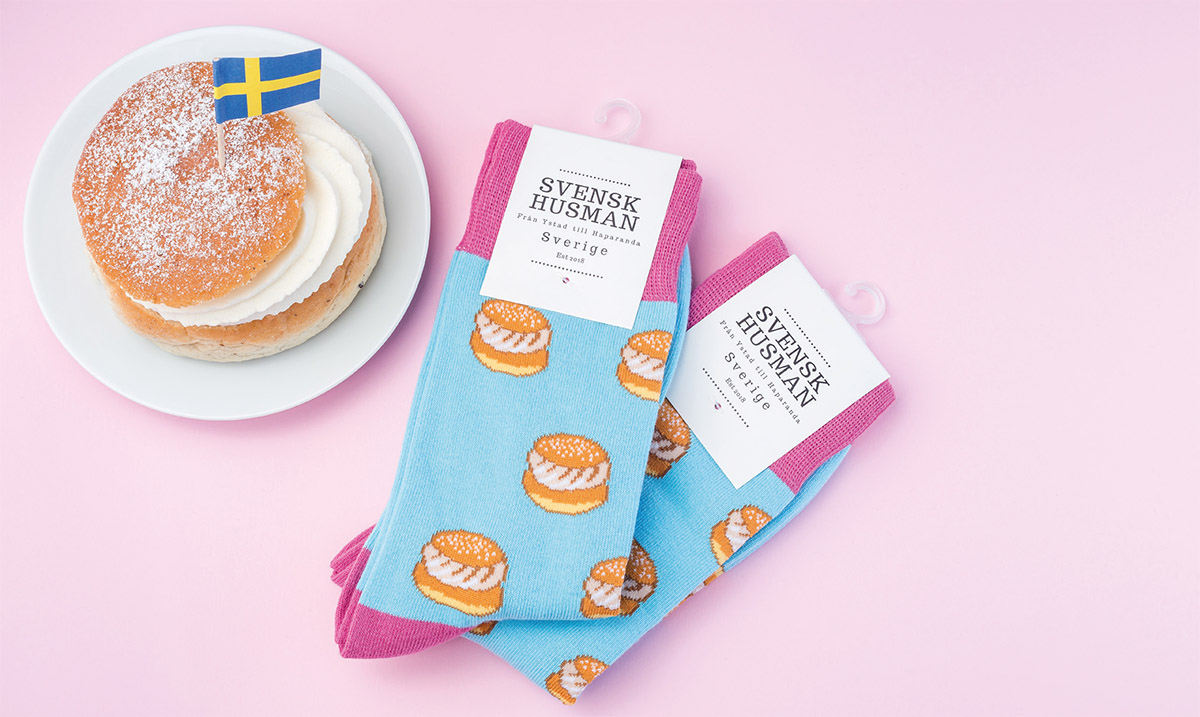 Long before the Great British Bake Off craze swept across the world, Swedes were making time for sweet treats. The cultural relevance of baked goods is difficult to explain to someone who hasn't encountered it themselves, but many will tell you: 'fika' – a break for strong coffee, good conversation and delicious baked goods – is sacred to the Swedes.
It comes as no surprise, then, that sooner or later, someone would come up with the brilliant idea of fika-inspired clothing. Eric Blomster founded Svensk Husman in 2018 to bring bright, whimsical socks to fans of the classic baked goods.
"The idea came to me when I was on holidays in Spain," says Blomster. "There was just something about being surrounded by this proud culture that made me think that I'd love to showcase what I love about Sweden."
Blomster being a trained chef, the decision to focus on classic sweets and food items was an easy one. "I love cooking, so it just made sense to incorporate that interest into my business. It's pretty niche, but it's taken off far more quickly than I thought it would. I'm just designing based on my own favourite foods, so the fact that so many other people are enjoying it as well makes me so happy."
Quality and creativity
Creating all the designs himself, Blomster is the creative mastermind behind the brand. The focus on food, and the other Swedish traditions the brand showcases, has provided a sense of direction for the brand, and a niche that customers love.
"I've got a whole wall full of new ideas, so there's no risk we'll run out any time soon. We started with food, but there are so many things we want to showcase. We've expanded a little to also include non-food-related traditions – we created one pattern based on Midsummer, for example."
It's not just as simple as creating a design and sending it off to a supplier, however – not everyone lives up to the strict quality standards Svensk Husman has drawn out. "It's so important that everything we do is of good quality. The first priority is obviously that the designs look good when printed on the garment," says Blomster. "Especially when they're so distinctive – everyone knows what a meatball looks like, and if it's not right, it won't look like anything. All our designs are based on food items that every Swede will know, so it's really important that we get it right."
Spreading joy during tough times
Launching four different sock designs in 2019, the company has since expanded its product range to also include swimwear, underwear, bags and various accessories like mobile phone cases. Though the majority of sales at the moment are in the brand's native Sweden, the company has retail outlets and dedicated fans in the US, Hong Kong, Australia, the UK, Japan and Germany – anywhere that people are interested in Swedish culture.
"It's just me in the business, with a hand from my dad, Nils, when I need someone to help me out with the bookkeeping and sales. It's a lot to handle for just two people, but we're enjoying the ride. I'm really keen to bring Swedish food culture to people in a fun way, so even when it's difficult, it's totally worth it," says Blomster.
And if it was difficult before the pandemic, shipping delays and supply issues haven't exactly made it easier. As an online business, Svensk Husman was already set up to ship socks all across the world, but manufacturers struggled to keep up with the demand.
"We're expanding rapidly, so it's a constant challenge to keep finding new warehouse space," explains Blomster. "We also don't want to keep our customers waiting too long for their orders, so we're in the process of changing our European manufacturers. It's a lot to keep up with."
But this hasn't stopped Blomster from turning it into something positive. In addition to the standard socks, Svensk Husman now offers support socks, which help prevent blood clots when standing for too long. This makes them ideal for workers in two of the industries hit the hardest by the pandemic: health care and hospitality.
"Our mission is to bring joy to everyone who wears our socks, or even just sees them on someone else," says Blomster. "There are a lot of people who have worked tirelessly throughout this whole thing who could definitely use some cheering up, and we wanted to do that in the way we know best."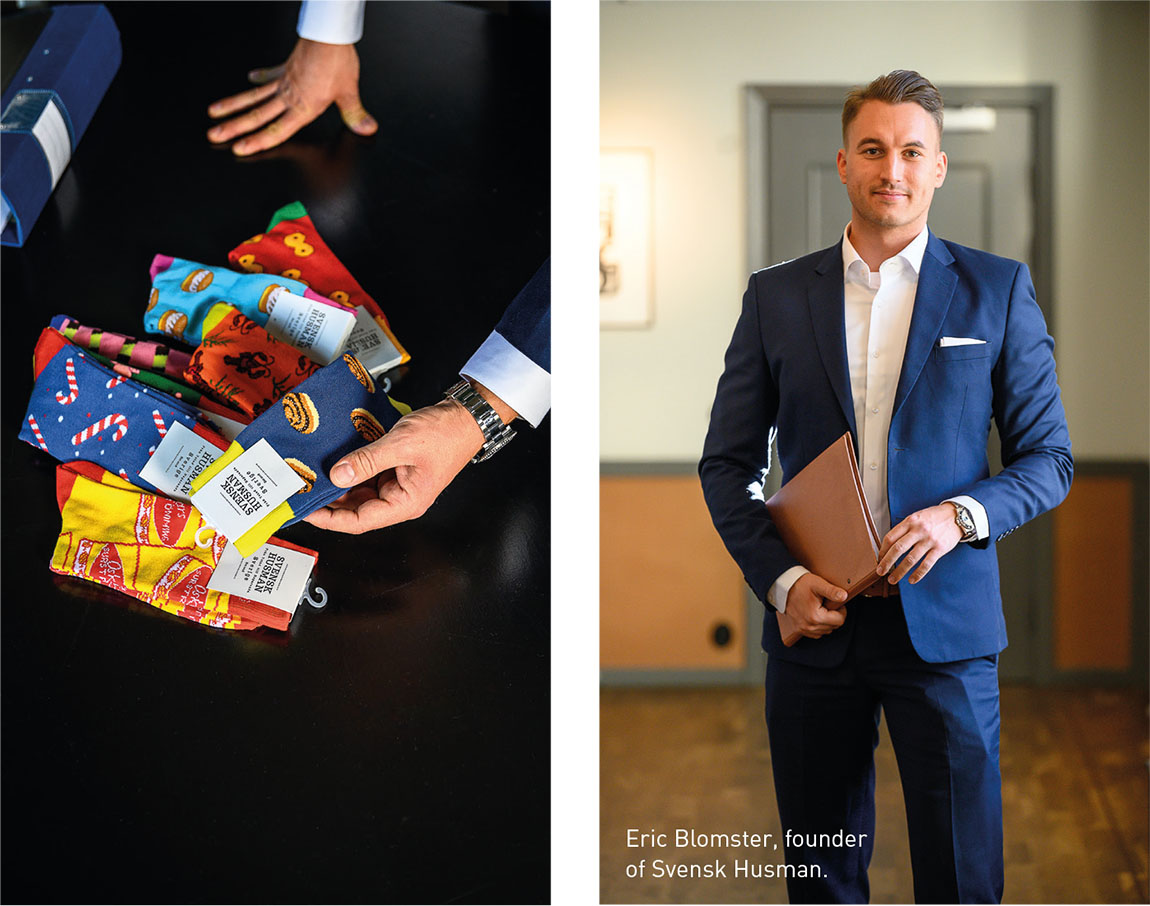 Web: svenskhusman.se Facebook: Svenskhusman Instagram: @SvenskHusman_Socks
Subscribe to Our Newsletter
Receive our monthly newsletter by email