Svenska Skolan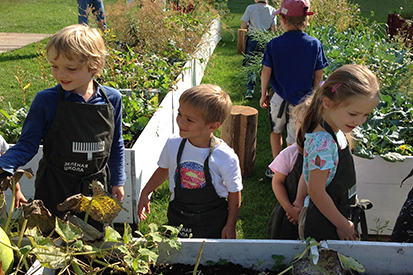 Scandinavian meeting place in Moscow
TEXT: MALIN NORMAN | PHOTO © SWEDISH SCHOOL IN MOSCOW
A small oasis in a world metropolis, the Swedish school in Moscow has become somewhat of a meeting place for students and parents alike, adding further to their commitment to education and towards an international vibe.
With almost 20 million people, Moscow is Europe's largest city and offers both diversity and fantastic culture. "This is such a cool city, not at all what you might think," says Maria Nord, headmaster at the Swedish school in Moscow. "It really is a world metropolis with anything you might want, be it cultural or culinary experiences, just around the corner."
In this big melting-pot, the Swedish school, close to the Leninskij Prospect in the south-west part of the city, has become a bit of an oasis for Swedes and other Scandinavians. "The school is a meeting place," admits Nord. "Parents tend to meet up when they drop off or pick up their children. Many stay for a cup of coffee, and, of course, we also organise lots of popular events, such as Lucia and the Christmas party."
Established in 1978, the school welcomes pupils aged from two up to 16 years of age, with links to Scandinavia. It follows the Swedish curriculum, and the teaching is conducted in small groups. With highly educated staff, there are great opportunities for the students to develop. The focus is on their creativity, independence and confidence, as well as on developing useful skills such as being able to speak in front of an audience.
The building also houses the Finnish school, with plenty of opportunities to collaborate. For instance, the students have sports and music classes together. Moreover, the pre-schools often do excursions together. In addition, the Japanese and the Italian schools are located in the same building, further extending the international opportunities.
"At our school, the students get heaps of Russian and international experience, as well as a solid understanding of Swedish culture and traditions," Nord concludes. "When they leave Moscow, they can rest assured that they will be able to continue their studies according to the Swedish curriculum without having missed out."
Subscribe to Our Newsletter
Receive our monthly newsletter by email