Tampere Market Hall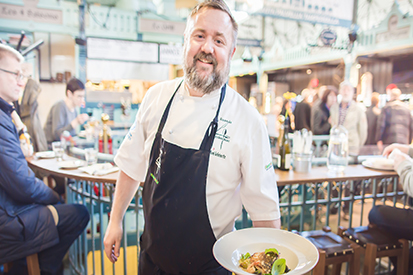 Meet at the Tampere Market Hall
TEXT: MARIA PIRKKALAINEN | PHOTOS © LAURA VANZO
Located right by the city centre, Tampere Market Hall is your one-stop shop for everything you need on your next visit to the buzzing Finnish city. Scan Magazine went to explore the sounds, the lovely scents and, of course, the flavours of this unique and thriving palace of Finnish treats and delicacies.
Opened in 1901 and located in a gorgeous Art Nouveau building, Tampere Market Hall has grown to be the biggest indoor market in the Nordic countries. With its 40 vendors, the Market Hall offers everything from fresh fish and produce to cheese, pastries and local delicacies. In the mood for a tasty lunch? Look no further than the bistro treats of Restaurant 4 Vuodenaikaa. Want to surprise someone with a gorgeous bouquet? The Market Hall is your answer.
With so much going on, it is incredible how peaceful and unwinding a visit to this place can be. The Market Hall is truly at the heart of the city, which is evident from its clientele: here, families, students, foodies and long-time regulars all mix. Every first Friday evening of the month, the Market Hall turns into a buzzing late-night event with a DJ and sees locals coming in for a tasty meal and a bottle of Finnish craft beer.
Only the best
When strolling around Tampere Market Hall and its great vendors, do not leave without stopping for lunch at its famous Restaurant 4 Vuodenaikaa. Meaning 'four seasons' in English, this bistro-style lunch restaurant has made its way into the famous White Guide as well as onto the list of the best restaurants in Finland. "There are many people who travel to Tampere just to try their dishes!" says Emmi Nuorgam, head of marketing at Tampere Market Hall.
Set up by restaurateur Yoni Ichtertz over a decade ago, 4 Vuodenaikaa prides itself on using local ingredients that have often been sourced from the Market Hall itself, for example, from the fish shop right next door. You can also purchase quiches and sausages from their own small deli.
With something unique for everyone to discover, exploring Tampere Market Hall truly makes you feel like a local. Prepare to visit this place many times on your next holiday to Finland.
Subscribe to Our Newsletter
Receive our monthly newsletter by email