Tegnestuen Vandkunsten: Building communities across Scandinavia
By Louise Older Steffensen | Photos: Vandkunsten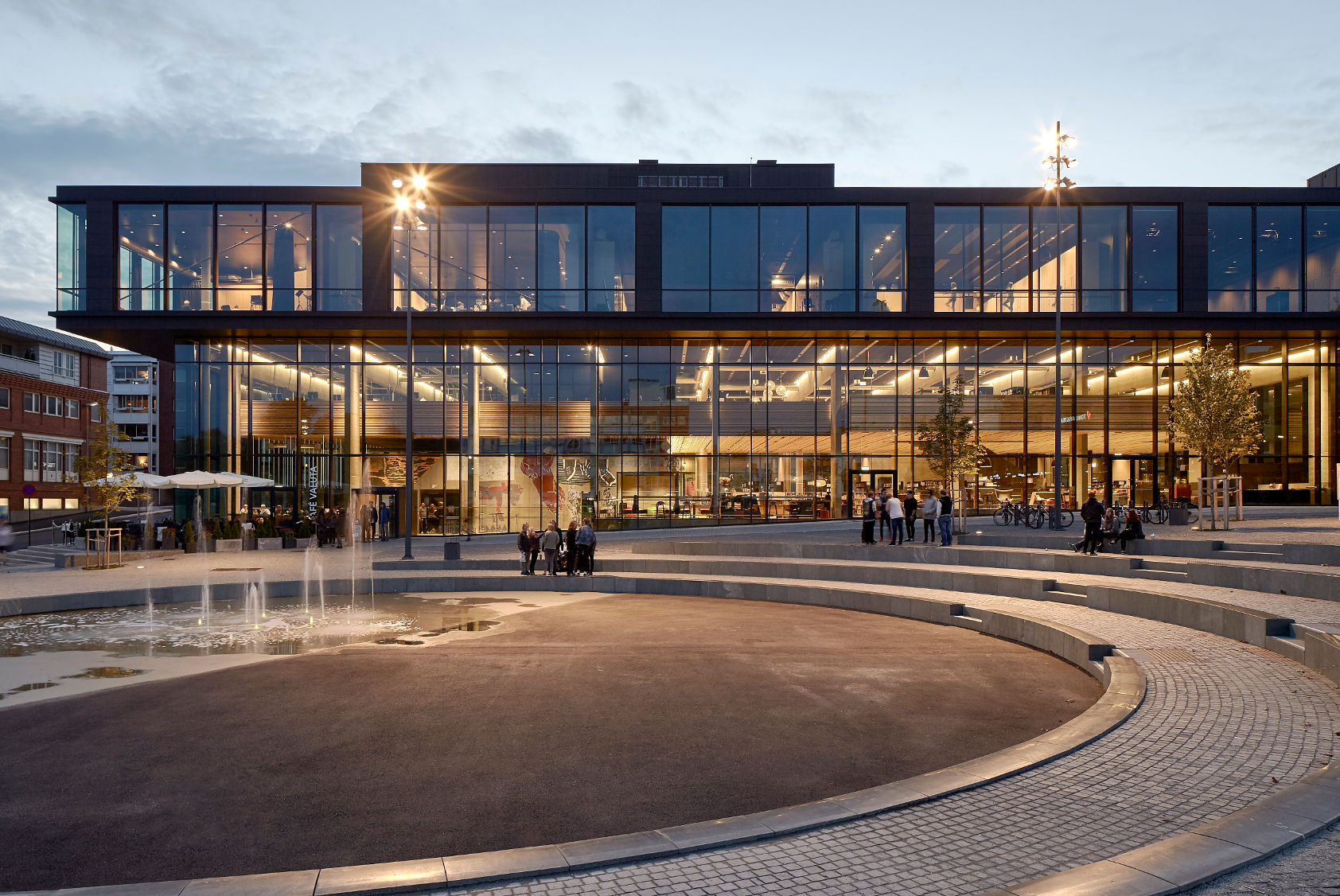 When Copenhagen-based Tegnestuen Vandkunsten was founded in 1970, its young architects set out to challenge the often dreary, impersonal style of the era. Ahead of their time, they sought to create sustainable local communities: places that could help real, personable neighbourhoods flourish for generations to come.
"Today, like then, we want the inhabitant of 214B to know they're not just a number, but an important part of a smaller, organic community," says Flemming Ibsen, senior architect and partner at Vandkunsten. It is a philosophy that they have taken with them to large-scale building projects throughout Scandinavia, most recently in Norway, where they uncovered some interesting differences between the neighbouring nations.
"In flat little Denmark, we'd be overjoyed to find a site where the terrain rises by a few metres from one end to the other," Ibsen's colleague and fellow partner Jan Albrechtsen explains. "We'd make a design feature of such terrain. In Norway, they see it as a minor inconvenience."
It is not just mountain envy, however, that differentiates the two countries. "We've learnt through previous work in places like Germany, the Netherlands and Sweden that there are some really important but subtle differences, from the handling of planning permissions to what homeowners prioritise," he adds. "In Norway and Sweden especially, it's vital for Danish architects not to assume that we know how everything's done, as the cultures can be deceptively similar."
Scandinavian subtleties
Both architects emphasise the importance of collaborating with local architecture companies to ensure that the plans and buildings meet local expectations. "On an individual house level, for example, Norwegians love a good shed – they expect built-in storage rooms," Ibsen notes, "and in Sweden, you can find houses where all windows face north, whereas Danes crave as much natural light as possible."
There are variations in administrative attitudes too. For at least 20 years, planning blocks of buildings in Denmark has required architects to consider the structures' compatibility with surrounding areas, including the planning of road systems and common areas. In more rural, isolated regions of Norway, this is only now becoming a priority, opening up an area which Danish architects can help develop.
Common ground
Vandkunsten has a long history of creating thriving, well-integrated neighbourhoods. The key, they say, is to create clusters of smaller, more intimate communities within new residential areas. They usually do so by including the spaces in between buildings in their plans and making lower blocks of flats or houses.
"Well-functioning neighbourhoods are those where residents know their neighbours, where they can meet in common areas and hang out in their gardens," Albrechtsen elaborates. "Skyscrapers can do that, but people often feel more connected if they're not too high up and can partake in what's happening on the ground and in the community."
Hamar kulturhus
One of Vandkunsten's biggest completed Norwegian projects is the House of Culture in Hamar, an hour's drive north of Oslo. "It was a really exciting project," Ibsen says. "The local architecture firm, Andersson + Fremming, were invaluable to us, and an absolute pleasure to work with. The brief called for a new cultural and social hub to suit everyone in Hamar, so we created an open space that was elegant but un-elitist."
The library, for example, is fronted by glass facing both the outside and other sections of the building to tempt library-goers to explore the rest of the facilities. "The building belongs to the local residents, and it was always our goal that it should accommodate anything they would want to do with it, including big events, amateur productions or niche hobbies."
Material culture
"We were working on a scale that suited big, bold materials," Ibsen explains, "so we followed the tradition of leaving surfaces bare to let the high-quality materials speak for themselves. Buildings should be a good experience for all the senses – including touch. People always forget about touch."
The building's interior is dominated by glass, lights and warm, enticing wood contrasted by cool, raw concrete. Similarly, the two main sculpture-like wooden staircases are flanked by smooth black steel banisters, and the furniture is made from a mix of inexpensive textiles and plywood.
The theme continues on the exterior of the building, which takes up the entire length of Stortorget and had to be powerful enough to successfully close off the square. "But the building also joins with the red brick, post-war People's House, so it needed to blend with its surroundings," Ibsen says. The Danes duly exploited the two-metre fall along the square to expose the different storeys behind the warm, open glass façade, while the dark zinc top of the building became another contrasting feature. "I remember that all the Danes were astonished when we discovered all of Hamar's outside pavements were heated. Underfloor heating outside? That's the oil nation for you," Ibsen chuckles.
Norwegian communities
"The nature and climate are so dramatic up here," says Albrechtsen. "Buildings have to both be in balance with and stand on their own against the breathtaking landscapes. Local building traditions can be really helpful in achieving that."
The residential project Tunet in Førde (Vestlandet), saw the creation of 149 new homes collected around a central farm yard, with the buildings constructed in natural wood and stone providing shelter from the wind and leaving space for allotments and play. Meanwhile, in Larvik and Oslo, the team got to pay their respects to the fjords. "Larvik is a lovely little town with a lively harbour. We wanted our Østre Halsen buildings, balconies and promenade to contribute to that environment, while protecting the private life of our residents and opening up the sea to them."
Bispevika in Oslo is one of Vandkunsten's biggest current projects. "The excellent briefing specified that a percentage of the area had to be made up of fjord-water features, which we'd normally have to convince authorities to include," Albrechtsen recalls. "Water gives people breathing room. It's also a great way to give the area a unique social character tied into both the city and the archipelago, and we're creating blocks of flats which give the most people possible a sea view."
With the iconic Opera completed in 2008 and a new library underway, Bispevika looks set to become one of the most sought-after locations in Oslo. "Of course, it's great to be publicly recognised," Albrechtsen acknowledges, "but no matter the size and location of our builds, our greatest pride and pleasure is seeing projects we planned years ago going strong as living, contributing parts of local communities."
Awards and accolades Vandkunsten has won more than 60 awards since 1970s. They include: 2015: Nykredit's Sustainability Award (Scandinavia) 2015 (Sep): Køge Harbour nominated for Denmark's town-planning award 2014: Danish Fine Arts Eckersberg Medal 2009: The Alvar Aalto Medal (international) 2007: Bostadpriset (Sweden) For more information, please visit: www.vandkunsten.com
Subscribe to Our Newsletter
Receive our monthly newsletter by email