The 32nd reincarnation of the magnificent Icehotel
TEXT: MALIN NORMAN | PHOTOS: ASAF KLIGER
The world's first hotel built out of snow and ice opens its 32nd edition this month. This year, Icehotel also presents an exciting new deluxe suite by design duo Bernadotte & Kylberg, a new talented head chef with a focus on a love of nature, and much more.
On many people's bucket list is Icehotel, an extraordinary hotel and art exhibition hand-sculpted out of massive blocks of ice from the river Torne in northern Sweden. Every year since its beginnings in 1989, the hotel has been reborn thanks to a number of artists from around the world who create a brand-new design of the hotel, its rooms and suites, ice bar and ice ceremony hall. This year, the 32nd edition of Icehotel opens on 10 December.
Icehotel is a top attraction for many people around the world, and it has been included in TIME magazine's World's Greatest Places. Located in Jukkasjärvi, 200 kilometres north of the Arctic Circle, it welcomes around 50,000 visitors from 80 countries every year, who want to spend the night among ice art before everything melts away in the spring.
"What's special about this area is that it's so peaceful and quiet, like meditation, and you can really see the changes in the seasons here," says Malin Franck, CEO of Icehotel. "In winter, we have the cold polar nights and heaps of snow, and in summer we have the fantastic midnight sun. Regardless of season, it's a beautiful experience."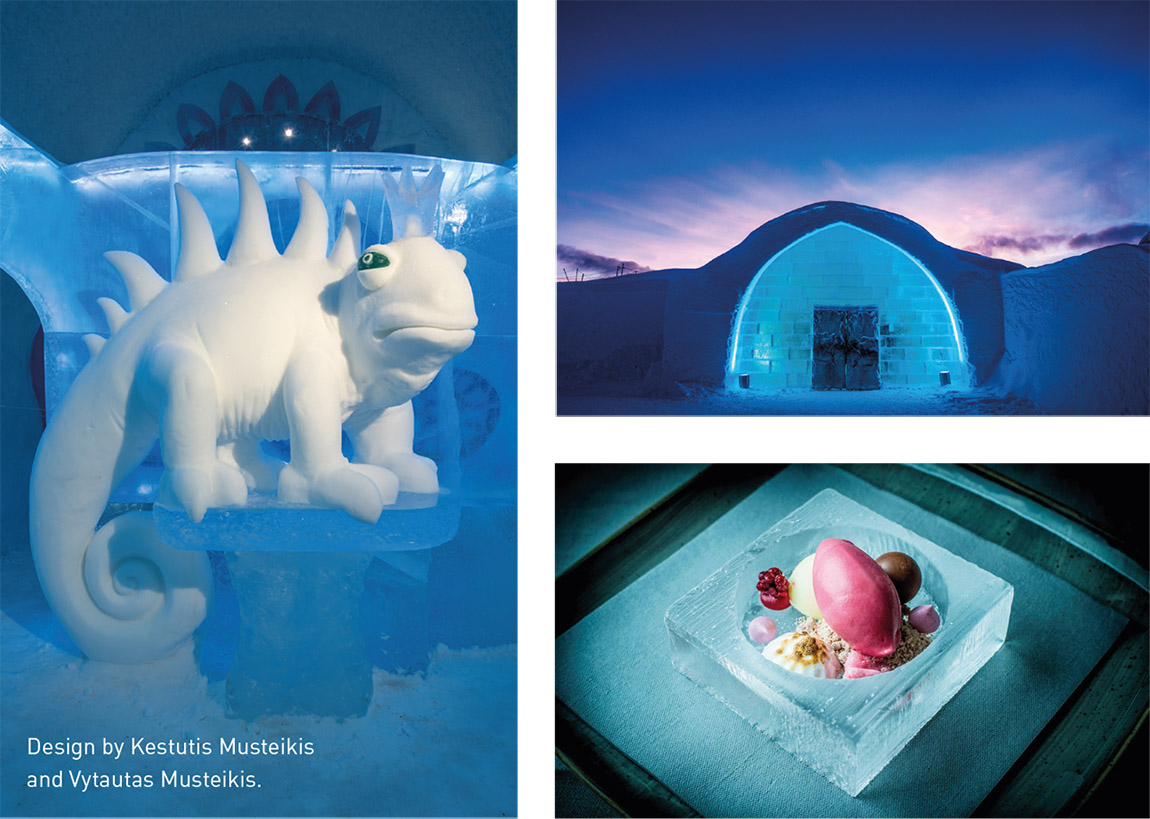 Bernadotte & Kylberg collaboration
In 2016, Icehotel 365 premiered as a complement to the winter edition. The first permanent ice and snow hotel ever to be built, it's a specially designed 2,100-square-metre ice hall, open 365 days a year so that guests can experience an arctic adventure at any time. There's an ice bar serving drinks out of handmade glasses of ice, an art gallery, plus individually themed suites of which nine are deluxe, including a warm relax area. During summer, the building is cooled by solar panels – a sustainable way of staying open all year, thanks to the rays of the sun.
This year, the multi-award-winning design duo Prince Carl Philip Bernadotte and Oscar Kylberg have designed one of the new suites at Icehotel 365. The deluxe suite of snow and ice, with a warm bathroom, is open for bookings from 1 December. It's the first time in the hotel's history that guests can book a specific room for their stay, and it will be available for a couple of years. "This is such an exciting design collaboration with Bernadotte & Kylberg," says Malin. "We can't wait to share what their new suite looks like with the public!"
⁠
New chef at arctic culinary destination
⁠
Also new this year is that Camila Bianco has joined as head chef for the hotel's three restaurants, offering visitors new and surprising culinary experiences. Camila will focus on her love of nature and combine flavours and local ingredients from the surrounding forests, mountains and rivers, in a new and exciting way. Icehotel is ranked the top restaurant in Kiruna and among the top three in Swedish Lapland according to White Guide. Why not try the bespoke ice menu, with dishes served on plates of ice?
During winter, Icehotel Verandan ('The Veranda') also opens. Here, guests sit down at the Chef's Table, a communal U-shaped table where the chefs cook an eight-course menu inspired by the eight Sami seasons. On the banks of Torne River sits a third restaurant, the traditional, cosy Hembygdsgården ('The Old Homestead'), which dates back to 1768. It offers a casual menu of local produce and pizza to be enjoyed on the veranda or by the open fire. Visitors can also book a wilderness dinner with a three-course meal inspired by the current season, cooked over an open fire in the woodlands.
Icehotel is easily accessible. The closest airport is located in Kiruna, a 90-minute flight from Stockholm and only 15-20 minutes by car from the hotel. New this season are charter packages from Stockholm and Copenhagen, offered in collaboration with Vingresor. Web: www.icehotel.com Facebook: icehotel.sweden Instagram: @icehotelsweden
Subscribe to Our Newsletter
Receive our monthly newsletter by email