The Helsinki Distilling Company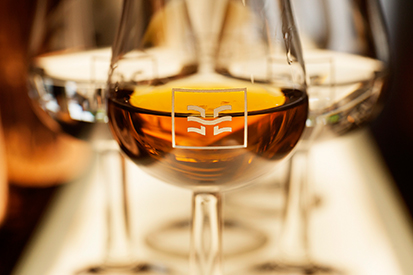 Helsinki's premium spirits are taking the world by storm
TEXT: NDÉLA FAYE | PHOTOS © THE HELSINKI DISTILLING COMPANY
After an absence of over 100 years, The Helsinki Distilling Company is bringing distilling culture back to the city. Driven by passion and flair for their craft, the distillery's handmade premium spirits have already won international acclaim – and the company is determined to make its whiskey among the best in the world.
The Helsinki Distilling Company's distillery is located in the heart of Teurastamo, a hip and vibrant district in Helsinki, known for its rich gastro-culture. Teurastamo, which means abattoir in Finnish, served as the city's slaughterhouse from the 1930s until the '90s. The distillery building opened its doors and started producing Helsinki's finest spirits in 2014.
In addition to housing the distillery, the two-storey historic building – previously used as a power plant and a soap factory, among other things – also has a visitor centre comprising a cocktail bar, Tislaamo, which serves high-quality drinks and food in a relaxed atmosphere. There are guided tours taking visitors around the production facilities, and private tours and tastings can be arranged, offering a quirky alternative to the usual tourist attractions, bars and clubs of Helsinki's city centre.
Run by three friends – Séamus Holohan, Kai Kilpinen and Mikko Mykkänen – the distillery produces premium gin, Helsinki's first local aquavit, applejack made from Finnish apples, 'lonkero' grapefruit long drinks – and, most importantly, rye and single-malt whiskey. Many of the drinks have enjoyed major successes both in Finland and abroad: among other internationally recognised awards, the company's Helsinki Dry Gin won the prestigious Spirit of the Year award in 2016 at Destille Berlin, the leading craft spirits fair and competition in Europe. In addition, the company's distiller, Mikko Mykkänen, won the award for the Most Innovative Distiller in Europe in 2018.
The Helsinki Distilling Company's pièce de résistance is their rye whiskey, available to buy from fine-spirits distributors throughout Europe and Japan, and released in small batches. "All our whiskey is made from local Finnish grains and distilled using Finnish water, which is known to be among the purest in the world. We want to make the best whiskey in the world, and showcase the brilliant raw materials available here," says Holohan. "We have interest from all over the world, and our whiskey is gaining a bit of a cult following."
Subscribe to Our Newsletter
Receive our monthly newsletter by email