The Ross house: kind to its inhabitants – and the environment
Text: Pia Petersson
Along with greater global awareness of climate change comes an increased demand on the materials we use and the life expectancy of a product. For over 20 years, Ross Architecture and Design has been building long-lasting houses using environmentally friendly materials, without the need to compromise on style or functionality. At a time when these aspects are becoming more and more important, this is undoubtedly an architecture firm that will stand the test of time.

Perhaps it was Pål Ross' strong relationship with his maternal grandfather that helped him to better understand the importance of future proofing all his buildings. "He taught me a lot of things, both directly and indirectly. I think it was he who made me understand how important it is to stay in a familiar environment when you're growing old, instead of having to move to an unfamiliar place that's deemed more practical for your needs," Ross reasons. Additionally, during his student years, Ross worked in nursing homes – an experience that also taught him a fair share about future proofing.
Hence, in order to as far as possible prevent people from having to leave their homes as they reach old age, all Ross houses come complete with a lift – or have been prepared to in the future be able to accommodate one. Future proofing and designing houses that will stand the test of time are essential components of the philosophy behind Ross Architecture and Design. This is one of many reasons why a Ross house is built to last at least 300 years.
"It's a scandal that most new-built houses only have an expected lifetime of around 50 years," says Ross, sounding genuinely flabbergasted. Moreover, there is of course a strong green argument behind his line of reasoning. It is rather self-explanatory that a house that stands for three centuries or more will create a lot less emission, waste and other environmentally unfriendly knock-on effects than one that is only expected to last half a century. "Cheaper isn't always better – or even cheaper, actually – in the long run. Just think about a nice coat you bought for quite some money say ten years ago, and compare it to a coat you might only have bought a couple of years ago but which is already starting to wear. What has been the cost per time you've worn each coat?" Ross asks rhetorically.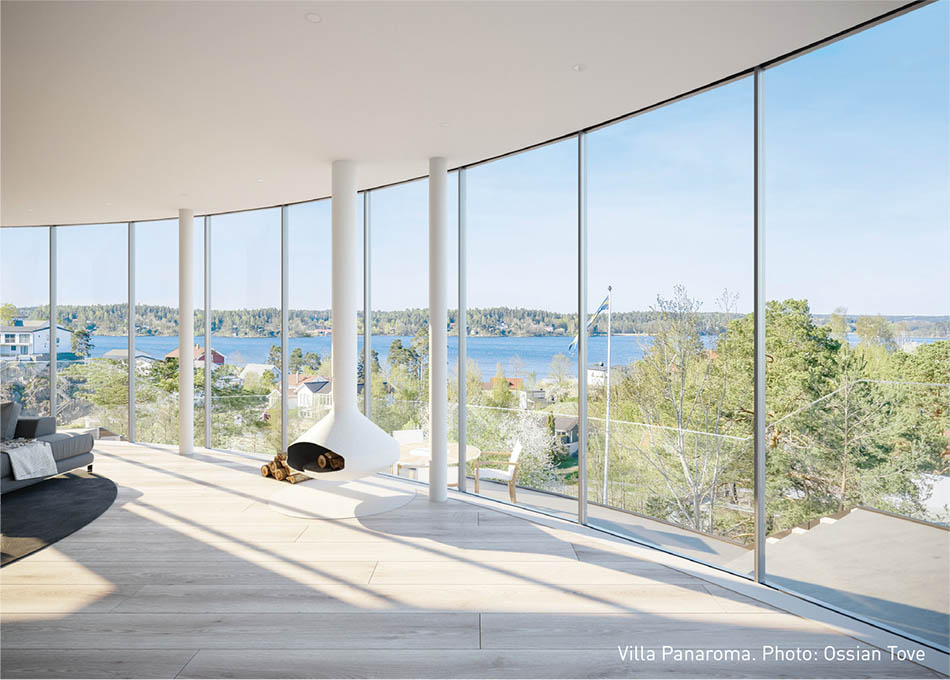 The Ross house recipe
There are several aspects that make a Ross house what it is. What the customer can expect is a house that has been cast on the spot, in order for the building to follow the terrain, instead of the other way around. "This means that our houses won't rot, grow mould or blow away. In addition, the construction techniques we use can withstand the northern European climate and don't run the risk of resulting in so-called sick house syndrome, just because it happens to rain during the construction period," Ross explains.
The way in which light and form interact is key to the appearance and feel of a Ross house. Throughout the house, LED lights contribute to an inviting atmosphere and define the smooth, curved internal walls. "The way we work with the lighting enhances the shape of the rooms and creates a form of light therapy during the long, dark winter in northern Europe," the architect underlines.
Yet another defining, important ingredient of every Ross house is the flowy architectural movement present throughout the house, which aims to reconnect with nature and is part of the reason why the Ross design language can be described as organic. Part of what this means in practice is the avoidance of corridors. "They often turn into unnecessary transport areas that can in fact be eliminated, deploying different smart designs, at the same time as actually saving money," Ross explains.
Climate smart and at the same time luxurious
In a day and age when sustainability is high up on a lot of agendas and throwaway culture is deplored, what Ross Architecture and Design does is well sought after. This is because the firm has proven that it is possible to design a so-called passive house, which can be simultaneously climate smart, beautiful and luxurious. An example of this is Villa Äntligen (Villa Finally), a zero-net energy consumption house. A zero-net energy house is one in which the total amount of energy used is equal to the amount of renewable energy created on the site. Most passive houses are built with small windows in order to release as little energy as possible, but this is not always necessary, according to Ross. Instead, the windows in Villa Äntligen are extremely well insulated. "We only work with the very best windows on the market. And in every single one of our projects, we use triple- and not double-glazing. Moreover, these windows are always laminated and hardened," Ross points out as one of the reasons why it is possible to build a passive house without having to succumb to poky porthole-like windows.
Further emphasising the seriousness with which Ross Architecture and Design takes an environmentally aware approach to building methods and materials, is the fact that the firm was, for a couple of years, the only architecture firm in Sweden to hold the coveted Nordic Swan label – the official sustainability eco label for products from the Nordic countries.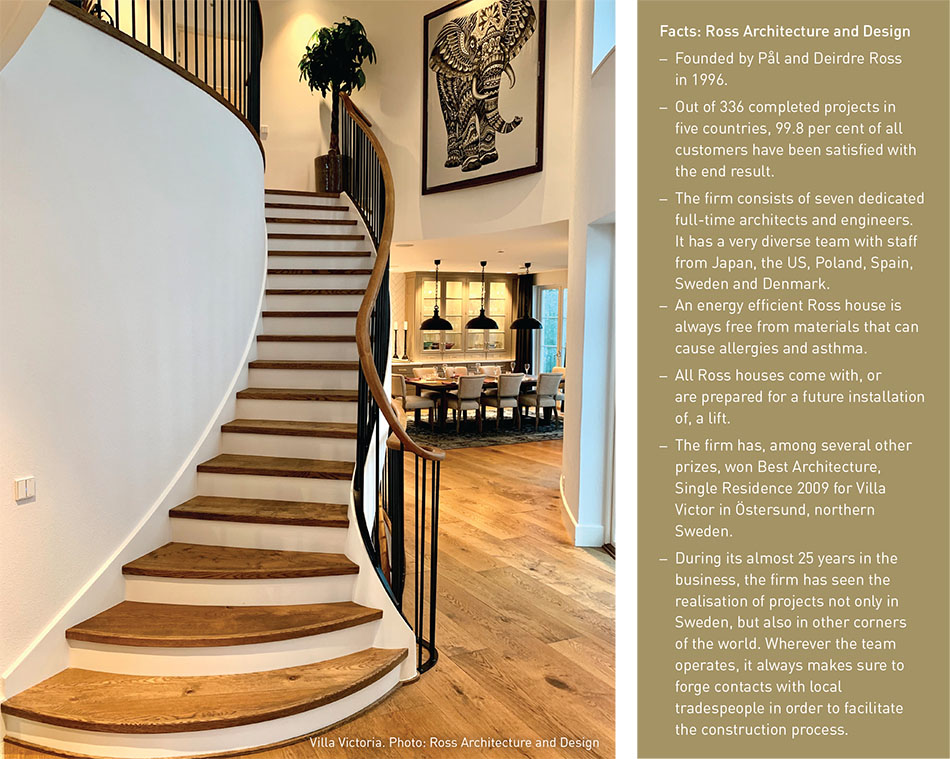 An outdoor feeling – indoors
Hand in hand with Ross Architecture and Design's environmental consideration is a commitment to looking after and being kind to the people who are going to live in the house. "It's always been key for us to not under any circumstances jeopardise our customers' health. A person who moves into a Ross house can feel absolutely confident that they won't be exposed to any building materials that will make them ill," Ross explains.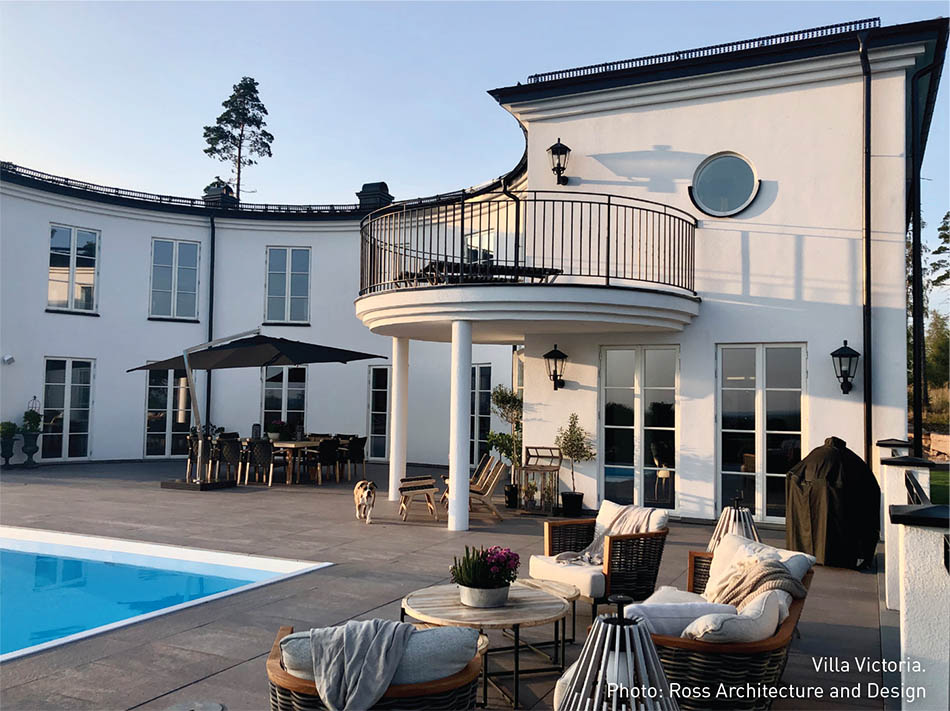 There are further health aspects that Ross takes into consideration, too. "It's part of human nature to feel good and free while outdoors. That's why we try to create a sense of freedom indoors. One reason why we feel free outdoors is because there's no roof 2.4 metres from the floor. The body might fit in a 2.4-metre-high space, but the soul scrapes the ceiling," Ross finishes, using one of his distinguishing metaphors.
As a result, Ross Architecture and Design extends the ceilings in all its projects to at least 2.7 metres – but up to as much as double ceiling height is a common characteristic in many a Ross house. This, of course, in order to make the soul of its inhabitants feel freer, calmer – and happier.

Address: Hertigarnas Stall Dragonvägen 1 178 93 Drottningholm Sweden www.ross.se Facebook: rossarkitekturdesignab Email: info@ross.se Phone number:+46 8 84 84 82
Subscribe to Our Newsletter
Receive our monthly newsletter by email