The Viking Museum: Where myth meets truth
TEXT: EMMA RODIN | PHOTOS: THE VIKING MUSEUM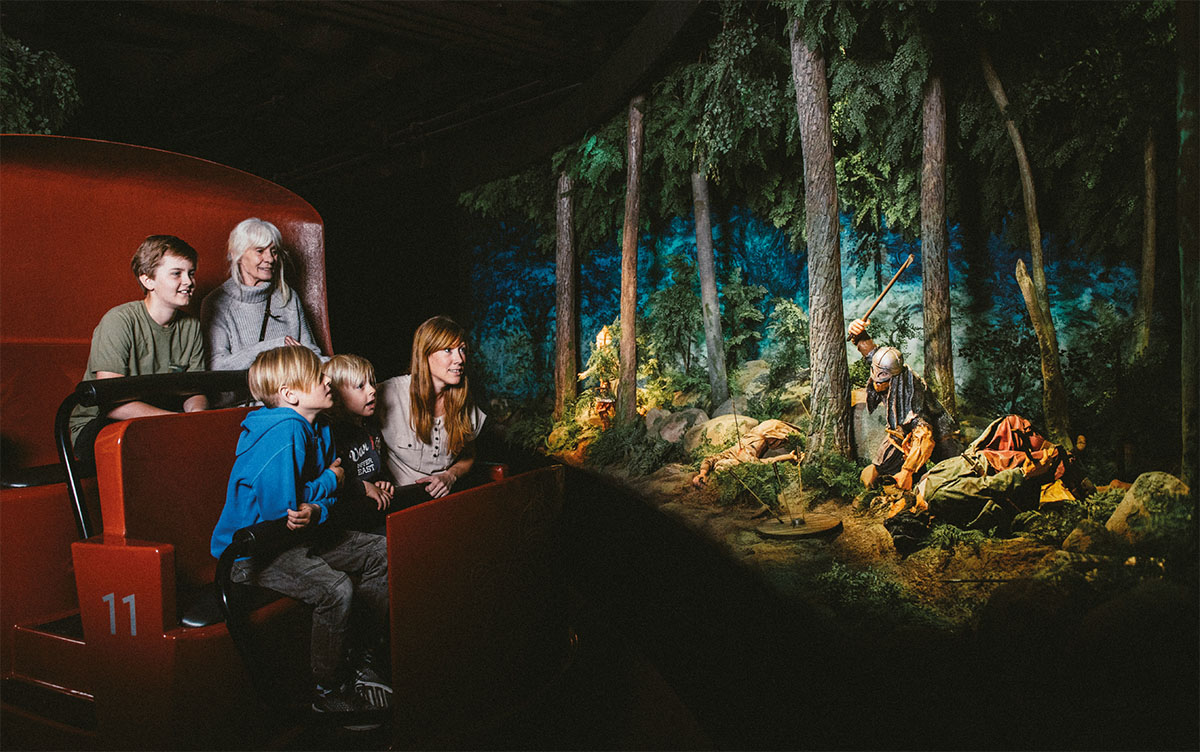 Although the Viking era ended long ago, Stockholm's dedicated Viking Museum continues to grow, evolve and attract. It's the ideal place to learn more about this historical epoch, and a fantastic destination to feed curiosity – for adults and children alike.
Recent years have seen a spike in the general interest in Vikings. This is hardly surprising, considering the wave of Viking-themed TV shows, films and games that have been released for the public to indulge in. For the Viking Museum, this is great from an awareness and diversity point of view, as the demand for Viking knowledge comes from all different directions. "Not only do we welcome children who are learning about Vikings in school, but we also have visitors from all over the world who are simply curious about this mythical period in Scandinavian history," explains Anne Charlotte Ytter, museum director.
An interactive experience
So, who were the Vikings? Were they brutal, vicious looters, or is there more to their story? Pay a visit to the Viking Museum for a thorough introduction to the Viking era, told in innovative and interactive ways. You'll meet the Vikings through films, scenery, projections and sound effects, as well as archaeological objects.
There are guided tours available throughout the day in both Swedish and English, led by the museum's knowledgeable guides. Dressed in Viking gear to fit the part, the guides will answer any questions you might have and share their specialised expertise. Many of them are professional archaeologists, which means that the tours will be slightly different depending on who's leading it.
The Norse mythology is present everywhere, and the museum's many replicas let you explore life as a Viking with all your senses. "Visitors will learn about raids, journeys and mastery in ship building, but also about everyday life at the farm," says Ytter.

Ragnfrid's Saga
And that's not all. For an even deeper dive into the world of Vikings, visitors are invited to experience Ragnfrid's Saga. This 11-minute long adventure ride begins at Frösala Farm, where Ragnfrid and her husband Harald are introduced.
Visitors are then taken on a remarkable trip where they witness plundering in the west and slave trade in the east. Ragnfrid herself narrates the saga, with a little help from sound effects, lighting and atmospheric sceneries.
The historical value
When asked about the importance of the Viking Museum, Ytter says that we should all know our history. "Of course, it's not all about Vikings, and perhaps I'm biased, but I do have a special interest in this era specifically. It's a definitive time in Nordic history, a time when the Scandinavian countries were formed and when Sweden began the process of uniting under one king and religion," she explains. "It really is an incredibly important and interesting part of Scandinavian history."
Also worth mentioning is that this museum is in constant development. Ongoing research and discoveries within archaeology and history mean that the museum must update its offering regularly. This goes for any information and trivia shared, as well as the scenic exhibitions. "It's important for a museum to grow in line with society, and we strive to do exactly that," says Ytter. And speaking of change, there are several new exhibitions planned for the Viking Museum, so keep an eye out to know what's coming.
Shop, eat and drink like a Viking
The museum's shop alone is well worth a visit. Ytter describes it as a treasure full of totally unique goods, including local handicraft and souvenirs produced by the museum itself. Everything is selected with care, adding to the overall experience of exploring the lives of Vikings.
Hungry for more? Head to the museum's own restaurant, which boasts stunning views over Stockholm. Named Glöd (which translates as 'ember'), this eatery offers genuine Nordic food, in the form of both simple dishes like salads and sandwiches and à la carte. "Of course we also offer the chance to try mead, all Vikings' favourite drink," promises Ytter. "We've developed our own product together with a local brewery, and we offer mead tasting here at the museum," she adds. There are also traditional Swedish cinnamon buns and coffee for those who just fancy something sweet.
Ready to stand face to face with a Viking? Then steer your ship towards Stockholm and immerse yourself in the fascinating world of the Vikings.
Web: www.thevikingmuseum.com Facebook: thevikingmuseum Instagram: @thevikingmuseum Tiktok: @thevikingmuseum
Subscribe to Our Newsletter
Receive our monthly newsletter by email