Thon Hotel Bristol Bergen: A comfortable stay in the heart of Bergen
On your next holiday to the west coast of Norway, with its idyllic scenery of mountains and fjords, Thon Hotel Bristol Bergen is the perfect place for you to relax while making the most of what this vibrant city has to offer. Located right in the middle of the city, this newly renovated hotel and its friendly staff will make you feel right at home.
TEXT: INGRID OPSTAD | PHOTOS : ESPEN GRØNLI
MAIN IMAGE: Thon Hotel Bristol Bergen serves delicious breakfast on the seventh floor.
As one of Bergen's most popular hotels, Thon Hotel Bristol Bergen is a great starting point for shopping, sightseeing and enjoying the nightlife in Bergen, a mere 20 kilometres from the airport. "The hotel is very central; it is situated near the harbour, so you'll be right in the heart of Bergen when staying with us," says general manager, Solveig Haugland. With just a five-minute walk down to the famous fish market, numerous attractions to explore nearby, such as Fløibanen Funicular and Bergen Aquarium, as well as a wide range of restaurants, guests will get the most of what this vibrant city has to offer.
A standard room at the hotel in bright colours and modern design.
Thon Hotel Bristol Bergen is a modern establishment nestled inside a venerable, old Norwegian building. "The exterior is retained as it was, in all its glory, but the interior has a contemporary look, which is currently undergoing a complete renovation," explains Haugland, who is excited to reveal the hotel's brand-new appearance, set to be ready by the end of the year.
Furnished with everything you could want for a comfortable stay, Thon Hotel Bristol Bergen has a selection of 123 different rooms to suit all needs. With a minimal, Scandinavian style with bright, sharp colours and clever interior solutions, all rooms are designed according to Olav Thon Group's interior specialist, Sissel Berdal Haga. "We offer standard rooms for the everyday traveller, and superior and business rooms with a Nespresso machine in the room, as well as bathrobes and slippers to add that little extra touch," she says. In addition, the top floor boasts junior suites over two rooms, with their own large balcony offering fantastic views over Bergen.
Egon Restaurant, located right next to the hotel with direct access from the lobby, serves lunch and dinner for hungry guests. On the hotel's own premises on the seventh floor, you'll find an extensive breakfast area with a balcony. "We often refer to it as 'the seventh heaven'," Haugland smiles. "We're delighted to be able to pamper our guests with a fantastic start to their day."
The renovation and new interior design at Thon Hotels has been led under the supervision of the head designer of the Olav Thon Group, Mrs. Sissel Berdal Haga Thon, and interior architect Mr. Trond Ramsoeskar.
Web: thonhotels.no/bristolbergen or get the Thon Hotels app!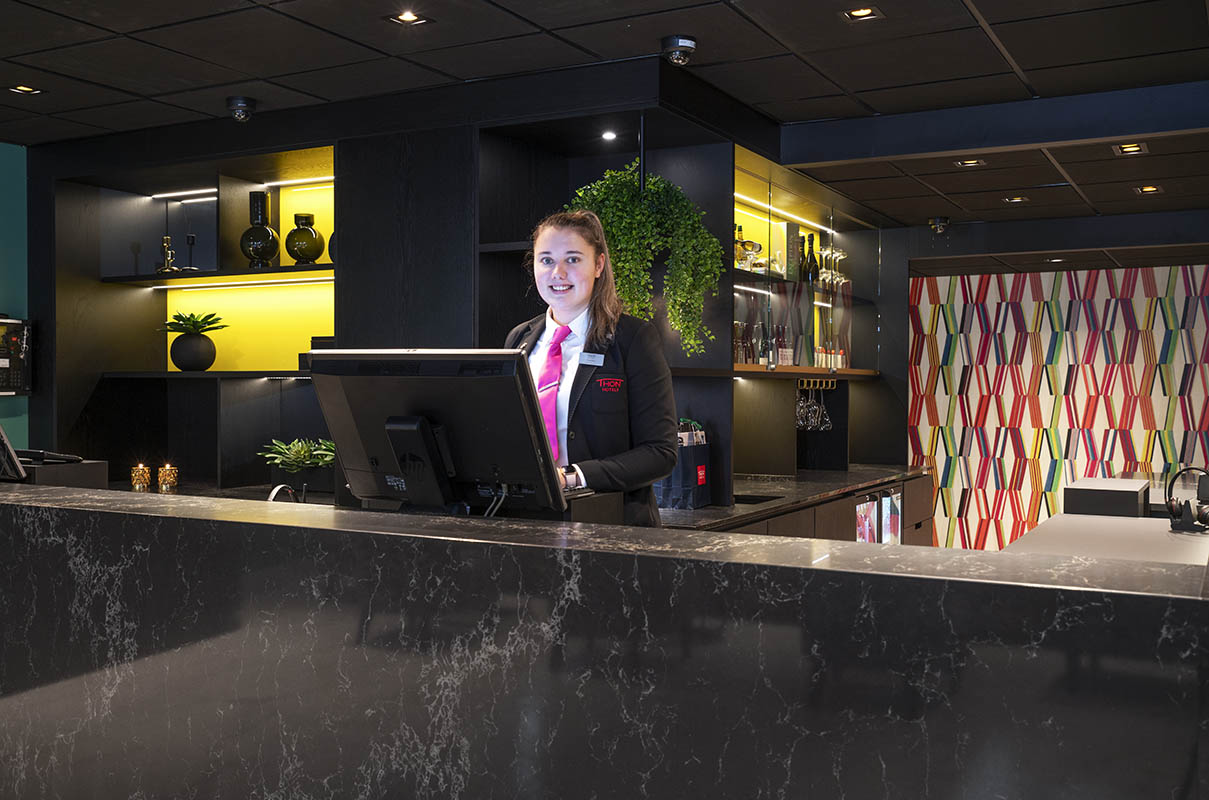 Thon Hotel Bristol Bergen is known for its friendly and helpful staff.
Subscribe to Our Newsletter
Receive our monthly newsletter by email