Thorbjørnrud Hotell: Playful gastronomic experiences
By Ingrid Opstad | Photos: Thorbjønrud Hotel
R ecommended by The New York Times as one of the top 25 places to visit in 2020, Jevnaker is a small town worth discovering. Here, nestled in a historic garden only a stone's throw away from Oslo Gardermoen airport, Thorbjørnrud Hotel is a hidden gem offering its guests exciting gastronomic experiences based on tradition and a sprinkle of playfulness.
At Thorbjønrud Hotel, a good meal, unique local food experiences and pure happiness are at the heart of everything they do. With its own farmhouse, a cheese factory, a hotel brewery and more than three acres of garden outside the hotel, the experience certainly extends further than at many other hotels.
"Food and the Norwegian culinary culture are important to us, something we try to convey in everything we do. I would say we have an above average interest in food," says hotel owner Olav Lie-Nilsen. The farmer and food enthusiast took over the hotel in 2009 and decided that Thorbjørnrud would become the best in Norway for local food, something he managed to achieve by producing said food himself.
Historic charm
The conference hotel in Jevnaker has a long history stretching back to the 12th century, which can be seen in its periodic architecture and charm. Thorbjørnrud boasts 82 rooms and a vibrant, colourful and inspiring style, steeped in tradition but with a modern expression.
A stunning part of the aesthetic experience is the impressive garden surrounding the hotel, a historic oasis filled with flowers and produce. "It was restored to its former glory in 2010. Today, it serves as a popular space for our guests, who love to walk around and explore – especially the area where we grow our vegetables," Lie-Nilsen says.
Focus on local produce
The food served at Thorbjørnrud is based on locally-sourced, fresh quality ingredients from its own farm and garden. With a menu consisting of food that is rooted in Norwegian tradition, but often with modern and playful twists, the hotel serves everything from a substantial breakfast buffet, a cheesy raclette and homemade pizza from a stone oven for lunch, to a four-course dinner, all produced and made in house.
"We have exceptionally good chefs with a lot of knowledge, who are great at experimenting and creating delicious dishes. I see that something happens when we produce so many of the ingredients ourselves – the chefs have a completely different relationship to the ingredients and a greater pride in the finished product," Lie-Nilsen says. "We have a great working environment, and our staff really enjoy themselves, which I see the guests appreciate." At the same time, the hotel owner is committed to sustainability and works hard to reduce food waste.
Social framework of food
Lie-Nilsen is certain that Thorbjørnrud today offers a completely unmatched concept when it comes to food. As an avid local-food producer, he is committed to providing the best gastronomic experiences for his guests. "I'm interested in the social framework of food," he asserts. "A framework in which people meet to share a meal. It's about food creating a joyful experience that you can share with others."
The farm, Øvre Kjekshus, is open for everyone to experience and a must-visit for anyone interested in local food and food production. It is home to more than 500 happy animals, such as cows, sheep, pigs, geese, hens, cats and a shepherd dog. The farm supplies Thorbjørnrud with meat, ham and vegetables, as well as both cow's and sheep's milk to the hotel.
Cheese factory inside a swimming pool
In 2015, the hotel established a cheese factory, located inside a swimming pool. For most people, this might sound strange – but for Thorbjørnrud, it seems very natural. The main reason for the cheese factory is to make unique cheeses for the hotel restaurant from the milk produced at Øvre Kjekshus. So far, they have developed five different cheeses: Matured Clothbound Cheddar, aged for a minimum of 12 months; a raclette-style cheese, named Rød Ku, which was awarded the supergold medal in World Cheese Awards 2018; Brilliant Brie, which is a triple-cream, white-mould cheese; and Pepperknoll, which is a dried, fresh cheese rolled in pepper for grating on top of food. As well as being available for tasting at the hotel, the cheeses are currently sold in the hotel shop, at the Farmer's Market, and in some delicatessen shops in the area.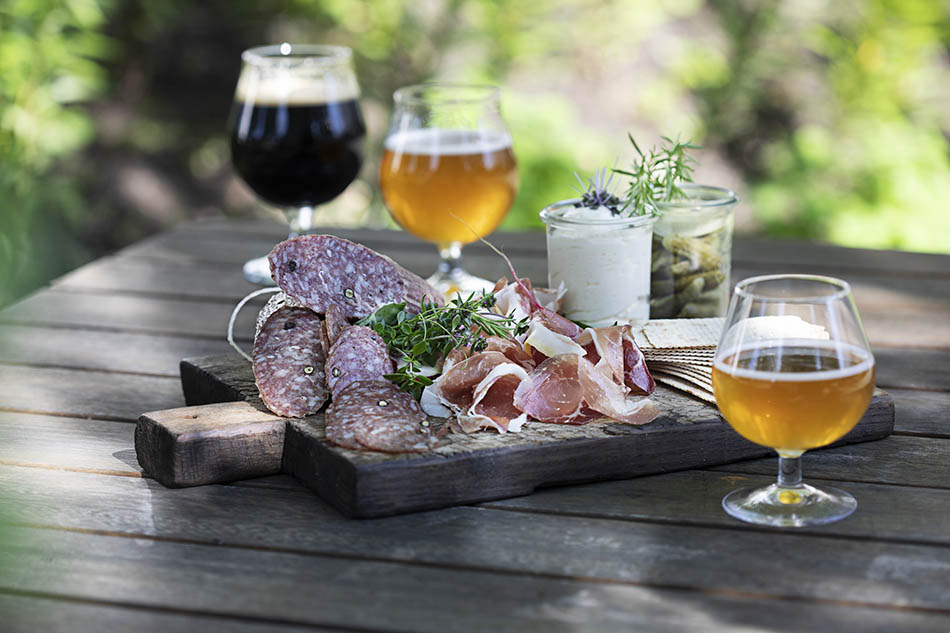 One of Norway's very few hotel breweries
As if this was not enough, Thorbjørnrud also has a new venture – a small brewery producing a varied selection of craft beers, depending on season and mood. "The brewery is a result of hotel manager Kjetil Myrengen's beer enthusiasm. He has created a rich and fun environment involving beer culture, which has prompted several exciting collaborations with other small breweries in the district," says Lie-Nilsen.
Besides this, the hotel offers food courses, tastings, lectures and guided tours. For example, you can learn to cook Italian pizza or how to make your own sausages, taste your way through the history of 'akevitt' (a typically Scandinavian distilled spirit), dive into the cheese pool, or decipher the mystery of bread baking. There are experiences for everyone: explorers, gourmets, adventurers and mixed groups. "You don't have to be interested in food to enjoy it here at Thorbjørnrud, but it will certainly add to your overall experience," Lie-Nilsen smiles.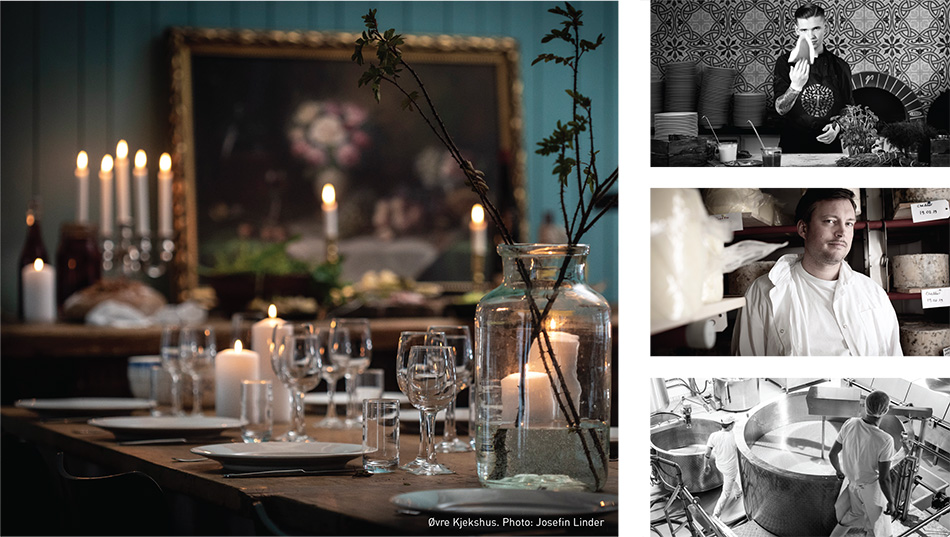 Web: thorbjornrudhotell.no Instagram: @thorbjornrudhotell
Subscribe to Our Newsletter
Receive our monthly newsletter by email