Tibberup Høkeren: Style that never goes out of fashion
TEXT: TRINE JENSEN-MARTIN | PHOTOS: TIBBERUP HØKEREN
Entering one unique, quirky little shop in Elsinore is literally like taking a step back in time. With a deep respect for excellent craftsmanship and style with heart and soul, at Tibberup Høkeren they do what they love and love what they do.
It all started with a renovation project 25 years ago: Mogens Christensen and his wife Nanna bought a thatched house in the small village of Tibberup on the north coast of Zealand. They fell in love with the place and were hooked by the house itself and all the timeworn things inside it – and particularly by the chance to return it to its past glory.
"We were complete novices when it came to restoring this old house, but just knew that we wanted to live there," Mogens explains. It was a project that would develop their joy and passion for all things vintage and well-made, and a renewed respect for outstanding craftsmanship in restoring their family home.
Not just any name
The Danish word 'høker' dates back to the 14th century and is difficult to define in English. No one specific translation covers the meaning of this word, which used to describe what was essentially a travelling tradesman or woman. "When we were bringing our house back to life, we discovered a glass bottle with a piece of paper inside, wedged into the inner beams of the thatched roof. This turned out to be a note of permission dating back to 1860, allowing for a 'høker' to be at work in this place," Mogens explains.
The note was written with quill and ink, and they were so in awe of this that they first hung it up inside their house and then, later, when the idea for the shop was taking shape, it got to inspire the branding process. Tibberup Høkeren (TH) became the obvious name, paying homage both to the village they live in and to the dedication and precision of artisan craftsmen of old.
Quality, not quantity
All the items for sale in the shop and online have been sourced personally by the Christensens. They travel extensively, always collecting items along the way. They sell things produced all over western Europe, and while the nature of each item differs completely, they all have one thing in common: every producer is a small, often family-run business.
Mogens and Nanna meet with them in person and can vouch for not only the quality of the products, but also the value that these producers place on their items and on what goes into the production process. "If someone wants to buy a litre of paint, I always ask what it is for, because it matters," Mogens says. He knows exactly what type of paint you might need for a specific job, and to him, every single item, be it a door handle, that litre of paint, or a pair of old-fashioned men's trousers, truly matters.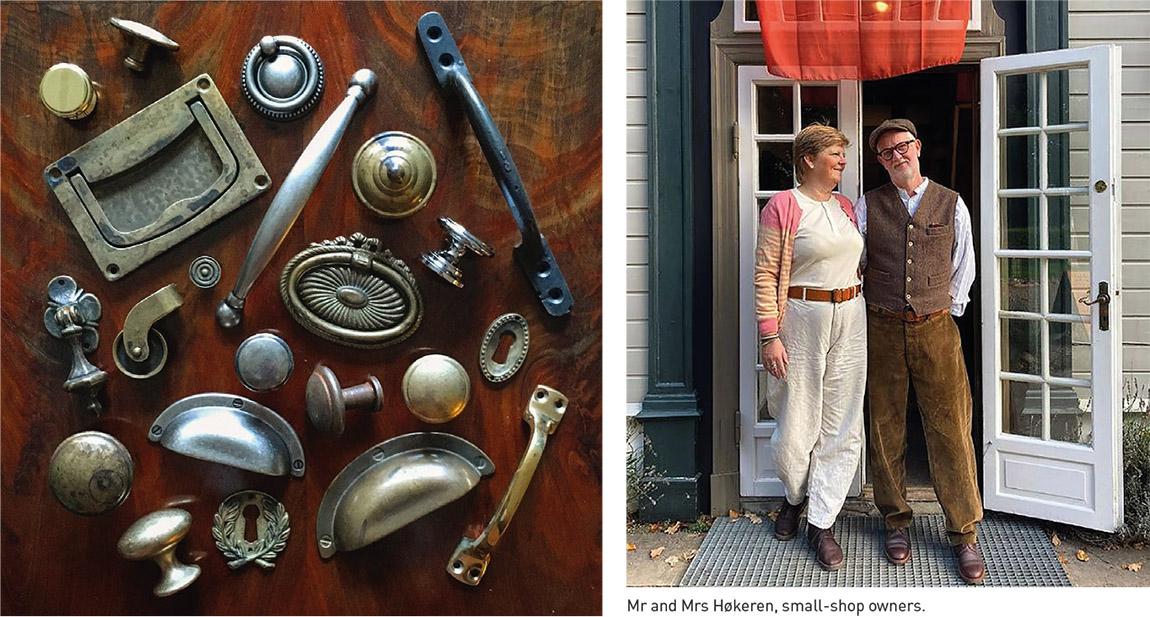 More than a shop
"When you come to me as a customer, you might not get what you want, but you will get what you need," Mogens muses. He always gives advice regarding what his customers need, not merely selling them the item they came for, but giving advice along the way.
There is an element of both sharing his joy and appreciation of well-made items with a history, and teaching his customers a thing or two in the process. Half the time, he and Nanna are offering help and support to their customers, passing on and sharing their own lessons from restoration and sourcing materials. "This is not just about selling things and making a profit," Mogens says. "Of course, this is a shop and a business too, but to us it's also about ensuring that we give our customers not only the best products, but also the best help and advice."
He knows everything about every single item that they sell and knows the story of both the items and the producers behind them. And this is crucial to Tibberup Høkeren: if Mogens and Nanna can get behind a product, they will sell it. "We are inspired by all sorts of things," he says. "If there is a story behind an item, we want to sell it."
Not just the owner of a quirky, small shop, Mogens is a genuine believer in craftsmanship and well-made things. The caption to one of their beautifully curated Instagram posts says it all: "We don't do fashion. We do style, and style never goes out of fashion". So, while Mogens' own style is straight out of a hipster's guide to classic gentlemen's dressing, he is the genuine, real deal, as is every single item in his shop. They are not trying to be trendy influencers; they do this with passion, love, and respect.
Web: tibberuphoekeren.dk Facebook: Tibberup Høkeren Instagram: @tibberuphoekeren Twitter: @hoekeren Pinterest: Tibberup Høkeren
Subscribe to Our Newsletter
Receive our monthly newsletter by email