To-Foto: Recreate the happiest memories of your life
By Julie Linden
W hen taking the trip of a lifetime, capturing your memories is a must. Recreating memories, however, is nothing short of an artform. This is a skill that To-Foto has placed love and care in perfecting, making sure that you never return home empty-handed.
"An experience is rarely complete until you share it with someone else," says Lise Knudsen of To-Foto, outlining the ethos of the Harstad-based company. "We believe that you'll remember your trip in a more profound way if you have memories to share with loved ones. Whether you travel solo or in a group, it's possible to achieve that connection with items that remind you of those good times and recreate the feeling you had while there."
Based in the Arctic – represented globally
Based in the south-western part of Troms county, a hub of Arctic activities, publishing house To-Foto creates photo products such as books, T-shirts, postcards, fridge magnets and mugs with unique designs and prints. In addition, the company collaborates on a wide variety of individual projects in the print category – such as photo books and booklets. In creating unique products from scratch, the company has succeeded in building a strong brand that stands for quality, beauty and environmental sustainability – with the goal to enhance and preserve travel memories from northern Norway.
"We like to think that, while our office is based in Harstad, our goals and values live on in our products, wherever they end up in the world. Hopefully, those who purchase a product of ours will do so because they want to remember the time they spent in our part of the world. It's a treat to be able to give the opportunity of reliving and relaying experiences through a physical item," says Knudsen.
High-quality, sustainable memories
She emphasises that, while the company believes in the importance of retaining memories through touchable, tangible items, To-Foto is deeply committed to its environmentally sound and green profile. Moreover, maintaining a sustainable profile does not in any way cancel out quality.
"We work hard to develop and maintain a cleaner environmental profile. We have set a goal of avoiding the use of plastic packaging, using environmentally friendly paper and working out the most sustainable solutions when it comes to logistics. We know that tourists who visit our latitudes are willing to pay a little extra for sustainable products, and this way, we can contribute to the conservation of nature's diversity," says Knudsen.
An ode to nature
Capturing the specific nature phenomena native to the northern region of Scandinavia is at the very core of To-Foto's work. For decades, the company has focused on phenomena-based tourism, enjoying good and long-standing relationships with the best photographers in the country. To-Foto's products are thus adorned with wonderful moments captured by the photographers' untiring love of nature, wildlife and, famously, the northern lights.
"We are always happy to help with the development and production of new book projects. We enjoy a mutually beneficial collaboration with the research community in the Arctic, which is very important to us," says Knudsen, explaining that one of the company's latest collaborations, a wildlife photography book, was developed together with noted whale scientist, biology professor and esteemed nature photographer Audun Rikardsen.
In addition to being fascinating and educational, photo books inspire more people to explore the beautiful nature of the north, she explains. "Our motifs from Arctic Norway contribute to preserving visual memories for those who have already visited, but it's also a way to attract visitors who are still dreaming of seeing it in real life one day," says Knudsen.
An experience-centric approach
As a smaller, specialised publisher with a high level of in-house expertise, To-Foto is excited to continue developing its vast line of products. At the core of the business activity is tourism, sustainability and enabling sharable experiences – making sure memories live on for as long as possible.
"Our job is to create travel memories that allow your holiday experiences to be shared. This will hopefully create joy long after you've landed safely at home, enjoying time with the rest of your family," says Knudsen. In continuing its journey, To-Foto wants to continue to create interest for northern Norway and the Arctic region, reaffirming its placement on the map of unique destinations. "We're very committed to this goal, and we're absolutely sure that this region will bring you some of the happiest memories of your life," says Knudsen, adding: "It's up to us to help you keep those memories alive."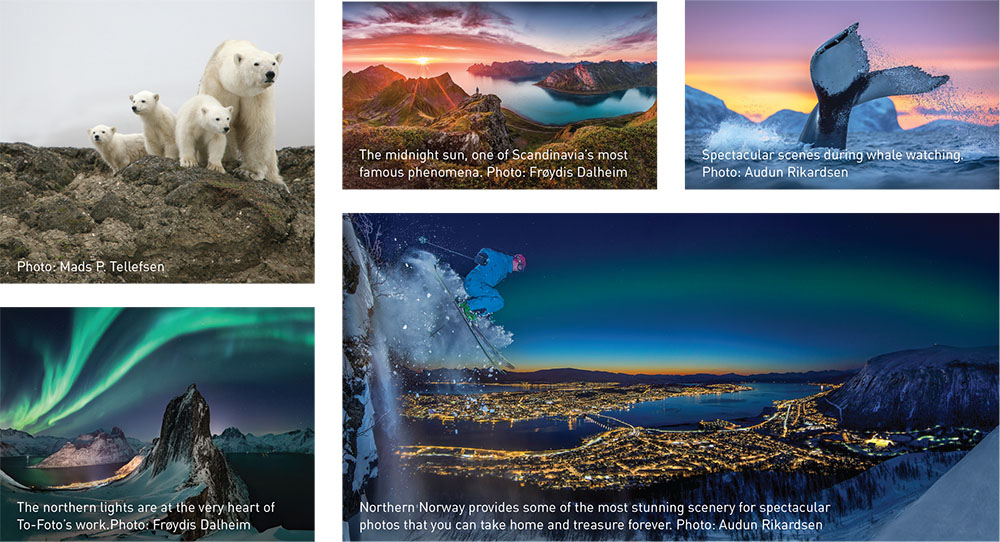 Web: tofoto.no Facebook: tofoto.no Email: post@tofoto.no Tel: +47 77 04 06 00
Subscribe to Our Newsletter
Receive our monthly newsletter by email