Total: A fresh take on sustainable housing for all — visions become reality when curious minds design for the future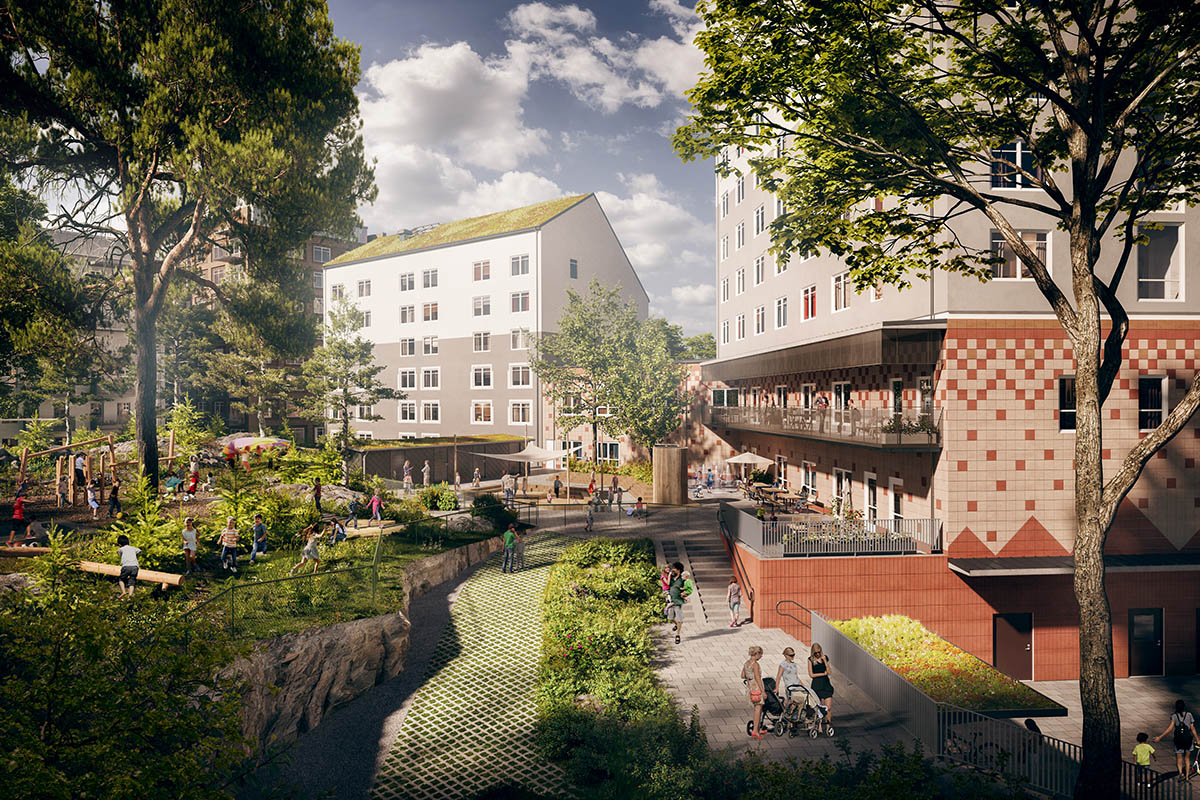 A house is a house. But what happens if you turn the whole concept on its head? The Stockholm-based architects at Total know just how to do that. Their forte is building houses for the future, containing compact living studios and roomy family flats combined with big, open spaces for all stages of life, from nursery to retirement. Total finds innovative solutions to create sustainable and long-lasting architecture, not only for the buildings, but for the surrounding landscape as well – all for, as they would say, the total picture.
TEXT: ULRIKA KUOPPA-JONES | PHOTOS : TOTAL ARKITEKTUR
MAIN IMAGE: This is what The Student block in Huddinge will look like when it is completed, with vast, green spaces and a pleasant courtyard and square for all its residents.
With long-standing traditions since the 1940s, architect bureau Total is a bustling, dynamic, interdisciplinary office working with a blend of 25 house-planning specialists, architects and landscape architects – all involved in developing quirky, innovative and sustainable solutions for their clients.
The full picture
"We're called Total, short for Total Architecture and Urbanism. Our name reflects that we're not just designing a house per se, we're working with the full picture – urban landscapes and newbuilds alongside reconstruction projects, always with a focus on buildings that will last for a long time," explains Total's CEO Johan Granqvist.
"We design for the whole surrounding landscape, to make the housing environmentally friendly and a great place to live. We strive to be an expert in every phase of the build, from initial idea to finished product," he says.
Johan is excited as he talks about his work. No wonder – he just got back from the ceremony of the first spade in the ground in Huddinge, south of Stockholm, among politicians and prominent guests at one of Total's most interesting sites, The Student. Total has been working on the project since 2011, and it will be completed in 2022. "Yes, it's been quite a journey. It's very exciting to finally be putting a shovel in the ground – if slightly surreal," says Granqvist. "But mainly I feel a huge sense of relief that we're finally doing this."
With its 25 employees, Total is involved in many exciting projects. It creates sustainable architecture beyond the predictable, just like the project The Student in Huddinge. Total is designing a block for the future, which incorporates dwellings for living, big open spaces and wrap-around care. It contains 209 apartments in total, some big family units and smaller apartments for single parent households, as well as studios. Consisting of three houses in total, the highest being ten floors, the area also includes six stories of student accommodation to incorporate 81 students – and childcare for 160 children.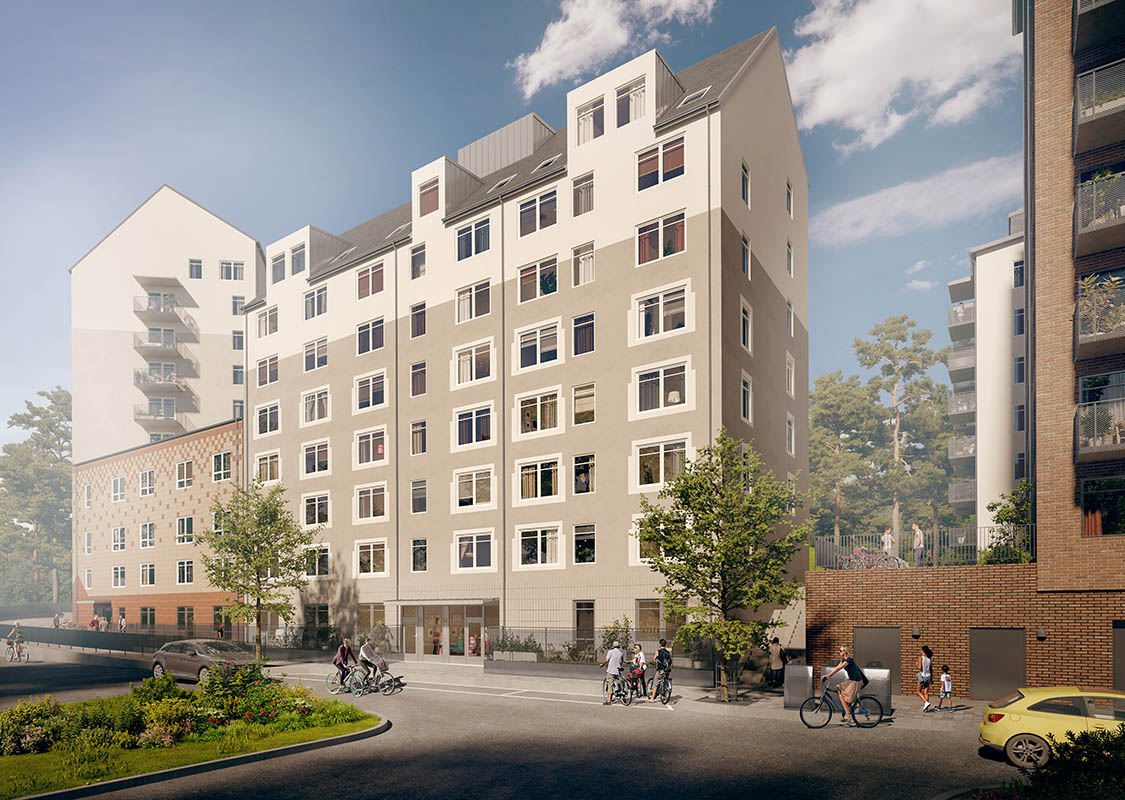 View of Total's project The Student, along the Medicinvägen road.
Bridging differences
The challenge is how to make the living space work for such a diverse crowd: occupants of different ages, with different backgrounds and expectations. "The Huddinge site has its challenges, as it is surrounded by very different areas. On one side, you'll find affluent, knowledge-based businesses and world-famous universities like the Karolinska Institute and the Royal Institute of Technology (KTH). On the other side, there are 50-year-old high-rise buildings from the ambitious Million Programme of public housing," says Granqvist.
According to the chairman of Huddinge council's executive board, this is Sweden's biggest accommodation project to date, worth about five billion euro, as stated in early estimates. The Huddinge area is interesting as it is expanding rapidly, becoming the hub for a big travel centre and new communications, and has a huge influx of people.
But Total is not a one-trick pony: the company designs all kinds of housing solutions. Total has quite a few projects like this in the pipeline, either in their initial phase, or under development. But houses aren't everything; landscape planning is also one of Total's fortes – something that's come to the fore in The Student in Huddinge. "We're starting to think in new ways when we plan for housing, since the areas for building are shrinking rapidly," says Granqvist.
But back to the project in Huddinge for a final question: how do you design a housing project on a limited space, known to be a tricky area, with so many different purposes – and keep everyone happy? "Well, that's the big challenge, and that's also what makes our profession so exciting," says Granqvist with a smile. "We're still figuring it out. But our aim is to avoid segregation, to bridge the two different sides of the area – the academia and the less affluent housing estates. To make the two sides meet." Integrating occupants in sustainable housing. Now that sounds like real hope for a better future.
Facebook: totalarkitektur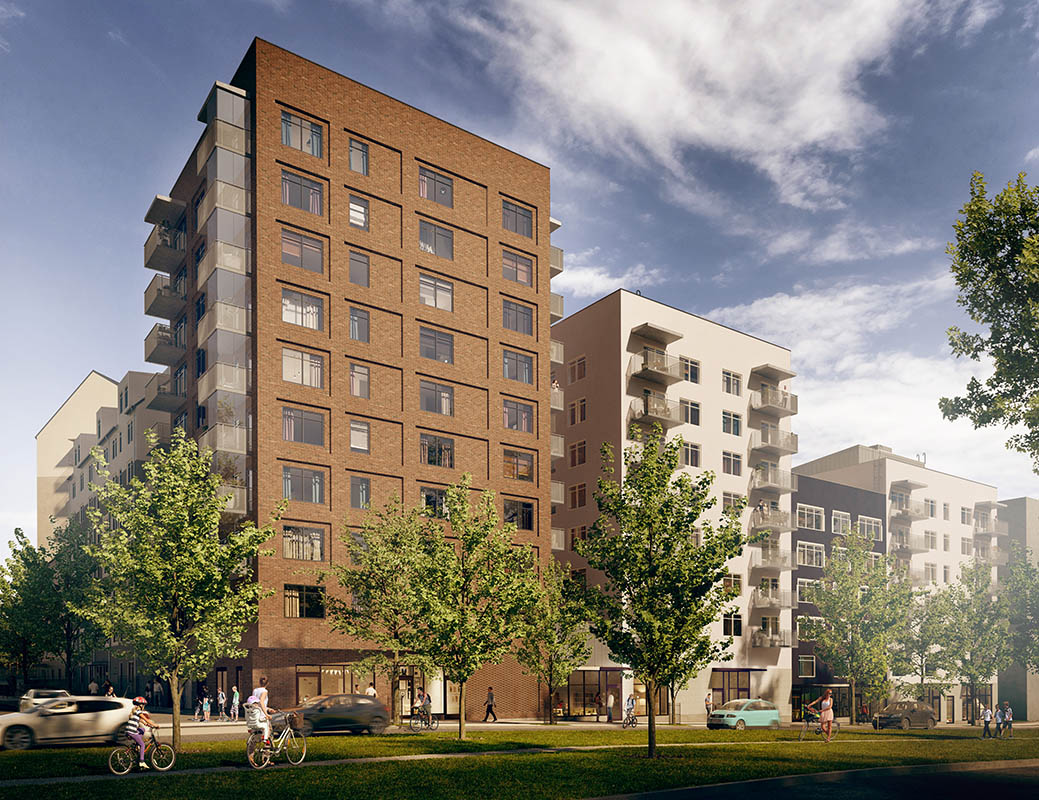 View along the Hälsovägen road.
Subscribe to Our Newsletter
Receive our monthly newsletter by email