Total Adventure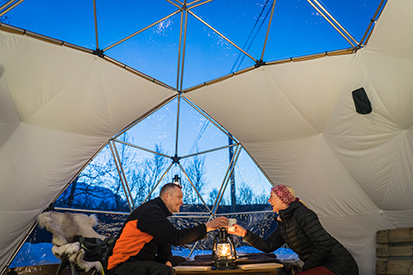 An Arctic gem
TEXT: SUNNIVA DAVIES-ROMMETVEIT | PHOTOS © TOTAL ADVENTURE
Nestled between a spectacular fjord and dramatic mountain range, Total Adventure offers stunning accommodation and Arctic adventures for those looking to escape the stresses of urban life completely.
An hour's drive from Tromsø, guests are quickly enveloped by nature – from the clear waters of the Ullsfjord, to the astounding peaks of the Lyngen Alps. "We offer our guests unique and thrilling trips into this Arctic paradise, plus exclusive accommodation in the heart of northern Norway," explains Total Adventure founder Turid Andresen.
The adventure packages offered change with the seasons: in winter, there is a rare chance to go ice fishing on a frozen Norwegian lake, as well as evening walks in snow shoes in search of the aurora borealis. Guests also enjoy a variety of activities throughout the summer months – from mountain hiking to seeing the rare midnight sun in all its glory.
Whatever the season, visitors can choose to stay in an exclusive Arctic dome, presenting incredible views of the midnight sun or the northern lights. Total Adventure also offers a typically Norwegian seaside cabin, which looks out onto the full splendour of the snow-capped Lyngen mountains.
In the age of mass tourism, Total Adventure is a rare gem, offering visitors a unique slice of northern Norwegian culture and nature. "Guests can visit the real north with us," Andresen explains, adding: "They are able to meet locals and learn about Sami culture, all while being totally immersed in the wild nature on offer."
Subscribe to Our Newsletter
Receive our monthly newsletter by email