Tromsø: An Arctic Christmas
TEXT: ALYSSA NILSEN | PHOTOS: VEGARD STIEN
Located in the far north of Norway, surrounded by tall, snowy mountains and deep fjords, Tromsø is the city to travel to this year for a guaranteed dose of Christmas spirit,Arctic adventures and unforgettable memories.
After a long summer of 24-hour daylight, northern Norwegian winters are dark, long and cold. But in the Arctic capital of Tromsø, there's no shortage of light and warmth.
When you travel to Tromsø in the winter, you are almost guaranteed three things: lots of snow; long, dark nights; and the northern lights. What you also get are warm-hearted people and a city beautifully decorated for Christmas with cosy markets, plenty of Christmas lights to chase away the darkness, and a giant Christmas tree, which was lit on 28 November this year, the first Sunday of Advent.
This year, Tromsø city is upping its Christmas game, aiming to become Norway's number-one Christmas destination, battling places like Oslo, Lillehammer and Røros for the title. Part of the initiative is a Christmas market consisting of ten stalls, which will be filled with arts and crafts, homemade treats, Christmas decorations and a variety of other things. Sellers will change throughout the market period, meaning there are always new stalls to explore and things to see.
Sit down with a steaming hot 'gløgg', the richly flavoured Nordic version of mulled wine, garnished with almonds and raisins, and enjoy it with gingerbread biscuits while letting the kids loose on the skating rink, or head to one of the downtown restaurants for some local Christmas delicacies.
If you want to explore local foods and delicacies, how about some 'ribbe', the traditional Christmas Eve meal made from pork ribs? Or, if you're adventurous, try the traditional lutefisk: a gelatinous cod that has been brined in lye, then rinsed of the caustic solution and prepared, often served with aquavit. Relax with a warm beverage from one of the local cafés, which will be serving hot drinks with a Christmas twist.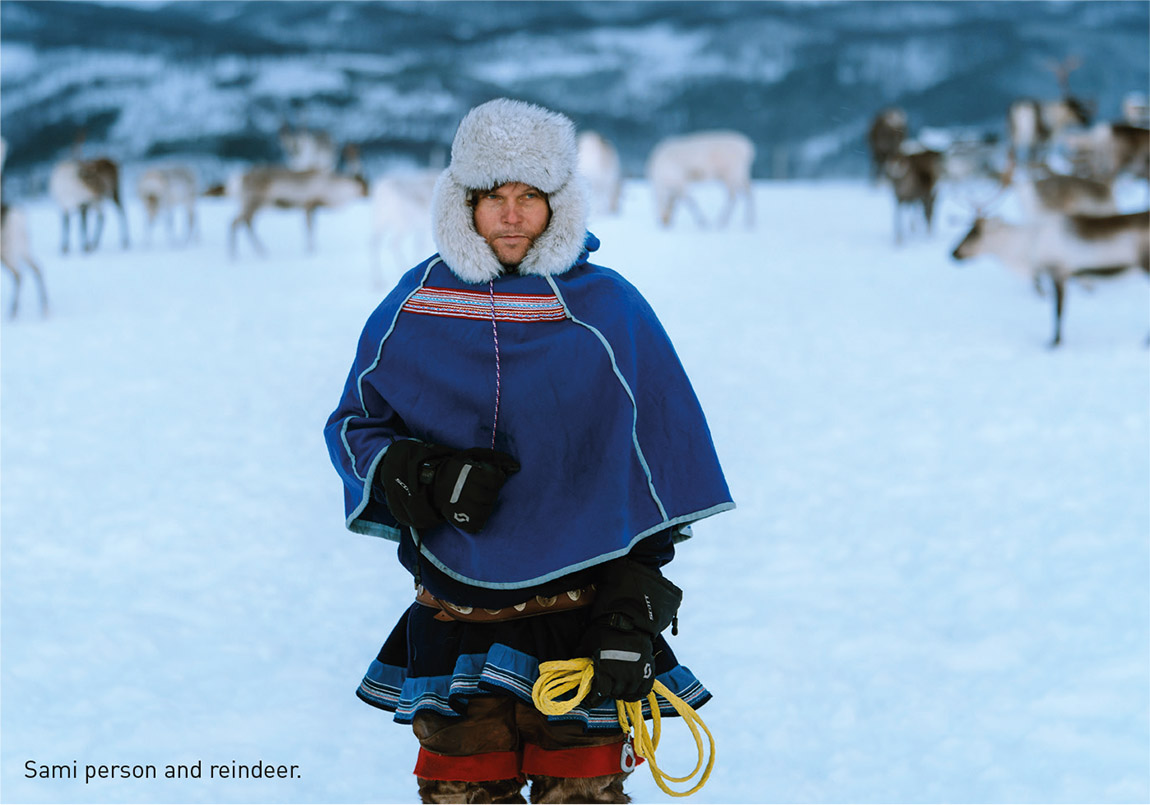 Arctic adventures and activities
But there is just as much to explore outside of the city centre, as Tromsø offers stunning nature experiences. Feel the ocean breeze while attending a fjord cruise or a whale safari and be enchanted by the wild orcas. If you're into active and immersive adventures, you can experience the northern Norwegian nature up close, snowshoe hiking in the mountains.
Get into the Christmas spirit by riding a sledge pulled by reindeer and learn about Sami culture and history. Enjoy a rush of adrenaline as you race through the fresh air and snowy landscape on a husky sledge. Or why not take the Tromsø cable car up to the mountain ledge Storsteinen, 421 metres above sea level, and enjoy the spectacular views of Tromsø city and the surrounding archipelago, mountains and fjords? If you head out after dark, you're in with a good chance of experiencing a spectacular show of the northern lights dancing across the night sky.
"That's one of the things that is so perfect about Tromsø," product coordinator Trude Meyer Ottesen and hospitality and marketing coordinator Regine Igesund explain. "It has the urban and vibrant city centre with retail, nightlife and restaurants, but outside the city centre, on our doorstep, it has this amazing nature. You get city life and nature experiences in the same package."
After experiencing the northern Norwegian winter up close, why not head back into Tromsø city? Relax and warm back up in the sauna with stunning views of the Arctic Cathedral, before going out to explore the city's nightlife.
Tromsø is also, as the only city in Norway, a certified sustainable destination. "There is no place like Tromsø," says director of tourism Lone Helle. "We have it all. Welcome to the Arctic Capital!"
To locate the Official Tourist Information Centre, keep an eye out for the green 'i' icon. For booking and information, head to visittromso.no If travelling during the holidays, keep in mind that most Norwegian shops and eateries are closed on Christmas Day and Boxing Day, as well as on 1 and 2 January. Some restaurants and bars, however, open back up on Boxing Day. The Christmas lights are on from 18 November and the Christmas tree from 28 November. Phone: +47 77 61 00 00 Email: info@visittromso.no Web: visittromso.no Facebook: visittromso
Subscribe to Our Newsletter
Receive our monthly newsletter by email