Tromsø Arctic Reindeer Experience
Explore the traditions of northern Norway's indigenous Sámis
TEXT: HELENE TOFTNER | MAIN PHOTO © CRISTER HAUG
Did you know that the indigenous people of northern Norway, Finland, Sweden and Russia are called Sámi, traditionally a nomadic people who live off reindeer herding? While herding remains important, some have opened their homes to visitors keen to explore this centuries-old traditions.
Tromsø Arctic Reindeer Experience is one tourist attraction that masters the combination of maintaining the original livelihood while introducing visitors from around the world to everything from the feeding of reindeer to reindeer sledding and snowmobiling in the mountains.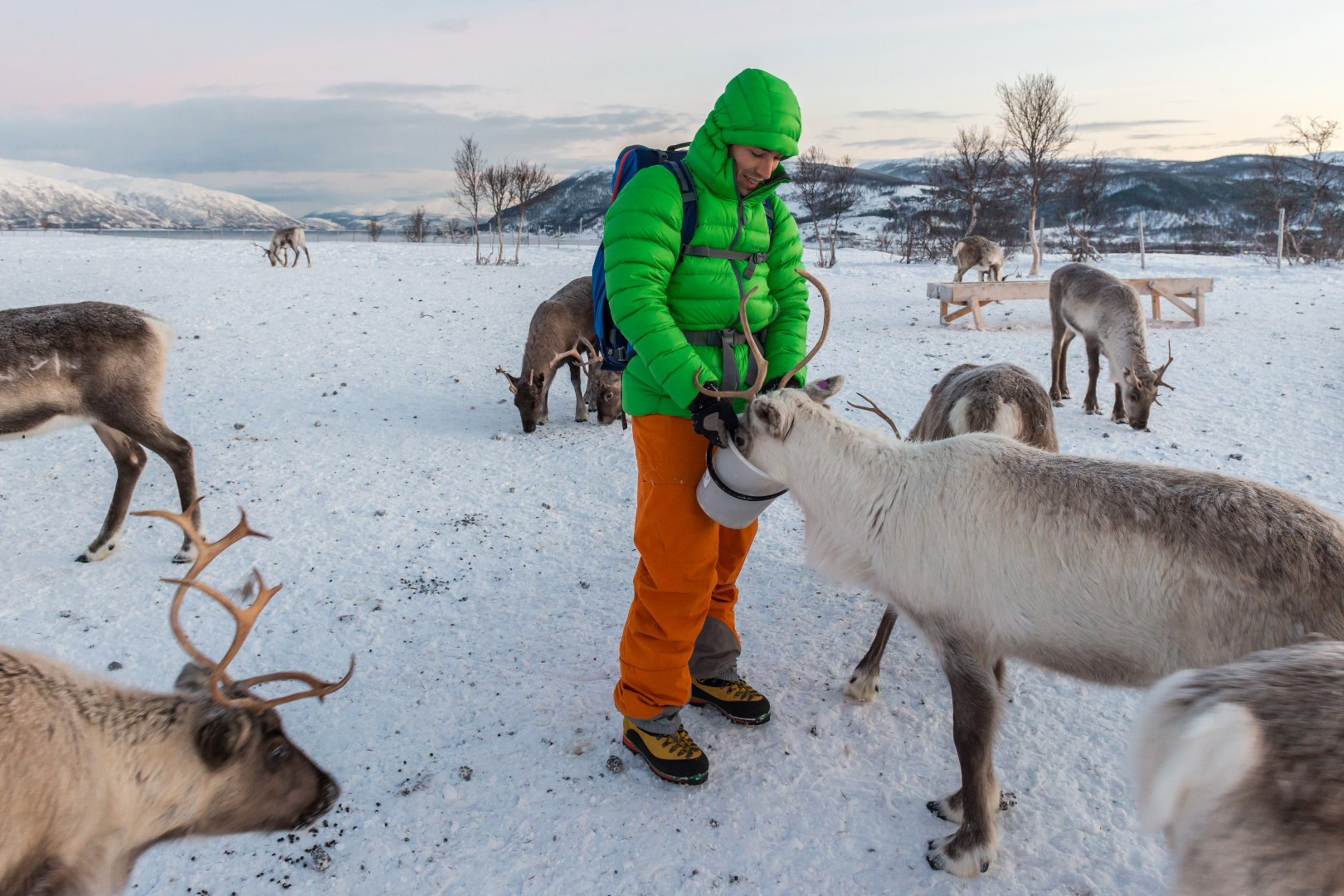 A visitor feeding the reindeer. Photo © Crister Haug.
Tromsø Arctic Reindeer Experience is only 30 minutes away from the buzzing city of Tromsø, yet it feels a thousand miles away from civilisation due to its beautiful location on the white plains overlooking the sea and the surrounding mountains. Add hundreds of reindeer, and it starts to resemble a scene from Disney's Frozen. "Showing people from around the world our day-to-day life, our Sámi culture and history, is great," says reindeer herder Johan Isak Turi Oskal.
Joiks and traditional costumes
Many visitors have barely heard of the Sámi, the indigenous people who have inhabited these lands for centuries, before arriving in Norway. Traditionally a nomadic people moving across northern Norway, Sweden, Finland and Russia with their reindeer, around 2,600 still today make their living from reindeer husbandry in Norway alone. Visitors are often particularly fascinated by their spectacular costumes, characterised by colourful embroideries, bands and jewellery. "These are used mainly for ceremonial purposes, like weddings and baptisms," Turi Oskal says.
Another compelling feature is the joik, a traditional Sámi singing style. While visitors may have difficulties distinguishing between the different tunes, every Sámi person gets their own personal joik, traditionally given at their Christening or confirmation. A quick online search provides rave reviews of the experience, with "amazing" and "authentic" being recurrent descriptions, so Tromsø Arctic Reindeer Experience has certainly managed to win their audiences over.

Johan Isak Turi Oskal in a traditional Sámi costume. Photo © John Pitt.
Thousands of reindeer
While showcasing the Sámi way of life is crucial to Turi Oskal, he emphasises that the most important thing remains the welfare of the reindeer and the continuation of traditions. "Many visitors are surprised to find that all of us working here are actually reindeer herders, and it is not just a typical tourist attraction but rather a look at our way of life," he says. With thousands of reindeer in the mountains and around 200 reindeer down at the plains, people are in for an authentic Sámi experience. Visitors can partake in the feeding of the reindeer, reindeer sledding, herding and not least sharing a traditional meal while listening in on the fascinating history of the Sámi people. "We never reveal how many reindeer we actually have, however," says Turi Oskal and smiles. "That would be like telling someone your salary."
Snowmobile adventure in the mountains
The mountain reindeer snowmobile safari is a must-try for the adventurous traveller. It is a full-day experience allowing visitors to join the reindeer herders on a typical day in the mountains, including feeding of and tending to the animals. "This trip is hugely popular as it offers something completely authentic, taking people out of their comfort zones," Turi Oskal says. "Due to popular demand, we have now extended this up until early May."

Photo © Crister Haug.
Northern lights ahead
This season provides the perfect opportunity to spend an evening in a lavvo, a traditional Sámi tent, under a magical natural lights display. "We would love to give visitors the chance to experience the dancing northern lights while on a sledding trip with the reindeer, and we are working to get this up and running ahead of next winter," Turi Oskal says. According to Sámi tradition, the mystical northern lights emanate from the souls of the dead and must be treated with immense respect. "Regardless of what you believe, the lights are a magical fixture on many visitors' bucket lists of things to see in their lives."
Norwegian Air flies directly from London Gatwick to Tromsø twice a week during the winter months. There are also direct flights from Stockholm and Helsinki, and numerous daily connecting flights via Oslo.
Subscribe to Our Newsletter
Receive our monthly newsletter by email